January 20, 2021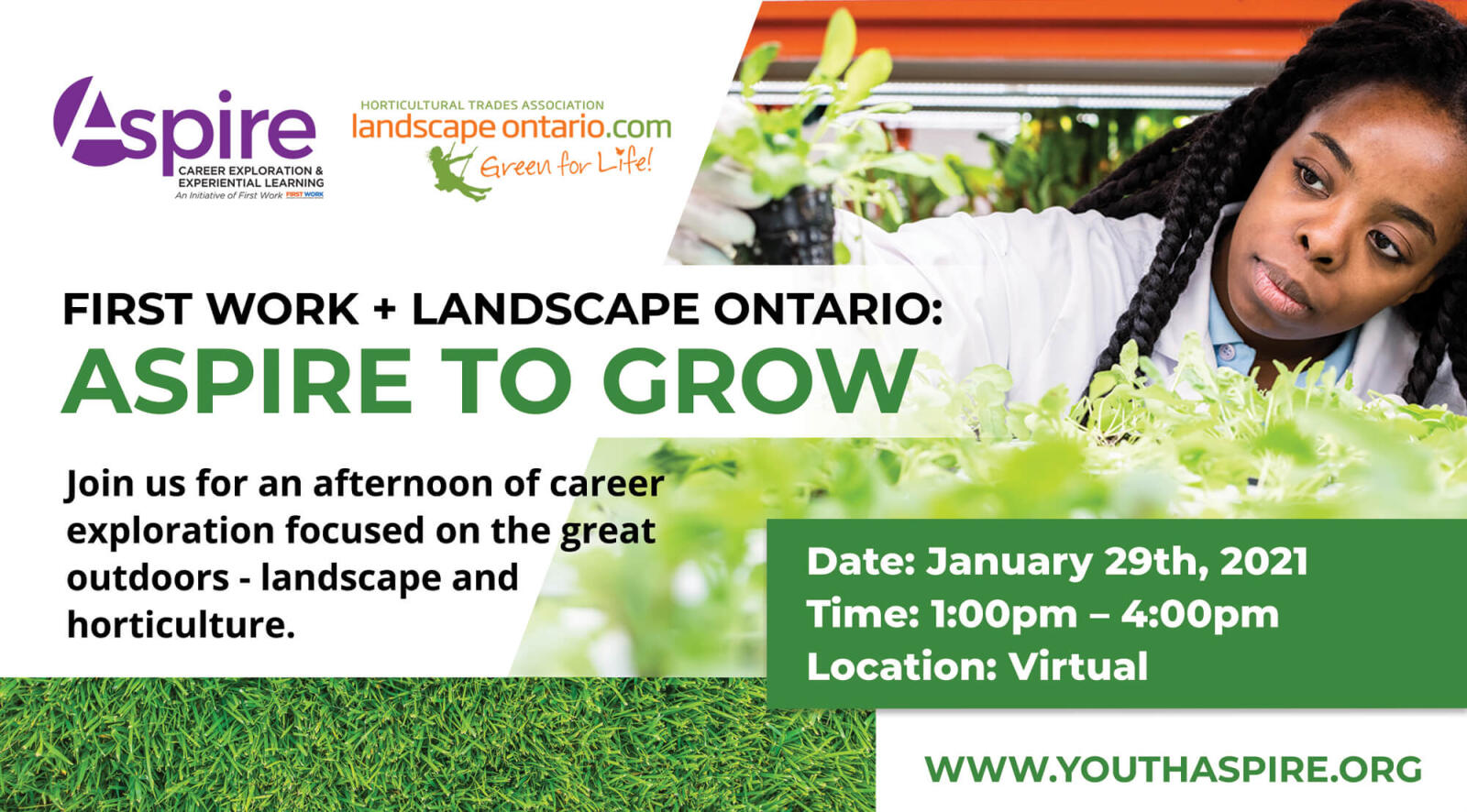 Aspire to GROW: January 29, 2021
Landscape Ontario is excited to be partnering with First Work to offer an event for youth (15-30) to introduce the GROW program and pathways in the landscape and horticulture profession. Join us for an afternoon of career exploration focused on the great outdoors.
This event will take place online
January 29, 2021 from 1:00 - 4:00 p.m.
ASPIRE TO GROW IS A 3-HOUR CAREER EXPLORATION EVENT INCLUDING:
An information session on Landscape Ontario's GROW Program.
Networking breakouts with past GROW graduates and industry professionals, and;
Digital career pathway exploration (including a $10 completion incentive).
GROW INFORMATION SESSION
The GROW Program by Landscape Ontario is a six-week training program — including a one-week paid placement designed to accelerate your career in landscape and horticulture.
NETWORKING BREAKOUTS WITH INDUSTRY PROFESSIONALS
Participants will be split into networking breakout rooms with past graduates of the GROW program and industry professionals.
CAREER PATHWAY EXPLORATION WITH PROJECT INTEGRATE
Participants will be facilitated through psychometric assessments through the free Project Integrate tool to help determine their most successful career paths, after which a $10 incentive gift certificate will be provided.
REGISTER NOW
IDEAL GROW APPLICANTS
Youth from the GTA, Hamilton, Halton and Peel regions are particularly encouraged to apply. Participants must be over the age of 18 and unemployed (not under-employed).