April 10, 2023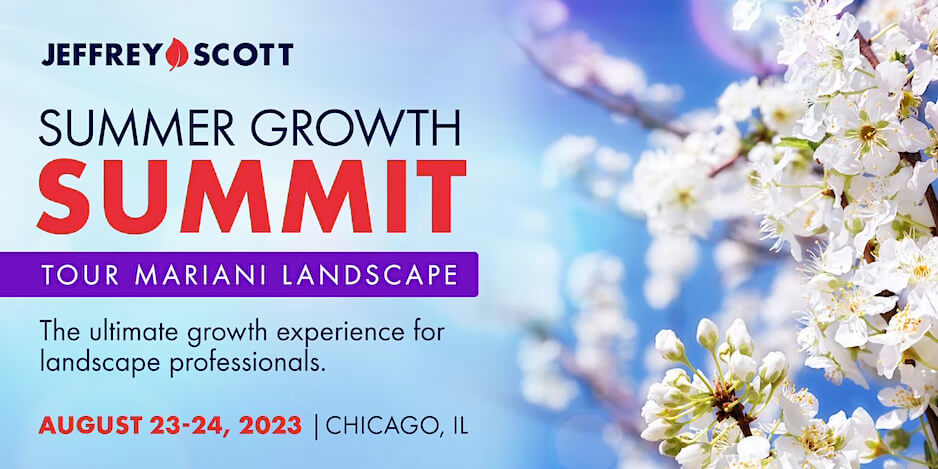 Jeffrey Scott Summer Growth Summit 2023
Jeffrey Scott and his team are inviting you and your team to our 2023 Summer Growth Summit, August 23-24.
As part of this Summit, enjoy a behind-the-scenes tour of Mariani Landscape, the country's largest residential landscape firm.
(Super early bird pricing ends April 18th)
Highlights of the Summer Growth Summit:
This two-day affair starts will a full-day facility tour, where you will learn from 15-20 Mariani managers and leaders how they operate and grow their diversified company.
Enjoy a networking evening reception after the tour.
On day two, Jeffrey Scott and Mariani's Leadership team will take the stage. You will hear the executives of Mariani share how they operate their leadership teams, how they steer the company financially, and how they organize for growth.
A panel discussion with top landscape firms will also share how they plan to "finish the year strong," so you can be inspired when you leave this event.
Plus other surprises.
Jeffrey Scott will wrap up the Summit with insights on how to focus, organize and implement everything you have learned.
Attendees will leave with an action plan, and be super pumped to finish the year strong.
Bring your team and get them excited about the future.
Each employee you bring will network with their peers. They'll leave with actionable ideas and a clear view to their professional growth and your company's growth potential.
Landscape Ontario members can save $100 by applying the discount code
discount100
at checkout.
REGISTER NOW