July 31, 2017

Industry news
Snowposium returns in September
Landscape Ontario's Snow and Ice Sector Group and Landscape Trades magazine will stage Snowposium 2017 on Sept. 28 in Milton, Ont. New for 2017, there will be two streams of education sessions with networking breaks in between. The event will feature an outdoor trade show open to all snow and ice management professionals, regardless of conference registration, which allows attendees to visit with experts and see new products, hear presentations and discuss practical tactics for efficiency in various areas of snow and ice management.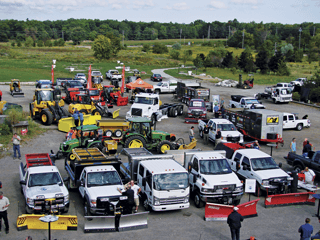 Registration and a schedule will be available at Snowposium.ca. For more information contact Amy Buchanan, Amy@LandscapeOntario.com, 800-265-5656 ext. 2329. For exhibit space contact Darryl Bond, Darryl@LandscapeOntario.com, ext. 2366.
New general manager at Echo Canada
Michelle Wagter has accepted the position of General Manager of Echo Power Equipment Canada, according to Vice President of Sales Ed Zynomirski. She will lead Echo Canada's London, Ont. head office management team, and will be directly responsible for financial operations.
Wagter joined the company in 2010 as director of finance and has been instrumental in strategic planning and the development and implementation of key initiatives designed to create efficiencies and deliver service to customers.
Public garden conference comes to Hamilton
The American Public Gardens Association will hold its 77th annual conference in Hamilton, Ont. June 19-23, 2017. While many of the 750-plus professionals expected are from public gardens across North America, delegates from every continent will gather for the five-day conference.
This year's event boasts 15 host gardens and partnering organizations. From gardens renowned for their sustainability and conservation practices, to showcasing the power and beauty of Niagara Falls, these host gardens reflect a region famous for its heritage, hospitality, and diverse culture. For more information, visit 2017.publicgardens.org.
Canadian researchers develop wasp to fight EAB
Researchers at the Great Lakes Forestry Centre in Sault Ste. Marie, Ont., are planning on rearing 10- to 12,000 tiny Tetrastichus wasps, which feed on emerald ash borer larvae.
Dr. Krista Ryall of Natural Resources Canada hopes these new wasps can help stem the spread of the borer, which so far has killed millions of ash trees in Canada and the U.S.
The wasps will be spread across six new release sites in Ontario and Quebec, she said. But the presence of this parasitic army shouldn't alarm anyone. "They don't attack humans," Ryall said. "They don't bite or sting or anything like that. It only likes to eat emerald ash borer. So really, that's its only host that it's out there looking for."
Cub Cadet partners with Come Alive Outside
In 2017, Cub Cadet and Come Alive Outside will be working with Ontario communities to celebrate the importance of outdoor, unstructured play by laying down sod and creating temporary parks on prominent streets, with The Green Street Challenge. The programs create an opportunity for children and families to play outside and value all the benefits that green spaces have to offer. With childhood obesity and mental illness on the rise, time spent outside getting active and connecting to nature has never been so important. The Green Street Challenge is a way to remind communities of the importance of creating and developing green spaces that encourage families to get outside and get active.
"We were really excited by the idea of creating a canvas in which families can be reminded of the importance of creating their own outdoor spaces and "unlocking the possible" of their yards and communities," said Melanie Kacic, Marketing Director of Cub Cadet.
JCB appoints new president
JCB has announced the appointment of Richard Fox-Marrs as president and CEO, responsible for the company's operations in North America, including sales and support for the construction, agricultural, rental, government and defense industries. Additionally, Fox-Marrs is responsible for production at JCB North America's Savannah, Ga., headquarters.
"As JCB's senior executive in North America, Richard Fox-Marrs will further our position as a global leader in technical innovation, product quality and customer service, and accelerate our strong business performance and growth across all business sectors," said Graeme Macdonald, JCB's chief executive officer.
Gateman-Milloy wins CCA award
Construction company Gateman-Milloy received the national award for corporate social responsibility, the CCA Community Builder Award, at the annual Canadian Construction Association conference (CCA). CCA is the national body representing the construction industry to government and business. Annually, the association awards a dozen construction companies from across Canada for excellence in building, and with this award recognizes outstanding and sustained contributions to our communities.
Gateman-Milloy received the award for its significant contribution to the Waterloo Region community and beyond over more than 35 years in business. Its efforts have included supporting such programs as Conestoga College's Heavy Equipment Apprenticeship Program; funding an endowment for high academic achieving engineering students needing financial assistance to complete their degrees; and the Niagara Parks Commission School of Horticulture, alma mater of the company's founder and president, Michael Milloy.
Tuff Stuff wins Shrub Madness competition
Tuff Stuff mountain hydrangea took top prize in Proven Winners' annual Shrub Madness bracket competition. Coming from a crowded field of 64 contenders, the competition narrowed to two hydrangeas after several rounds of consumer voting on close matchups.
Throughout the competition, over 89,000 votes were cast. This year's Floral Four included 2016 Shrub Madness Runner-up Let's Dance Rave hydrangea, Invincibelle Spirit II smooth hydrangea, Tuff Stuff hydrangea, and newcomer Czechmark Trilogy weigela.
"Tuff Stuff hydrangea is stunning, with attractive lacecap flowers that create a mass of colour in early summer, and this rebloomer continues to produce new flowers right up until frost," Proven Winners said in a release. "A very hardy hydrangea, Tuff Stuff really delivers with improved bud and stem hardiness."
Ball Horticulture purchases Newflora
Ball Horticultural Company purchased the assets of Newflora, which included the master license to sell an extensive line of garden and potted rose offerings throughout the U.S. and Canada. Since 2003, Newflora has been the exclusive agent for Kordes, the world's largest breeder of roses. The transaction transfers the Kordes garden rose license management to Star Roses and Plants, and the Kordes potted rose license management to Ball Ingenuity, a division of Ball that has successfully introduced and managed a diverse range of flowering potted plants into the North American market since its inception in 2011.
"The trialing, supply management and patent protection of Kordes that was well-cared for by Newflora will continue at Star Roses and Plants," confirms Steve Hutton, president of Star Roses and Plants. "We are excited to expand our network of garden rose offerings to our customers, which will ultimately grow the North American market and introduce gardeners to a wider variety of roses."
Caterpillar cuts jobs
Caterpillar recently announced it will close facilities in Aurora, Ill., and Gosselies, Belgium; the move will see some 2,800 employees lose their jobs.
The decision is the latest in a line of Caterpillar facility closings and consolidations that began in the final quarter of 2015 as part of a cost reduction plan designed to save the company $1.5 billion annually through 2018. One year later, the company announced market conditions had forced it to be "more aggressive" than it had anticipated in making the cuts.
Though the company's initial estimate on global workforce cuts was 10,000, as of October Caterpillar had cut 14,100. The company says it has consolidated or closed about 30 facilities, an elimination of around 11 per cent of its global manufacturing square footage.
Kébol to acquire Witteman
Kébol B.V. announced the purchase of the assets and activities of Witteman and Co. B.V., a 150-year-old Dutch company that specializes in sourcing and distributing bare root perennial products and conducting business as Darwin Plants, which is currently owned by Ball Horticultural Company.
The acquired assets include the Darwin Plants portfolio of bare root-propagated perennial varieties sold in various markets around the world, as well is its related mail-order and liner distribution business. The transaction does not include business activities or the vegetative perennial assortment of U.S.-based Darwin Perennials, which remains under the helm of Ball.
"Darwin Plants' bare root offering, long-standing relationships and worldwide network of customers make it a great complement to our existing strength in sourcing, sales, distribution and warehousing," says Jos van der Drift, director of Kébol. "The natural seasonality of the Darwin Plants assortment perfectly offsets the natural seasonality we're seeing in our amaryllis, tulips and other bulb products."
Deadline for therapeutic garden grants
In 2017, National Garden Bureau and Sakata Seed America are partnering to provide $5,000 in grant money to be split among three therapeutic gardens in North America. National Garden Bureau promotes the health and healing powers of human interaction with plants through a yearly grant program for therapeutic gardens.
To apply, therapeutic garden applicants should complete an application and submit it to the NGB office by July 1, 2017. In July and August, a group of horticulture therapy experts will narrow down applications to three finalists. The finalists will be asked to submit a one-minute video that will be posted on ngb.org. All involved parties will solicit feedback from the public, using social media, to vote on the garden they wish to receive the grants. The top vote-getter will receive $3,000, second and third place will receive $1,000 each.
For more information about this project or National Garden Bureau, visit: ngb.org.
Husqvarna tests sharing economy pilot project in Sweden
This spring, Husqvarna launched a project that will see homeowners in Stockholm, Sweden gain access to pay-per-use power tools for their gardens.
The Husqvarna Battery Box, is a "smart," eight by three-metre, unattended container with 30 electronic lockers that store battery powered garden care products. Via an iPhone app, homeowners can reserve tools, get instructions, pay, and open the locker to pick up their pre-booked power tool. The "box" will be placed at Bromma Blocks, a shopping center 15 minutes west of Stockholm.
Registration opens for 2017 AAS Summer Summit
Registration is now open for the 2017 Summer Summit, hosted by All-America Selections, the National Garden Bureau and Home Garden Seed Association in upstate New York, Sept. 5-8, 2017.
The itinerary includes tours of the Wegman's Super Store, Harris Seeds' trials and offices, Greentopia, Green Vision's cut flower farm and the ecodistrict renaturalization around the falls, Bejo's vegetable trials and Sakata Seeds' trials, Seneca Vegetable Research, Cornell University, HGSA's trials and the New York Wine and Culinary Center. The annual AAS Awards Banquet also takes place during the event. For full details and to register, visit: all-americaselections.org/aas-meetings-events/.
Landscape Trades, June 2017