June 17, 2015
Two letter word, No, is a great business tool
In this issue of Landscape Trades, we begin a new column, asking a few questions of industry leaders across Canada about how each grew his business. This month's mentor is Paul Doornbos CLT CLP, of Thornbusch Landscaping in Lansdowne, Ont.
If you wish to suggest a question or recommend a business leader, please email
editor@landscapetrades.com
.
Q. Can you tell us a bit about your background and how you came to work in the green trades?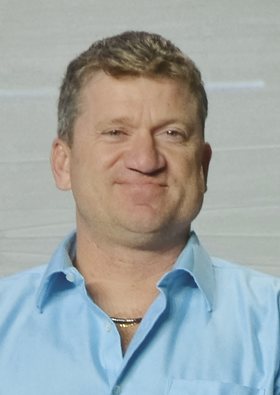 A. My parents owned a wholesale growing operation in the Niagara Peninsula, so I grew up working in the industry. A tight knit, hard-working group of people with a wealth of horticultural knowledge to share, whom I often refer to affectionately as the "Dutch Mafia"; because once in you're never really out, as you'll find from my story. I wanted nothing to do with the horticulture business so I went to Kemptville College for dairy cattle management, and worked in the dairy industry for nearly a decade. In 2000, a marital breakdown led me to return to a job at a garden centre in the 1000 Islands area where I had worked for a season in 1995. After that, I ran the company's landscaping division for seven years before starting my own company.
I learned the technical and Plant Health Care aspects of the landscape trades on the job. It wasn't until I attained my Certified Landscape Technician designation in 2003, that I had any tangible proof I knew anything about horticulture or the landscape industry.
Q. What single piece of advice would you give to someone who wants to make money in this business?
A. My best advice would be to work on your business, and be very aware of your numbers as they refer to costs and production rates. Know what your crew is able to produce in a day, and in a week. Understanding your actual costs and production rates will stop you from taking on jobs you can't afford to do.
When other companies want advice, I ask, "Do you have the ability to say 'No'?"
I see many new companies get in trouble because they are afraid to say, "This is the price I need, or no, I can't do the job for you." I don't do jobs for the privilege of working for someone, I do jobs to make money.
Granted, it takes a leap of faith to turn down work. But you have to have trust in your abilities and numbers. Don't let someone else dictate your price. As soon as you devalue your work by lowering your price to get work, you are on a slippery slope, and it's a race to the bottom. There is always going to be someone who will do something for a lower price.
I've found that having the confidence to stand behind my work and my price earns respect from customers. I have fewer problems collecting receivables, as customers know I mean what I say and I will deliver what is asked.
Over the years, I have screwed up in life and on jobs — but I learn from every mistake. Track your jobs so you know where you are making errors, and turn them into learning opportunities; don't blame others. Ask how WE can do better, NOT whose fault is it. Know your costs and learn your pricing model inside and out. That will give you the confidence to recognize where your strengths are, which jobs you do most efficiently, and what your niche is. This will enable your ability to say 'No' when needed.
Again, it all comes back to knowing your costs so you can defend your price with confidence.
Q. What has been the most difficult thing for you to do while growing your business?
A. The hardest thing for me has been moving from participant to coach with my staff. As a Type A personality, this is a difficult lesson to learn. It is hard not to say, "Move over and let me do that." But if you do, you will continue to have to do it. I recognize I need to have systems in place and trust in my staff to get the job done. My staff needs to make mistakes and learn by doing, as I did.
Letting things go isn't easy for me, and I don't always get it right. But knowing I need to work on this, I can keep practicing. Sooner or later we all become physically unable to keep working at the same pace, so investing in my employees, training, and equipment makes sense.
Q. How do you avoid wasting time on dead-end calls? Do you charge for estimates?
A. I prequalify all my sales calls. If it is a returning customer, or a direct referral from another customer, I don't charge to visit their home to give them an estimate on a landscape project. Direct referrals have had the value vs. price conversation with an existing client, so they know what to expect. However, if it is someone who has called me out of the blue, I will charge a service fee to visit the first time.
If someone is not willing to invest in me and my time, I have a great ability to say 'No' (see above).
Q. Where should a business owner start to look for help?
A. Business development is a lot like personal growth and development. You have to understand who or what you are. By my mid-30s I knew what I knew, and had the confidence to go and ask questions from others in this business to learn what I didn't know.
As I said, I am extremely blessed and fortunate to enjoy family connections with the Dutch community and a vast business network in the industry as a result of where I grew up. So I've always known people within the industry to go to with my questions. But don't let a lack of connections stop you from asking questions in your search for answers. Everyone has to start somewhere, and as my dad says, "What's the worst that can happen? They say no?" You will be surprised how many people in this industry are willing to talk and share, if you ask for help.
If you don't have access or the time to go to meetings offered by your provincial trade association, ask one of your peers whose work you admire out for coffee, or a beer. People are willing to share and help, but they aren't going to do the work for you. You need to put yourself out there first and know which questions to ask. However, I would strongly encourage you to get involved and make time for this. Second only to learning from the opportunities created by my mistakes, is the amount of learning from others through discussion that I have had thus far in my life. Always look for the way it can apply to your business or situation. Keep in mind that it is about correlation, not exact replication; less is more in many cases and things are relative. Remember every company is unique and reflects you or the founding partners.
If sharing your numbers is holding you back, use percentages instead — they are just as valuable for benchmarking. The volume of sales you have doesn't matter, as it's not the most important figure. It's how those sales relate to your expenses.
Also, invest in business reading. No one is ever finished learning. I recommend anything written by Patrick Lencioni. His books are easy to read and contain lots of short chapters — like fables with a message. I enjoyed Michael Gerber's E-Myth and read anything by Seth Godin on marketing and branding. Godin is an advocate of thinking outside the box.
Our line of work is not cookie-cutter production. Every day we do something different or run across unexpected situations, so we all benefit from thinking outside the box. Remember, in everything you do, be professional! Stick to your core values and exemplify them in everything you do — they are your brand. Believe in yourself and your business. Ask yourself, do I want to blend in or stand out? Thornbusch Landscaping Company will always choose to stand out!