June 16, 2011
National Plastics Recycling Event:
Recycle your horticultural plastics!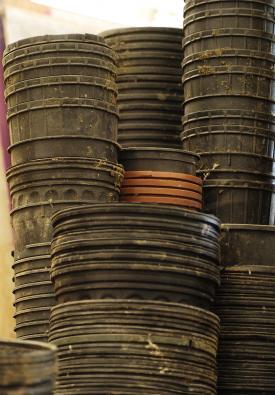 June 24 to July 4, 2011
Enjoy your gardening experience even more, by recycling your used horticultural plastics! In 2010, Landscape Ontario member companies and volunteers prevented over 65 skids of horticultural plastics from entering landfills.

This year, we are proud to count over 20 members of Landscape Ontario among the partners for this incredible event. The garden centres and nurseries below have volunteered to serve as recycling collection depots.

Drop your pots, cell packs and flats
at one of these convenient locations from June 24 to July 4:
View participating garden centres and nurseries on a map

Alcock Nurseries Ltd
, Campbellcroft, ON
Accepting: Pots, trays, tags
Bala Garden Centre, Bala, ON
Accepting: Pots, trays, tags, poly, bags
Black Forest Garden Centre, King City, ON
Accepting: Pots, trays, tags, poly, irrigation pipe
Bradford Greenhouses, Bradford, ON
Accepting: Pots, trays
Bradford Greenhouses Garden Gallery, Barrie, ON
Accepting: Pots, trays, tags
Carp Garden Centre & Kings Creek Nurseries, Ashton, ON
Accepting: Pots, trays, tags
Cudmore's Garden Centre, Oakville, ON
Accepting: Pots, trays, tags
Greenbelt Farm, Mitchell, ON
Accepting: Pots, trays, poly
Green Thumb Garden Centre, Nepean, ON
Accepting: Pots, trays, tags
Humber Nurseries Ltd., Brampton, ON
Accepting: Pots, trays, tags, poly
Kamstra Landscaping, Oshawa, ON
Accepting: Pots, trays, tags
Mavis Garden Supplies Co. Ltd., Mississauga, ON
Accepting: Pots, trays, tags, poly, irrigation pipe
Make It Green Garden Centre, Kanata, ON
Accepting: Pots, trays, tags
Native Plant Source, Kitchener, ON
Accepting: Pots, trays, poly
PlantWorld, Toronto, ON
Accepting: Pots, trays, tags
Ritchie Feed & Seed, Ottawa, ON
Accepting: Pots, trays, tags
Tarantino Nursery Ltd., Vaughan, ON
Accepting: Pots, trays, tags, poly
Taylor Nursery, Milton, ON
Accepting: Pots, trays, tags
Valleyview Gardens, Scarborough, ON
Accepting: Pots, trays, tags

Van Dongen's Garden Centre
Hornby, ON
Accepting: Pots, trays, tags, poly
Verbeeks Farm & Garden Centre, Clinton, ON
Accepting: Pots, trays, tags, poly, irrigation pipe
Walter's Greenhouse, Paris, ON
Accepting: Pots, trays, tags
Waterloo Flowers, Breslau, ON
Accepting: Pots, trays, tags
Windmill Garden Centre & Landscaping, Orillia, ON
Accepting: Pots, trays, tags