January 7, 2019
2019: The Year of the Members
By Myscha Stafford
LO Membership and Chapter Coordinator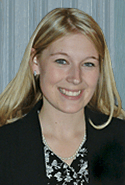 This year, it's all about YOU! For the past several years, your Landscape Ontario membership team has put increased efforts into gaining new members and growing the association to be the biggest, all encompassing tent for green professionals in Ontario. This year, we want to make it about the members we already have, who make our association as strong as it is. Without you, none of us would be here.
We're kicking off our Year of the Members at Congress with a special VIP Members Booth, acting as your networking hub and home to LO's Peer to Peer Network. We invite all members to come chat with their professional colleagues and fellow business owners to engage in a peer mentorship and learning program. This is your chance to discuss the challenges you face as a business owner/manager. You don't have to go it alone. The first Peer to Peer workshop of 2019 will be hosted on Jan. 7 (Congress Warm-Up Monday) and discussions will continue throughout the week in the VIP Members Booth at Congress.
Members frequently ask if they have a unique membership identification number when referencing their account, which is something we currently do not offer. However, this year, we are working to develop special membership cards that will include a unique membership number just for your company. This number will enable you to pay your annual membership dues online (without the need to find or reference an invoice number), register for seminars and chapter meetings, and request authorization letters required to access some special savings and discounts under the Member Savings Programs offered through the Canadian Nursery Landscape Association (CNLA). And in the years to come, the dollars you spend on improving your business skills with LO may even earn you valuable rewards points that can earn you discounts on future purchases.
In an effort to stay true to LO's Green for Life brand, we have also set a goal this year of going totally digital with membership dues renewals in 2019. For years, we have snail-mailed two paper invoices (reduced from three), however, this year, we hope to offer membership renewals entirely through email, with convenient, totally secure and user-friendly online payment options. Don't worry, you can still call us with your credit card in-hand or send in a cheque.
In order to effectively communicate these changes and share our wealth of information with members this year, we will also undertake an outreach campaign to make sure we have the most current and correct contact information for you and your company, including phone number, email address and mailing address. Keeping your contact information up-to-date and letting us know which staff are best to communicate with will help make all the aforementioned changes go smoothly. Your company information in our member database also automatically populates some of the information visible to your potential clients who search for professional LO members online at LandscapeOntario.com. If we have old information, you could be missing out on some of those connections.
LO's membership, communications and information technology departments are also working on a coordinated effort to revamp and improve the online company profiles that give members their very own page on the popular LandscapeOntario.com website. Version 2.0 of the member profiles will allow you to better showcase your services and projects. Watch for details in the coming months.
Helping to lead the charge in membership services is a dedicated group of volunteers who make up your 2019 Membership Committee. They, along with your chapter and sector group volunteers, will be gathering throughout the winter months to discuss the future lineup of meeting topics, membership benefits and more. We also want your input to make sure you are getting the most from your LO dollars. Is there a savings program your business could use? What topics and seminars do you want to see offered by your local chapter? How would you best like to hear about upcoming events: e-news, social media, telephone? Your input will help us to advance member services to best meet your business needs. Send your feedback to
membership@landscapeontario.com
and be sure to stop by the LO booth at Congress.
Here's to exciting new programs and benefits in 2019!
---
Myscha Stafford can be reached at
myscha@landscapeontario.com
or 1-800-265-5656 ext.2333.