September 7, 2021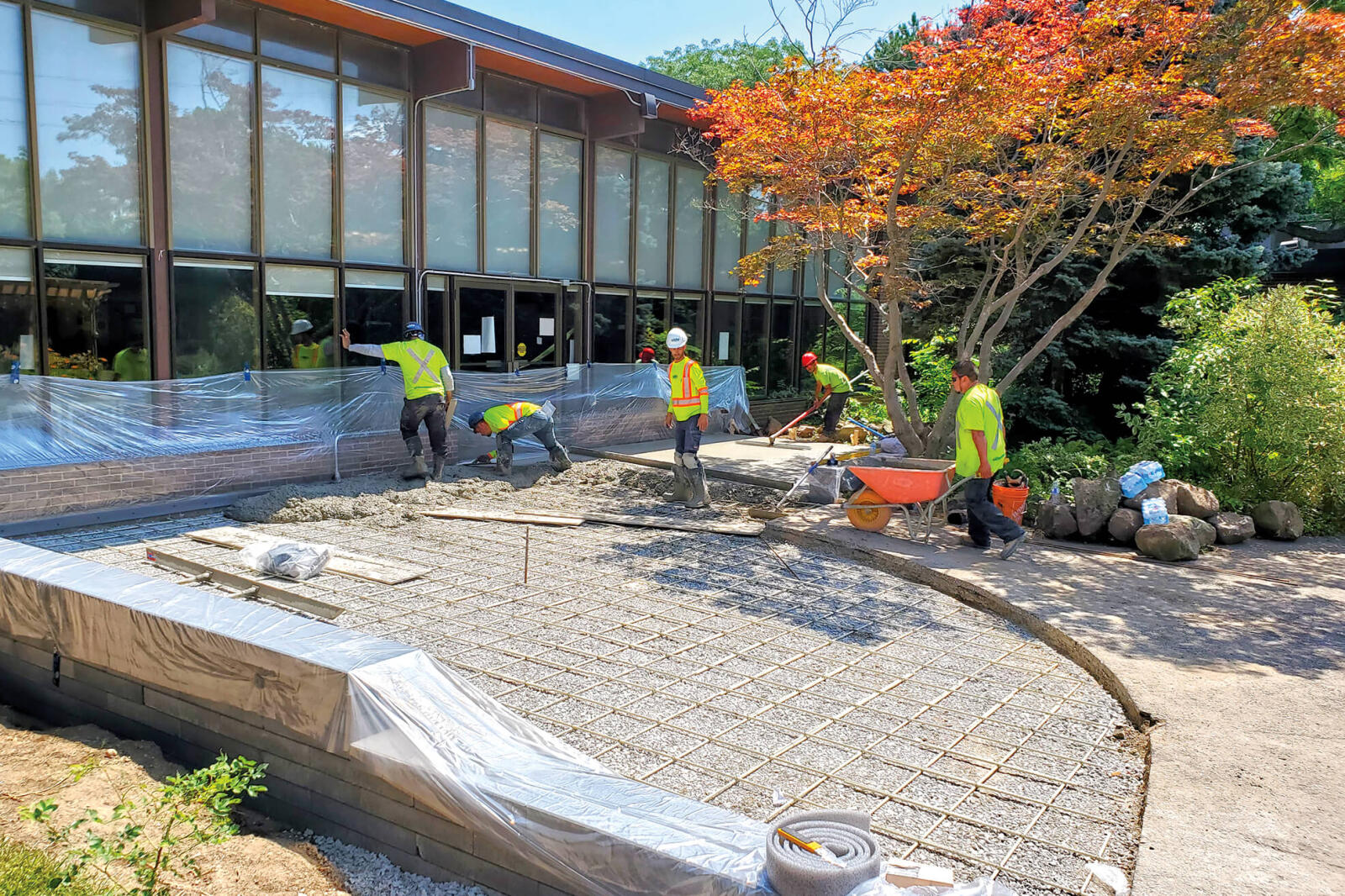 A new view for Participation House residents
As volunteers from the Toronto Chapter of Landscape Ontario break ground on a new patio and garden at Participation House in Markham, Ont., an audience gathers at the adjacent window.
While landscaping isn't typically a spectator sport, new experiences have been few and far between for Participation House residents. The home for adults with developmental and physical disabilities was hit particularly hard by COVID-19, while lockdown measures translated to the cancellation of day trips and excursions.
"With COVID, just like the rest of the world, they miss activity. So, with all this activity happening with coloured machines and everything, the windows were standing room only," said Shelley Brillinger, executive director of Participation House. "All the chairs were lined up on the inside of the glass and they were watching. They were so excited to see something happening."
The project was made possible through Landscape Ontario's Garden Makeover program, which was created to recognize the dedication of frontline workers across the province. The program received more than 1,000 nominations, and Brillinger was one of 10 recipients awarded a $5,000 garden makeover from the association.
"This frontline worker dealt with an outbreak of COVID-19 in her facility. She managed the crisis and dealt with the media, but never once lost sight of the fact that the people she cares for are a priority," Laura Mason wrote in her nomination for Brillinger. "She dealt with significant loss of people she has cared for over years. She managed the situation with professionalism and grace, but most of all with compassion for the residents, the staff and the families."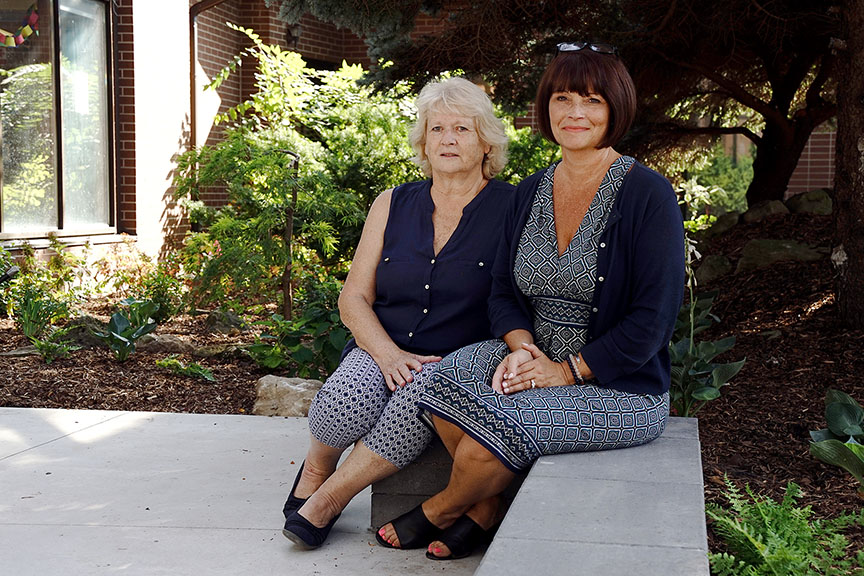 Kerry Scott, Participation House director of residential services, and garden makeover winner Shelley Brillinger.
---
Paying it forward
Although the 10 garden makeovers were intended for the recipients' homes, Brillinger opted to apply her award to the courtyard at Participation House.
"When something so surprisingly nice happened to me, it was a natural thing to give it to Participation House," Brillinger said. "It has been one heck of a year for the world, but particularly for those at Participation House. We've been tested on a lot of levels with our ability to just keep going."
Above and beyond
The Participation House Garden Makeover transforms about 7,000 square feet of the facility's courtyard, and includes a 700-square-foot concrete patio, two retaining walls and various softscape elements.
To complete the job, nearly all labour, machinery and materials were donated by more than 30 businesses and organizations.
"Most of us are pretty blessed that we get to do what we want to do. In this time of COVID, landscapers were allowed to get to work pretty early, and we've been allowed to work non-stop since then," said David Milne, project lead and president of the Toronto Chapter of Landscape Ontario. "So far, the only money we've had to spend is for diesel fuel to run the machines."
Donations for the project exceeded the original $5,000 commitment. Organizers estimate the job would cost more than $50,000 to complete.
"I just called up everybody to get stuff donated, and it was really easy. Everyone was really generous," said Caroline de Vries, who designed and coordinated the garden makeover. "Everybody said 'yes'."
Brillinger added she was overwhelmed by the goodwill of the volunteers working to renovate the garden.
"I've not had the pleasure of working with the landscaping sector before. And those we've met so far have just been first class people," she said.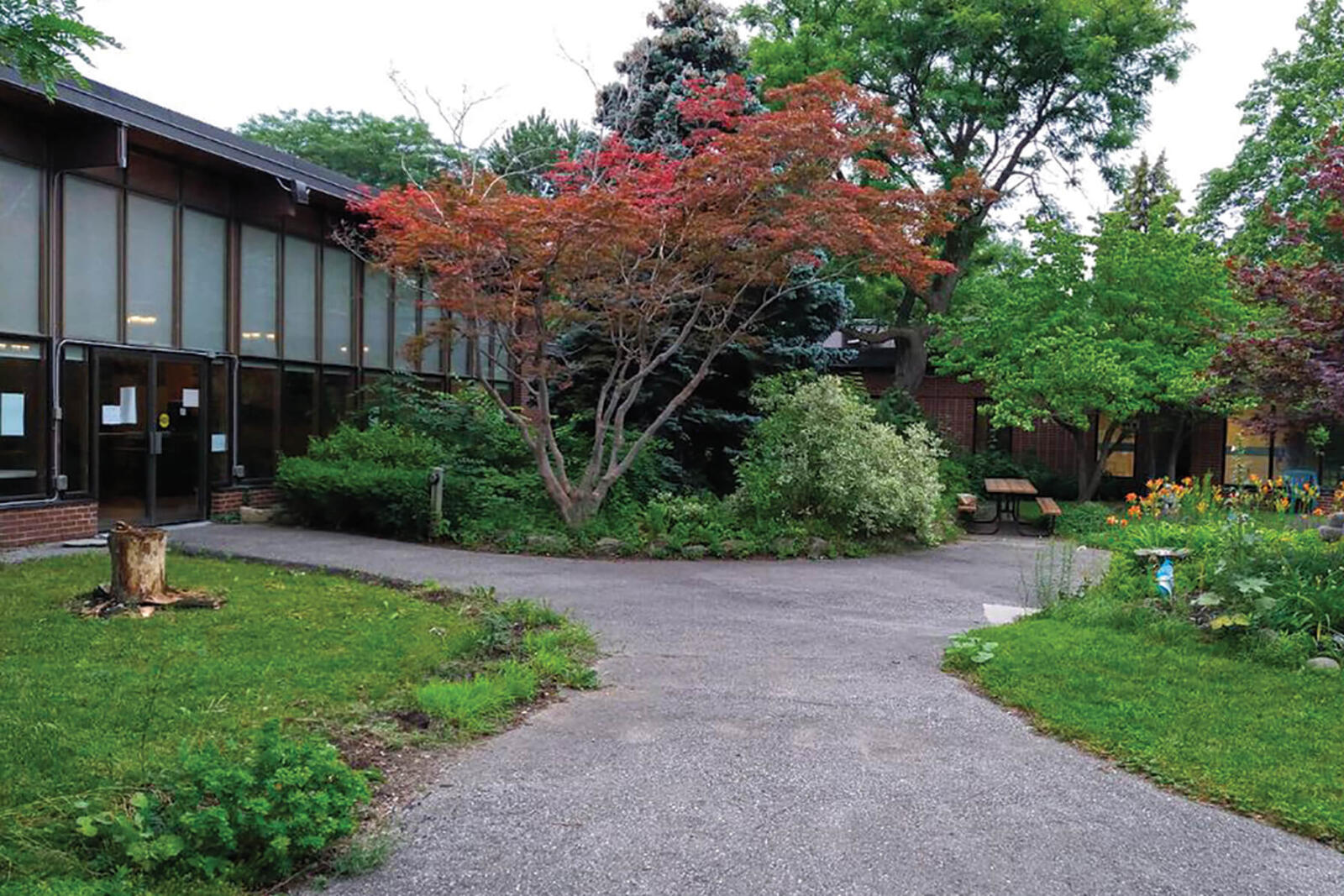 The front entrance before the garden makeover.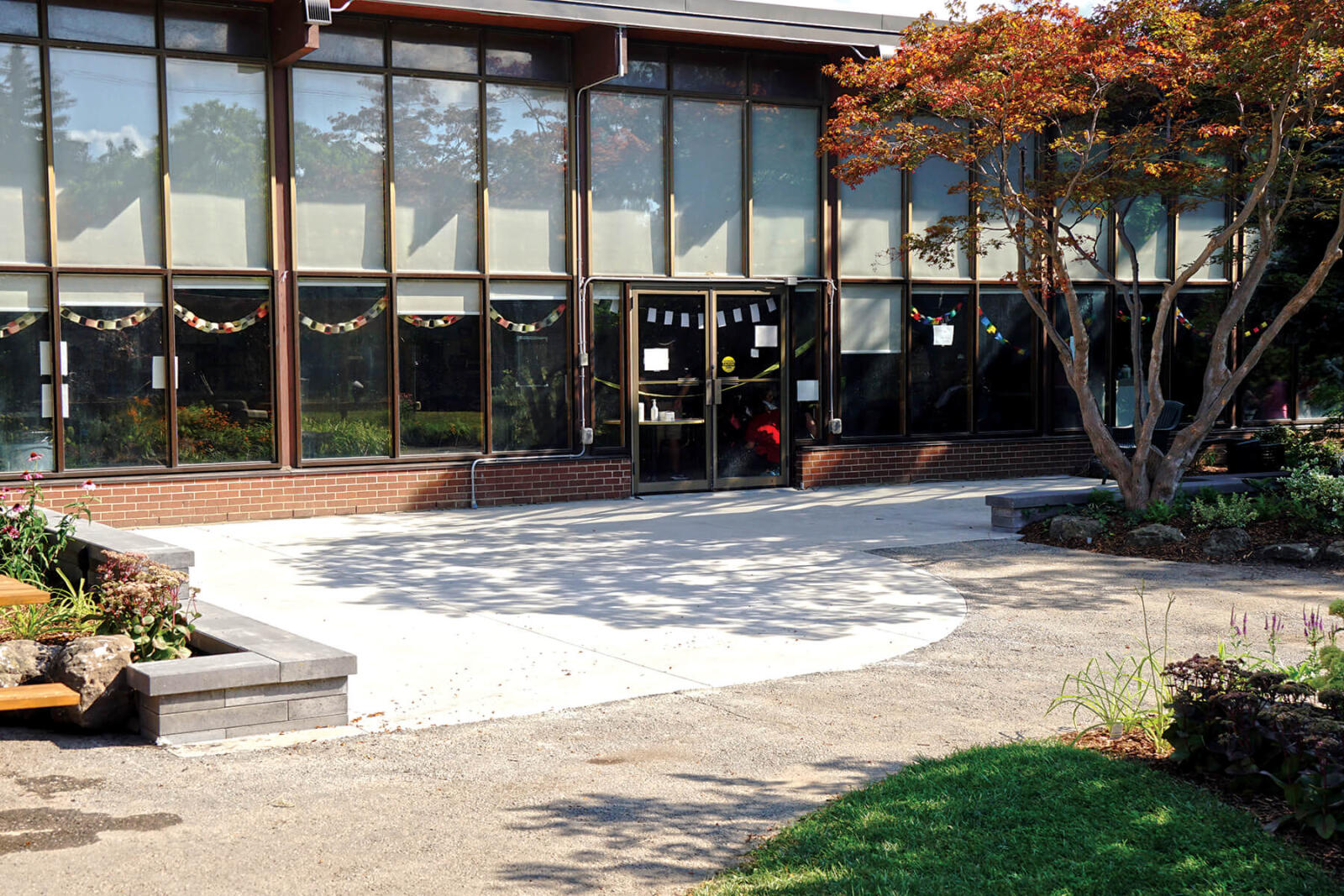 The new entrance is now much more accessible, open and inviting.
---
Overcoming obstacles
The job site did present challenges. The garden courtyard is encircled by the home, meaning the only access point was through two sets of double doors. Volunteers used powered wheelbarrows, compact excavators and compact track loaders to move fill and gravel to and from the jobsite.
"What could have been a really huge challenge, we managed to beat," Milne said. "We had to take out about 42 cubic yards of fill, and we put in close to 20 yards of gravel to prepare the base for the concrete."
A large tree stump also blocked construction of the patio, and had to be removed using a mini excavator.
"Trevor Little from Little Landscapes is a master with his mini excavator. It was very impressive. It took a little work and manipulation, but he did it," Milne said.
Although challenging, Milne said the project is worth the effort.
"Just the smiles on their faces was incredible. It just makes you feel good," Milne said. "For me personally, giving back feels so good. And the best things in life happen when you give."
Improved accessibility
The new patio replaces a lawn, which will improve accessibility to the courtyard for Participation House residents.
"That's why it's concrete. That's why you don't see a precast paver. This is smoother," de Vries said.
Many Participation House residents are confined to wheelchairs, so a poured-concrete surface will increase accessibility to the revamped gardens.
"That is why it's such a gift too," Brillinger said. "Now there's actually a level constructed area that's actually the same as a floor indoors. They'll be able to maybe have a meal out there. To have more people outdoors is going to be great."
While the garden makeover creates a new view for residents, Brillinger hopes the project will also deliver a new perspective of the home for the general public.
"Especially this year, it's nice to see them in the news for a good reason. It's such a wonderful place," Brillinger said. "I hate for those people who never knew about Participation House to summarize us as the COVID story. We're so much more than the COVID story."
As for the Toronto chapter of Landscape Ontario, volunteers are now pondering how they can tackle similar charitable projects in the future.
"I think it's an honour to be able to do this," Milne said. "I'm really proud of what the people that were there were able to accomplish."
Project Sponsors
Quercus Gardens
Elite Concrete
G&L
BTN Nurseries
Miller Compost
Beaver Valley Stone
Home Depot
Tradewinds International
Moonstruck Lighting Ltd.
Landscape Garten
Van Dyke TreeCare
Oriole Landscaping Ltd
Beaver Rentals/Ace Heavy Equipment
Mr Bins Inc
Tydell Disposal
Ecoman
Terraform
Volunteers
Caroline de Vries, Tradewinds International
David Milne, Quercus Gardens
David McEldon, David McEldon Landscape and Design
Tony DiGiovanni, Landscape Ontario
Trevor Little, Little Landscapes
Paul Zammit, Niagara College
David Hlady, Figure4 Designs
Debra Roche, Grow Program participant
Sarah Rafols, Landscape Ontario
Jesse Lewis, Quercus Gardens
Dean Kelly, Figure4 Designs
Kristy Chau, GROW Program student
Bernard Sue, GROW Program student
Angelo
Margarete Haefele, Landscape Garten
Gerry Reisky, Terraform
Noah Giguere from Quercus Gardens
Matt Harbury from Little Landscapes
Max Gainer from Little Landscapes