December 15, 2013
A time for family, friends and reflection
By Rachel Cerelli
Membership and Chapter Coordinator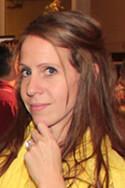 As the year 2013 comes to an end and we wonder where the year has gone, we typically spend a lot of well-deserved time with family and friends. It's also a time many of us reflect on the year past.
This year seems to have gone by faster than previous years, and again our businesses have reaped the benefit of a fantastic growing season. Ok, so maybe we were a little washed-out a few days last spring, and projects were held up. However, for the most part, the general comment among members is that we had a great year.
So now, we can sit back, reflect on the 2013 working season and wonder, what can I do differently next year, and what should I definitely do the same next year? What better place to do this reflecting than with your colleagues at local chapter meetings, at Congress 2014 and at special events (Ski and Spa Day 2014) run by your local chapter committee? After all, the people attending these events are trying to do the same thing you are —stay relevant, stay ahead, be successful.
One of the things I know many of you will do is look at your marketing pieces, including print material, websites, electronic advertising, etc. With all the methods of marketing, are you using your trusted landscape association to its fullest?
Have you updated your online profile? Did you know that the landscapeontario.com website has 50,000 hits per month? This website is a fantastic method for consumers to learn about how to hire a contractor, or why hire a Landscape Ontario member. The list goes on.
When consumers finally understand what type of company to hire and have their checklist in front of them, do YOU stand out? Is it easy to find information about your company? If not, I strongly urge you to read Robert Ellidge's column from the August 2012,
Landscape Ontario
magazine (
page 10
) and learn how to
Market your company online with Landscape Ontario
.
To keep in the loop of what is going on in the industry be sure to watch for the Wednesday weekly e-news, or visit horttrades.com for updates, follow Landscape Ontario on Facebook, Twitter and LinkedIn.
Now is the month for family and friends. Go spend some time with your loved ones that stand by your side through all those hard working and long hour seasons. You and your family deserve this time together.
Congratulations on another successful and prosperous year, and all the best for many years to come.
---
Call at 1-800-265-5656, ext. 354, or contact Rachel Cerelli at
rachel@landscapeontario.com
with your thoughts and feedback.