October 23, 2020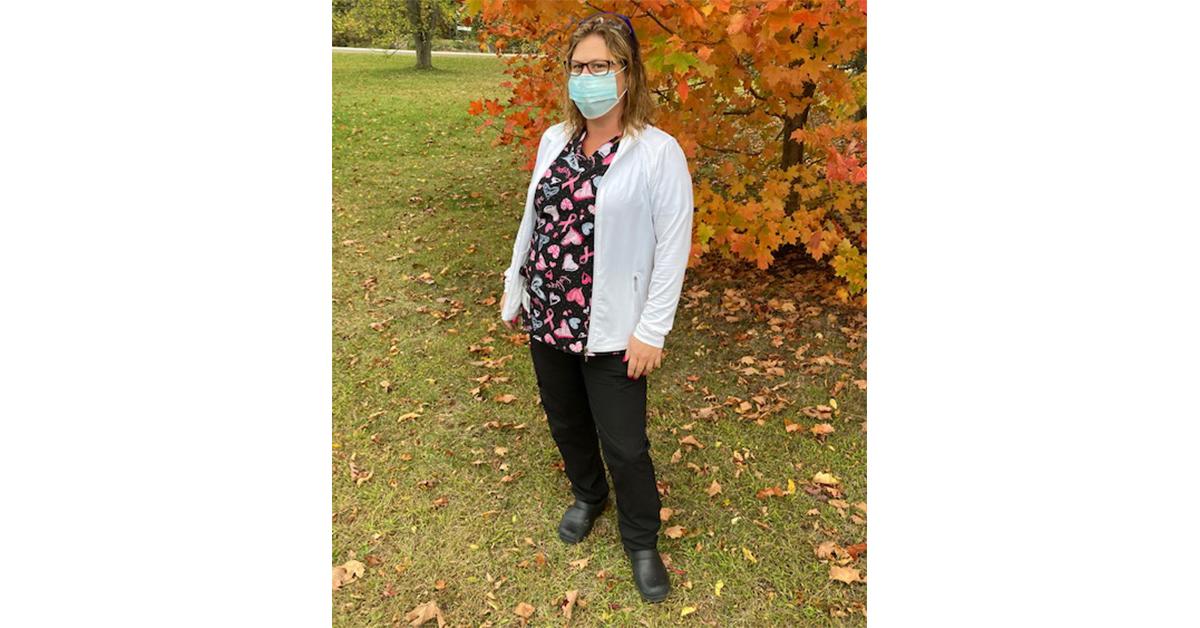 Day off? Someday...
Frontline worker Alexis Wakelin wins Landscape Ontario $5,000 garden makeover prize
---
Landscape Ontario received over a thousand stories of friends, neighbours and family members who have helped to improve the lives of those in their community throughout the Covid-19 pandemic. Now, we are excited to announce the 10 amazing frontline heroes who will receive the garden makeovers! Read the incredible stories of dedication, selflessness and compassion at www.landscapeontario.com/hero and stay tuned to Landscape Ontario this fall and into spring 2021 to see the finished garden makeovers!
Meet all 10 frontline heroes
118 days. That's how long personal support worker Alexis Wakelin worked without a day off during the first wave of the Covid pandemic. And over the past six months, she has had just one weekend away from Carveth Care Centre, the retirement home in Gananoque, Ont., where she is employed.
It would be a gruelling schedule for anyone, but for Wakelin, who has two teenage sons and two teenage step-daughters at home, it's been especially tiring. But you won't hear her complaining.
"What's really kept me going is just knowing that the residents need me," says Wakelin. "I just knew that they needed the care done and I had to go and do it."
That care has involved going into Carveth Care Centre every day twice a day. In the morning, she and a co-worker get 18 residents up, dressed, and ready for the day. And then in the evening, Wakelin and the same colleague return to get them all ready for bed.
It's not typical for Wakelin to be working only at Carveth. For the past 13 years, she has been employed with Care Partners, an organization that provides personal support workers, rehabilitation services, and nursing care to patients in homes, schools, retirement homes, clinics, and workplaces across Ontario.
Pre-pandemic, Wakelin would usually visit elderly clients in their own homes to help them with
everything from bathing and dressing, meal preparation and light housekeeping, to exercising and medications. She would also perform similar tasks at Carveth.
But once the pandemic hit, it was unsafe for her to be working both in the community and at Carveth.
"They wanted to keep the two completely separated to reduce the risk of spread, so they asked the two senior staff if we would just go in and service the retirement home, and we said yes," says Wakelin. "So, we took over everyone in the building, going in every day twice a day."
It's not just the relentless schedule that's been a challenge, she says.
"The biggest challenge is just dealing with the residents' fear. That was the hardest part — just
reassuring them that we were doing everything we could to keep them safe."
Wearing gowns, goggles, gloves, and masks has helped allay those fears, but at the same time it can be tough to make personal connections with residents when you have to wear all of that PPE, says Wakelin. Plus, wearing it all the time can be hot and uncomfortable.
Still, she knows how important all of that PPE is, of course, and not just for Carveth residents, but for keeping her family safe, too.
"With two four teenagers, that part was difficult," says Wakelin. "We haven't really been doing anything because I've always been worried about taking something into the home."
Camping is one activity the family usually does together in the warmer months, and although they haven't been able to do that this year, they built a small fire pit in their backyard to at least keep enjoying the one part of camping they love the most.
Wakelin is hoping to bolster that firepit with some of her winnings.
"I'd love to have something done with that, because that's something that the whole family will enjoy."