December 15, 2016
Are you bringing your A-game?
By Myscha Burton
LO Membership and Chapter Coordinator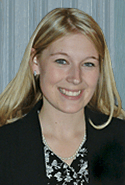 A common question in our household is, "Are you bringing your A-game?" Personally, I love this phrase. It's a great reminder to always give your best effort, and it can describe a less-than-perfect situation where someone fell short of your expectations. For members, bringing your A-game can mean anything from outstanding customer service, utilizing business solutions, maximizing resources, or even consistent, quality workmanship. As 2016 draws to a close, it's time to reflect on the past year and ask yourself, "Am I bringing my A-game?"
Are you saving money?
Whether you are buying a truck or equipment, attending a seminar, exhibiting at a trade show, or advertising your products or services, there are a variety of cost-saving benefits available only to members of Landscape Ontario via our Endorsed Suppliers program.
Are you investing in training staff?
I am a firm believer that you never stop learning and you are only as strong as the team you are a part of. This winter, why not strengthen your team with the wide variety of continuing education, seminars and lectures available to you as an LO member. You will end up with more knowledgeable, skilled, confident employees who feel more connected and engaged with the company they work for.
Are you utilizing LO resources?
LO offers a variety of ways to help you market your company, including online company profiles and logos for vehicles, equipment, quotes and mailings. We're proud to have you as a member and we want you to show your pride too. Perhaps it's time to update your employee handbook for 2017. Take advantage of the HR Toolkit to help you create your own policies and procedures manual. If you are looking to add to your team next year, there is no better place online than landscape.jobs, our new, free employment website. You can also use the HR Toolkit to create the perfect job posting by using the samples available in the recruitment section.
Are you networking at LO events?
Your Chapter Executive Boards work hard to ensure you have a variety of ways to meet local colleagues and that these meetings have engaging topics and speakers. If you're looking for ways to network outside of chapter events, why not give LO Connects a try (
horttrades.com/lo-connects
). This member-inspired, one-on-one mentorship program allows you to connect with members outside your chapter to address business challenges and find solutions — without working with a competitor in your area.
As we look towards a new year, I would like to thank all Chapter Executive Boards for working so hard to plan wonderful meetings and events for our members. I thank everyone who has attended these events and look forward to your continued support. It has been incredible to see the hard work of members, not only in their own businesses, but in the variety of community projects we have seen this year.
Your membership services team is looking forward to an exciting 2017 and we would love your feedback and input on how we can better meet your needs and offer more support. We are here for you.
As 2017 approaches, I encourage you to have a look at what chapter events are coming up, as well as the membership benefits designed to help you, your staff and your business be even more profitable this year. See details at
horttrades.com
or contact me directly.
All event details are available on
horttrades.com
, or you can contact me directly at
myscha@landscapeontario.com
or call 1-800-265-5656 ext. 2333.