November 15, 2010
Awards recognize inspirational industry leaders
An important component of the Landscape Ontario Awards of Excellence program is the individual awards, which recognize contributions from members who go above and beyond the call of duty in service to their industry.
The individual awards only given in exceptional circumstances are presented at the LO Awards Gala, held at Congress each year. Members are encouraged to nominate those they feel are deserving of special recognition. The special award categories can be found at
www.horttrades.com/awards-of-excellence---special-awards
. Nominations should be sent to
awards@landscapeontario.com
by Dec. 1. Please include reasons for nomination, along with any exceptional or outstanding circumstances.
Three of last year's special award winners are profiled here including, Michael LaPorte who received the Frank Ewald Jr. Award, Bienenstock Natural Playgrounds, which received the Trillium Award, and Karl Stensson, who received the CNLA president's ring.
Honouring young volunteers
As a long-time volunteer in the Georgian Lakelands chapter, Michael LaPorte was recognized for his service and commitment. The Frank Ewald Jr. Award is presented to a member of LO who has not yet reached his 36th birthday, but has made an outstanding effort in the promotion and betterment of the association.
LaPorte says he always enjoys attending the Awards Gala, but "was totally shocked when Nathan Helder began the introduction. It finally made sense why friends, family and co-workers were joining me for the evening. Winning the award is a shot of energy. This association has many great volunteers, and it's nice to be recognized and re-energized. It is great to be part of such a grand evening."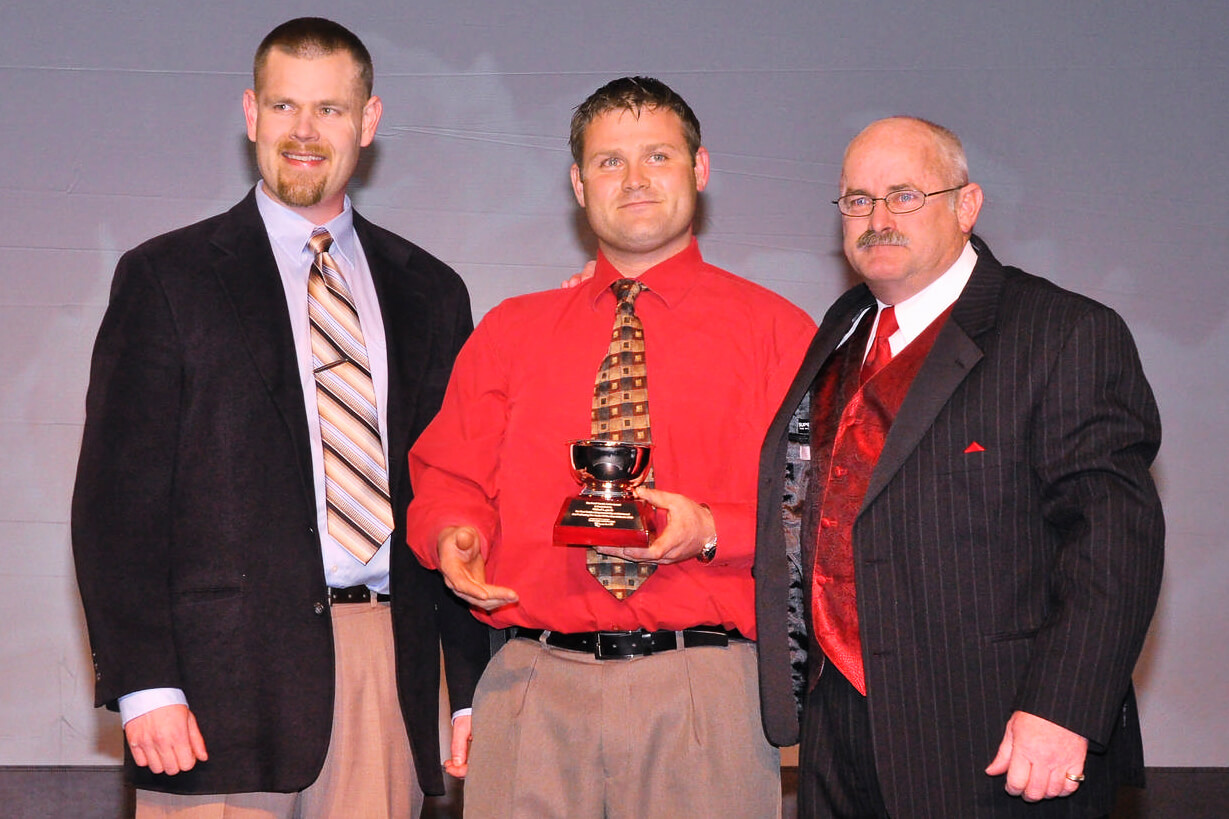 Nathan Helder, left, and LO past president Bob Adams congratulate Michael LaPorte on receiving the Frank Ewald Jr. Award.
---
Trillium Award for special circumstances
Bienenstock Natural Playgrounds was honoured with the Trillium Award, given only in exceptional circumstances by those companies that achieve an outstanding contribution in the field of horticulture, such as the development of a new plant or technique, or for design of an outstanding project.
During the award presentation, Tony DiGiovanni, executive director of LO, stated, "It is a rare accomplishment for any company to change the way a product or service is perceived. In an increasingly urbanized world where many children are experiencing 'nature deficit,' Bienenstock Natural Playgrounds has accomplished this remarkable and important feat. Bienenstock Natural Playgrounds reconnects children with nature, while stimulating a sense of wonder and promoting health and fitness in a safe and fun environment."
Bienenstock Natural Playgrounds also won the Ontario Parks Association award for outstanding design of parks.
Trailblazing volunteer
As a recipient of the Canadian Nursery Landscape Association's president's award, Karl Stensson, president of Sheridan Nurseries, joined an elite group of three individuals who have provided the association with unparalleled service. "This the highest honour CNLA can endow on anyone," says executive director Victor Santacruz, "Karl has been involved in many areas of the association. He is an influential leader and has had a strong influence on the financial stability of the CNLA through his involvement on the insurance committee. Karl has devoted countless hours helping us put a financial strategy in place to ensure the continued prosperity of the association.
"Even though he isn't currently on the CNLA board of directors, when he travels internationally, Karl is proud to represent the association, as well as his own company," Santacruz observes. "He doesn't need to do this, but he is still giving. Karl cares intimately for the association, and we are happy to recognize him for his passion."
CNLA president, Cary van Zanten presented Stensson with the award at LO's Awards of Excellence gala saying, "He is a trailblazer, a leader among peers and industry, and a very passionate volunteer who always has industry's best intentions at heart. Anyone who knows this man will agree with me when I say that his volunteer contributions have been more profoundly influential and selfless than anyone could imagine."
This award represents the pinnacle of a career of industry service. Karl Stensson has previously been honoured by Landscape Ontario three times. He was presented with the Frank Ewald Jr. Award in 1981, the Trillium Award in 1993 and was awarded honorary life membership, the highest LO honour, in 1998.
DiGiovanni noted that Stensson was president of LO in 1979, "but continues to be one of the most influential people behind the scenes. As a past president, Karl receives all the board minutes, and once the minutes have been sent, I often receive a call from Karl letting me know his thoughts and opinions on one matter or another. He truly cares about the direction of the association and its members. I use him as a sounding board for difficult problems. He is totally selfless and quite a remarkable person."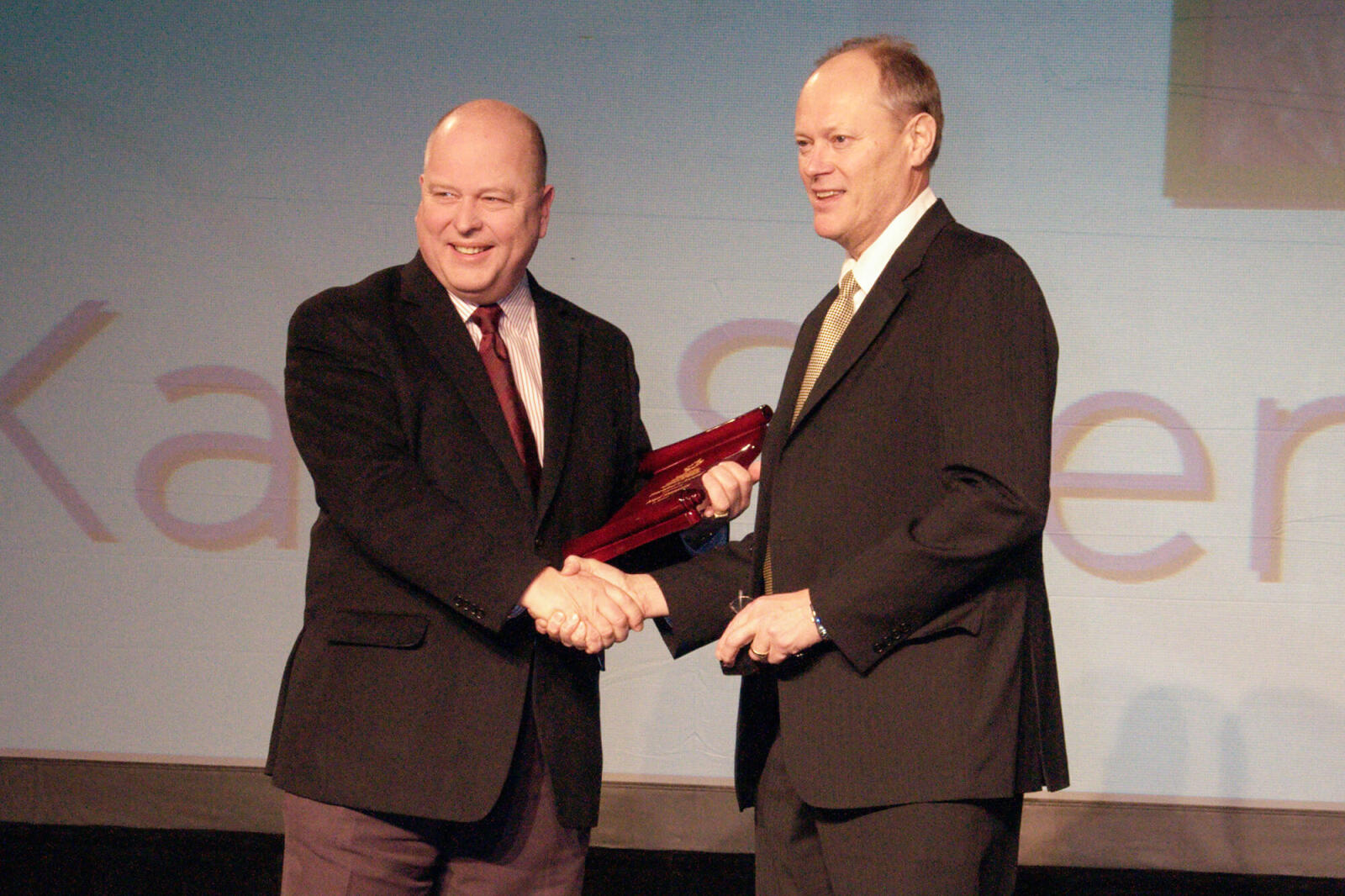 Karl Stensson, left, accepts the Canadian Nursery Landscape Association's president's award from CNLA president, Cary van Zanten.
---
Don't miss 2011 Awards
This year's Awards of Excellence Gala takes place on Tues., Jan. 11, 2011 in the upstairs ballroom at the Doubletree by Hilton Hotel. This year LO embraces its new demographic with a nightclub themed gala, to reflect the growing number of entries from younger companies. Companies receive one free ticket for every entry. Tickets are available through the Congress registration page on
www.locongress.com
for $35.