October 15, 2008
Be thankful for health, family and friends
Robert Adams
LO President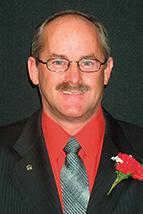 As I'm sure it is with all of you, trying to juggle one's business and personal life is sometimes trying at the best.
This past month, I have been busy travelling from function to function. Recently I stayed at a local hotel for the evening, prior to attending scheduled meetings at Landscape Ontario the next day.
During the stay, while unwinding before the day's meetings, I struck up a conversation with a young lady. While we spoke, she revealed that her father had a stroke. She lived in Ohio, while he lived in Indiana, making it extremely difficult at times to communicate and for her to directly help him. Her dad had operated a busy material supply company that dealt with equipment, ranging from chainsaws to bulldozers. A vibrant person, her father was dear to her heart. She and I sat sharing stories and tears for nearly two hours. When it was time to leave, we finally introduced ourselves, and hugged before saying goodbye. She thanked me for taking time to talk to her.
Upon my departure, I thought to myself, "I feel much better now." Listening to her stories had made me realize that even though there is distance between my own family, I know they are always with me and would be by my side in an instant if there was a problem. I can only hope taking the time, as we did, also helped her as much as it did me. This experience for me was like looking in a mirror. You never know what people are going through and what they have been through. Even though I was late for my first meeting at Landscape Ontario, I felt that my time spent with the young lady was necessary, as much for myself as for her.
My message this month is simple: Be thankful for your health, family and friends. Material things are nice, and some are very nice, but are they as important as the people in your life? People who you have touched, or have touched you should be treasured and valued.
Take time to smell the roses…because tomorrow they may be gone, or worse, you might be…
I thank all of you for your continued and ongoing support. You are valued. I wish you and your families a Happy Thanksgiving.
---
Robert Adams may be reached by email at
robertadams@landscapeontario.com
.