January 24, 2023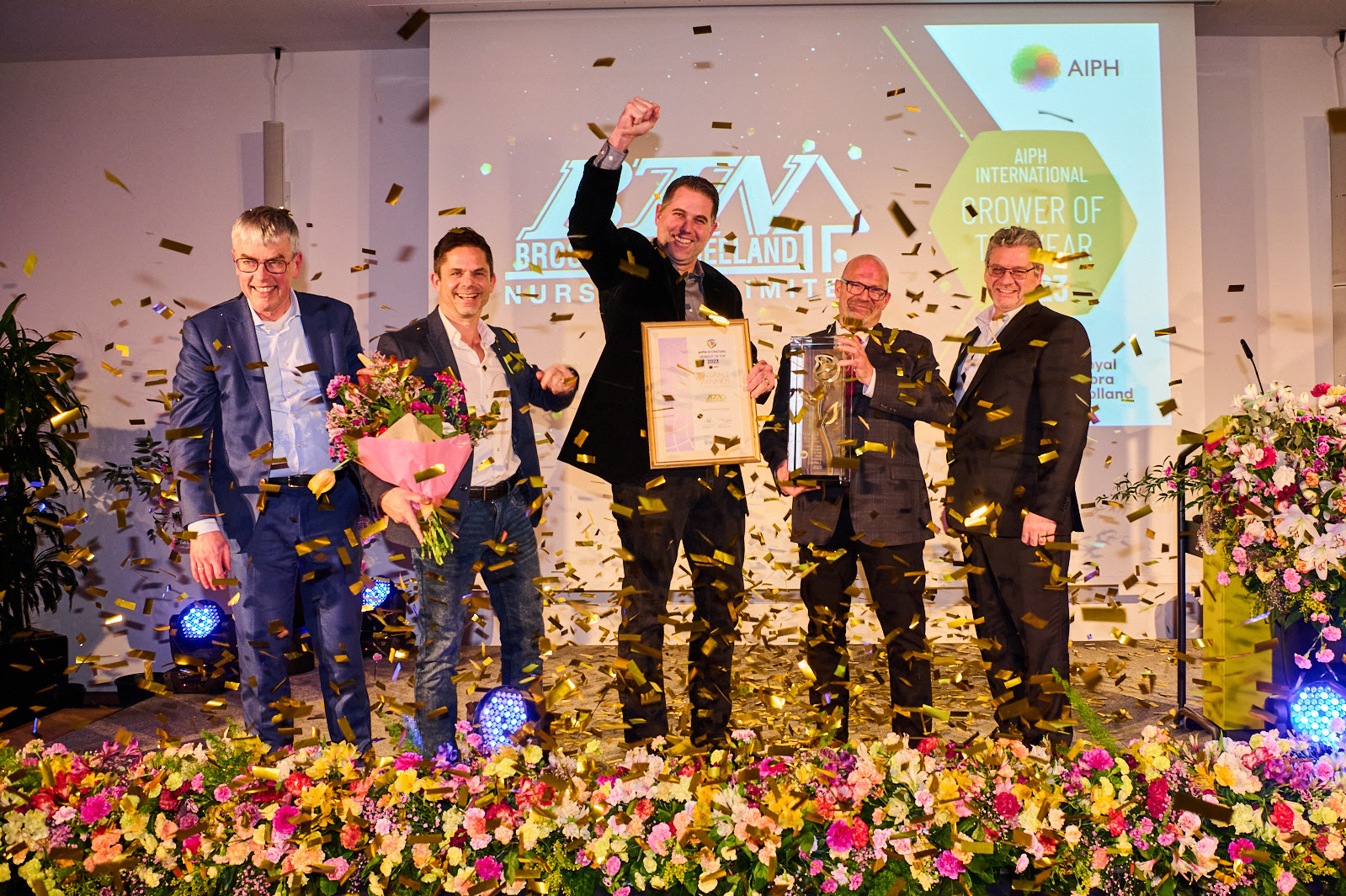 BTN wins AIPH 2023 Grower of the Year

Brookdale Treeland Nurseries (BTN), a Canadian ornamentals grower, has been awarded the title of International Grower of the Year (IGOTY) 2023 by the International Association of Horticultural Producers (AIPH). The coveted 'Gold Rose' award was presented to BTN by Royal FloraHolland CEO, Steven van Schilfgaarde, at the AIPH IGOTY Awards Ceremony 2023 on Jan. 24, 2023 at IPM Essen, Germany.

BTN is one of the largest and most respected growers of garden plants in Canada. They service garden retailers, landscape contractors, municipalities, and golf courses throughout Canada and the United States. With four farms in Ontario and one in British Columbia, BTN has a land base of more than 800 acres.

Jeff Olsen, President and CEO of BTN, commented: "We feel amazing, so blessed, to be honoured with these awards. It means so much to me personally and our whole team back in Canada. We're so excited to tell them the news."

Jason Rekker, National Production Manager for BTN, added: "The level of competition here is extremely high and we're humbled by that. There are so many fantastic growers here so it feels very special for us to be recognised in this way."

In addition to the Gold Rose Award, BTN was also awarded gold in the Finished Plants & Trees category, presented by Bernard Oosterom, Chair of the IGOTY 2023 Jury, and bronze in the Sustainability category, presented by Sarah von Fintel, Key Account Manager for GlobalG.A.P. and G.N.N. Label.

Bernard Oosterom commented: "Brookdale Treeland Nurseries stands out as a business focused on the future; with a wide assortment and a flow of new varieties it brings something new to the industry all the time. The business prioritises sustainable production and innovation with a commitment to knowledge exchange and growing a strong team. It's dynamic approach has enabled it to develop new products and markets and is well founded to lead the industry in the years ahead."

Founded in 2009 with the support of Royal FloraHolland and FloraCulture International, the IGOTY Awards recognise best practice in horticulture by the top ornamental production nurseries from around the globe, celebrating the expertise and energy they give to horticulture.



The IGOTY 2023 category winners are:

Young Plants
Gold: Morel Diffusion, France
Silver: SB Talee de Colombia SAS, Colombia
Bronze: Xiamen Ican Seed Co., Ltd., China

Finished Plants & Trees
Gold: Brookdale Treeland Nurseries Ltd, Canada
Silver: Giorgio Tesi Group, Italy
Bronze: Fructoplant SP. Z O.O., Poland

Cut Flowers & bulbs
Gold: Royal Base Corporation, Chinese Taipei
Silver: Zhejiang Toyoshima Co., LTD., China
Bronze: Zentoo, the Netherlands

Sustainability
Gold: Allensmore Nurseries, UK
Silver: Xiamen Ican Seed Co., Ltd., China
Bronze: Brookdale Treeland Nurseries Ltd, Canada
Young International Grower of the Year
– Eliot Barden

The Young IGOTY category recognises vibrant individuals, aged 25-40, who will lead the industry into the future. Entrants were participants of Jungle Talks' Pro Manager Mastercourse.

Winner Eliot Barden had an interest in horticulture from an early age and began his education in the subject via a Royal Horticultural Society evening class at the age of 15. He subsequently studied at the Kew Royal Botanic Gardens before joining Majestic Trees in 2018.

Eliot commented: "It means a lot. Thanks to Jungle Talks I've seen a lot of production in Holland, in various different sectors, and winning the award is the cherry on the cake. The award is a great recognition."

Eliot, along with the other finalists, presented his ideas to an international jury of horticultural professionals. The judges were: Leonardo Capitanio, President of AIPH and Vivai Capitanio, Italy; Pablo Bazzani, General Manager for Plazoleta Flowers, Colombia, and Winner of Young International Grower of the Year 2022; Karolien Tesselaar van Tilburg, Tesselaar Alstromeria, the Netherlands; and Wouter Duijvesteijn, Owner of Beyond Chrysant, the Netherlands.

"There are two reasons why we have chosen Eliot Barden the Young IGOTY winner," said Leonardo Capitanio. "Firstly, he demonstrated accurate technical and professional expertise. Secondly, Eliot continuously invests in the growth and development of his skills in order to reach his highest potential. We believe that 'improving more and more' is the best solution to be excellent at work as well as in life. We hope that this award will bring Eliot Barden great value and a richly deserved international visibility. Good luck Eliot!"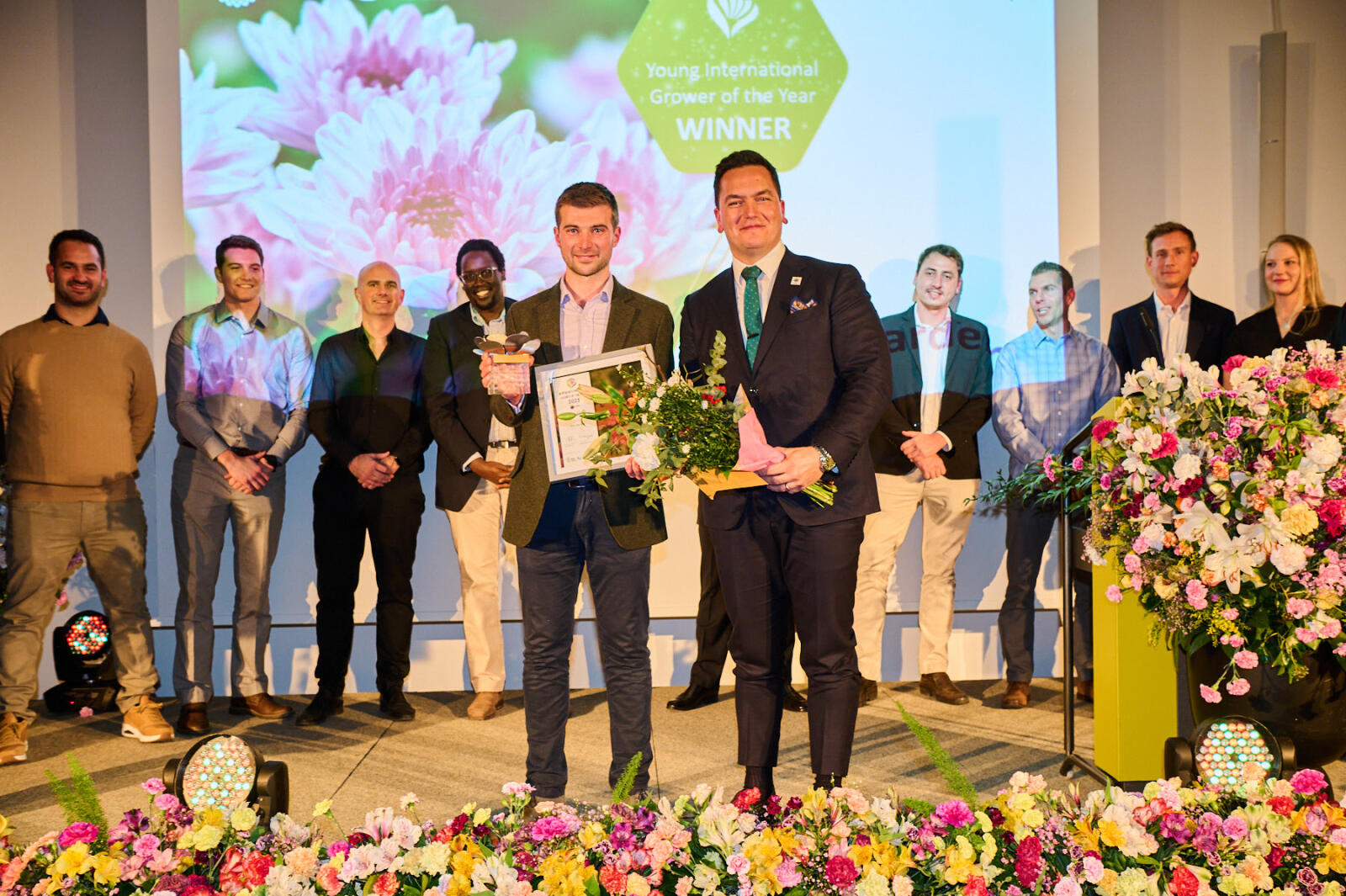 Eliot Barden was named Young Grower of the Year for 2023 by AIPH
---

Leonardo Capitanio, AIPH President, said: "Congratulations to Brookdale Treeland Nurseries and all the winners. Once again we have seen top class businesses, from around the globe, in this competition. These results give all of us a reason to celebrate and they mean we can look forward with confidence in the future of our industry."

For more information about each of the winners, take a look at the digital Winners Brochure.

AIPH thanks Headline Sponsor Royal FloraHolland, Founding Partner FloraCulture International, Sapphire Sponsor GLOBALG.A.P. & GGN Label, Pearl Sponsors IPM Essen and SB Talee, and Awards Partner CIOPORA for their continued support of the awards.

Entry for IGOTY 2024 is now open. Find more information and begin your entry here.