April 5, 2018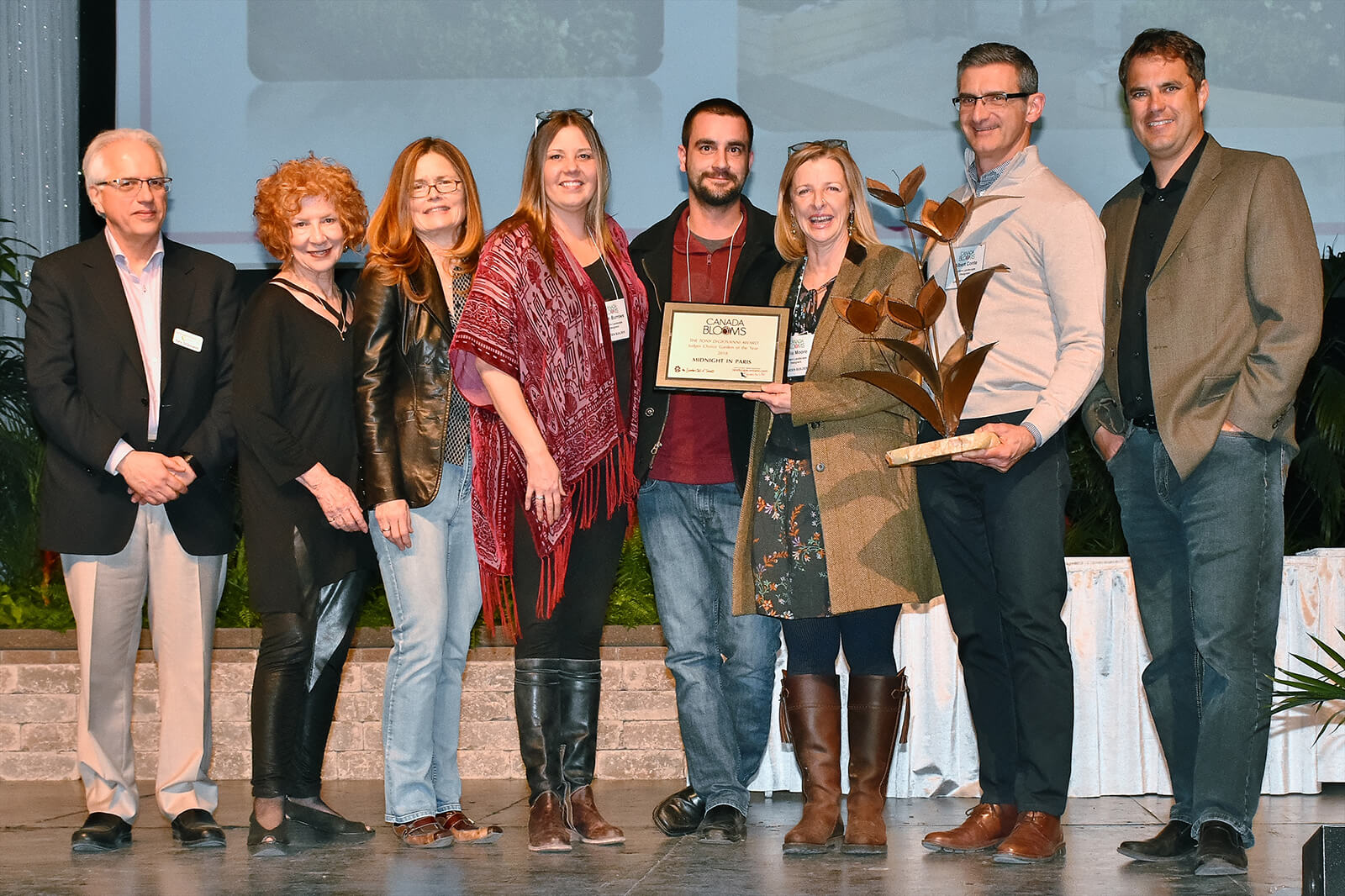 Canada Blooms recognizes feature garden builders
There is no doubt the feature gardens built at Canada Blooms each year are worthy of many awards. Sporting cutting-edge designs, colourful plants, quality materials and superior craftsmanship, the outdoor oases are inspiring to all those who attend the 10-day festival each March.
On March 15, the hardworking men and women who created the gardens were recognized in front of an audience of peer and family members at Canada Blooms Professional Awards Night.
Judging of the gardens took place at the Enercare Centre at Exhibition Place in Toronto a week prior on March 8 — the day before the 22nd edition of Canada Blooms opened to the general public. The volunteer judging panel of well-respected landscape professionals scored each garden on criteria such as: overall visual impact, quality of materials, outstanding creativity, innovation, imagination, aesthetic appeal, technical hardscape/constructed aspects, harmony of design elements and detailing, unique use of plant material, organization and completeness and environment (ie: cleanliness, safety, etc.).
At the conclusion of judging, each judge then voted on their favourite feature garden by secret ballot, to be included in the tally for the Tony DiGiovanni Award, Judges Choice Garden of the Year 2018.
On awards night, Terry Caddo, Canada Blooms Festival Manager, welcomed garden builders and guests to the Unilock Celebrity Stage. "Our 2018 theme of "Let's Go to the Movies" has provided a great opportunity for fun aspects to be incorporated into our gardens and floral displays," Caddo said. "I am more impressed every year how the garden builders express their creativity and interpret our festival theme; they truly have taken us to the movies this week."
Tony DiGiovanni, LO Executive Director, commented, "Each builder in this room deserves credit for their commitment, industry leadership and beautiful final results… not to mention sponsors who supported materials and supplies. On behalf of the association, I would like to thank all contributors for their tireless passion and commitment to volunteerism that made these gardens possible. Thank you all for your awe inspiring and amazing contributions."
Awards were then presented to the following companies:
Greer Design Group for Alice
The Unilock Award for Outstanding Garden, Small Size
The Do-Up-The-Doorsteps Awards. Presented by Oaks By Brampton Brick
Modern Landscape Designers and Trimatrix Construction for Midnight in Paris
The S.G. Ulbright Award for Outstanding Garden, Medium Size
The Tony DiGiovanni Award, Judges Choice Garden of the Year 2018
Genoscape for Never Forgotten, Highway of Heroes Living Tribute
The Gordon A. MacEachern Award for Outstanding Garden, Large Size
Best Use of Bulbs. Presented by Pioneer Flower Farm
The PremierTech Award for Best Overall Use of Plant Material
Aquaspa Pools and Landscape Design, and Royal Stone Landscaping & Design for Movies by the Pool
Outstanding Interpretation of Show Theme "Let's Go to the Movies" Presented by Isuzu Commercial Truck of Canada
The Landscape Ontario Award for Best Overall Quality of Workmanship
Dig Safe Builders Award. Presented by ORCGA
Land-Con for Hollywood After Party
Outstanding Outdoor Entertainment Area
The W.E. Bridgeman Award for Best Overall Use of Hard Landscape Elements
Landscape Ontario and Parklane Landscapes for Fusion Oasis Under the Stars
Most Imaginative Garden Design. Presented by Niagara Escarpment Views
Mountainhill Landscaping for An Inconvenient Garden
Outstanding Use of Artistic Elements in a Garden
LO Growers Group, Double Tree Landscaping, and Duralock Interlocking and Landscaping for Ontario Growers Grove
Outstanding Use of Trees. Presented by Gro-Bark Ontario
J. Garfield Thompson Landscape for The Samurai Garden
Outstanding Use of Lighting. Presented by Landscape Ontario's Lighting Group
Outstanding Use of Natural Stone. Presented by Beaver Valley Stone
The Leslie L. Solty Memorial Award for Best Overall Creativity in Garden Design
AKA Designs for Champagne and Caviar
Outstanding Use of Interior Plants. Presented by Jill Jensen Botanicals
Outstanding Balcony Garden
City of Toronto for The Pollinator
Outstanding Use of Annuals and/or Perennials. Presented by Ontario Flower Growers Cooperative
The Garden Club of Toronto Award for Best Overall Use of Colour
Jackson Pond for This is Our Movie
Perry Molema Award for Outstanding Use of Water. Presented by Aquascape
Stanley Roszak for Welcome to the Front Yard
Outstanding Use of Walkways
Bancheri Bros. Interlocking and Paving for Oscars After Party
Outstanding Outdoor Living Space
Skai Leja Landscape Design, and Ecoman for Found Treasure Island
The Do-Up-The-Backsteps Award. Presented by Oaks By Brampton Brick
AKA Designs for Champagne & Caviar
Outstanding Balcony Garden
Maynooth Granite
Hard Landscape Supplier of the Year
Rodger Tschanz and the University of Guelph
Soft Landscape Supplier of the Year
Organizers would like to thank feature garden judges: Christine Gracey OALA, CSLA, DA Gracey & Associates; Ben Cullen, Mark's Choice; Jeff McMann NPD, ISA, CHT, TRAQ, Mount Pleasant Group of Cemeteries; Heather Cullen BA, BLA, PMA Landscape Architects; Alistair Johnston ISA, Strybos Barron King Landscape Architects; convenors: Ron Koudys BLA, MED, OALA, CSLA, ASLA, RLA (MI), CLD, Kristen McIntyre CHT, CEM, Landscape Ontario Horticultural Trades Association; Haig Seferian, ceremony emcee; Canada Blooms co-chairs Janet Ennamorato and Celia Roberts, LO President Warren Patterson for presenting winners with awards. Canada Blooms wishes to thank HUB International and the many sponsors who support the festival.
At the conclusion of the festival, the People's Choice Award, presented by The Toronto Star, was awarded to Genoscape for Never Forgotten, Highway of Heroes Living Tribute.