October 15, 2008
Chapters have a great golf season
By Stephanie Smith
Membership services coordinator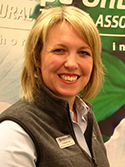 Greetings to all as the working season winds down and the meeting season begins. What a great golf tournament season we enjoyed this year. I would like to touch on some of the highlights during the 2008 season.
Waterloo
The 2nd annual Waterloo golf tournament was an event not to be missed. Held to support KidsAbility, the Centre for Child Development, a cheque for $20,000 was presented to the facility to contribute to its annual fund raising campaign. As well, $2,500 was also donated to Landscape Ontario's Waterloo Chapter Scholarship Fund.The Waterloo golf committee members each deserve a pat on the back for another successful tournament. Thanks go out to Paul Draves, Ray Kuntz, Cor Bultena, Phil Dickie, Paul Cressman, Gary Lammers and Blair McKee, who worked hard to organize the event, which sold out the 144 golf spots available. Results from the golf course are: Best foursome – Rob White, Steve Roga, Emmett De Angelis and Steve Heldman, men's longest drive – Rob White, closest to the line – Jason McAuley, closest to the pin – Blair Gateman and 19th hole closest to the pin winner – Bill Peacock, $690.
Organizers would like to give special thanks to Steve Jemmett from New Roads National Leasing for supplying the cooler gift bags, Carlos Benevides from 107.5 Dave FM for being MC, and to all the hole sponsors and gift table sponsors.
Congratulations to Don McIntosh who was the grand prize winner of a 42 inch plasma TV. Happy retirement Don! Don retired two days later from Compact Sod.
Thanks to primary event sponsors: TD Canada Trust – hole-in-one, Station Earth - plasma TV, T/A Appliance - barbecue prize.
Ottawa
The Ottawa golf tournament was also a big success. (See story in August 2008 edition of Horticulture Review). It was incredible weather and the day went off without a hitch, thanks to all the hard work by the Ottawa golf committee members, Pat Charest, Deana Sharif, Lynn Lane, Bruce Morton, Suzanne Nadeau and Karl Gagnon. The Ottawa Chapter promises an even larger golf tournament next year, so look out for future advertising.
Upper Canada
The Upper Canada Chapter held its golf tournament on July 17 at Briar Fox Golf Club in Marysville. It was a great day, with the rain holding off and all the participants having a good time. The 18 rounds of golf were followed by a steak dinner.
Winners for the day included: ladies' longest drive - Diana Cassidy-Bush, men's longest drive - Tim Keyes, who won a GPS locator from Manderley Turf Products, ladies' closest to the pin - Stephanie Smith, men's closest to the pin - Steve McCheyne.
Toronto
Toronto Chapter's 40th annual Dick Sale Memorial was another smashing success. It was held on July 24 at Eagle Ridge Golf Club in Georgetown. Over 152 players took part this year. It was a great day for golf, until the rain started! Funds were raised for the Sick Kids Foundation and the TBG.
Winners for the day were: ladies' closest to the pin - Francis Soave, men's closest to the pin - Rich Moore, men's longest drive - Brad Talbot, most honest golfers - Rick, David, Mike and Steve of Castlerock, putting contest winner - Brian Lofgren, keep the ball contest went to the foursome from Bluestone.
We thank all of our amazing sponsors for the generous donations. Without our sponsors, this tournament would not be the success that it has become.
Golden Horseshoe
The Golden Horseshoe Chapter held its first annual golf tournament at Willow Valley Golf Club in Hamilton, on August 13. The weather did not co-operate and we were afraid that the event would have to canceled, but our complaints were heard and the rain ended shortly after the scheduled tee off time.
Not only was the day a success, but we also had a hole-in-one winner. Congrats to Shawn Baltzer from Cedar Springs for his hole-in-one victory. He won a John Deere mower and a set of Taylor Made golf clubs. Not too bad for a day out on the course.
The day was a huge success. We would like to thank all of our generous sponsors for their support. Proceeds from the day go to Ronald McDonald House in Hamilton.
Meeting season
The meeting season is approaching quickly and Landscape Ontario has many exciting new programs and events coming up. Keep on top of the meetings in your chapter by visiting
www.horttrades.com
for all the current information. Also keep an eye out for all of the upcoming seminars so that you don't miss out.
David Suzuki lecture
Dr. David Suzuki is coming to the Toronto Chapter on November 20. He will spend the day with Landscape Ontario for two speaking engagements. There will be a luncheon at the Toronto Botanical Garden with an environmental tour and a ceremonial tree planting.
In the evening, Dr. Suzuki will speak on the benefits of planting trees at the John Bassett Theatre. It will be an educational lecture and there will be an opportunity to have a book signed at the end of the evening. The Toronto Chapter will donate all the monies raised from the day to the Sick Kids Foundation and the Toronto Botanical Garden. What a great gift for a customer, friend and for yourself! Tickets are available online at
www.landscapeontario.com
. We look forward as always to seeing you there.
---
Stephanie Smith can be reached by e-mail at
ssmith@landscapeontario.com
.
Caption: It was an exciting time at this year's Waterloo Chapter golf tournament, when a cheque for $20,000 was handed over to KidsAbility. In photo, from left, Carlos Benevides, who MC'd the event, Paul Draves, tournament organizing committee, Margaret Attwell of KidsAbility, and Don McIntosh, who won the draw for a plasma TV.