April 3, 2014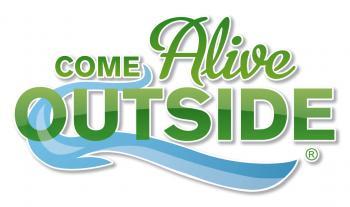 Canada Blooms 2014 Feature Garden




Landscape Ontario invites you to enhance your lifestyle – outdoors!



Welcome to Come Alive Outside, Landscape Ontario's Canada Blooms 2014 feature garden. The purpose behind this display is to encourage you and your family to spend more time outdoors, learn about healthy outdoor lifestyle opportunities. Absorb the message as you wander through the garden's three zones.



Awareness Zone


The display will take you through three distinct zones within the 2,200 sq. ft. area. The first of these is the Awareness zone. This area will present the alarming statistics related to the health impacts that have resulted from our decrease in actively enjoying the outdoors. Information is presented on several display screens modified to reveal their information through a special lens.



Opportunity Zone


Moving through the hut, the Opportunity Zone is next, consisting of three wooden opportunity pods. Each pod presents information on how individuals may benefit from living healthier active lives outdoors -- for yourself, your family and your community. Information is presented in a dynamic, multi-media format, showing real examples of how individual and public landscapes which focus on outdoor living draw people away from the sedentary, plugged-in, electronic world and towards the beauty and benefits of nature.



Garden build time lapse video


Check out the time lapse video of the Come Alive Outside Garden build.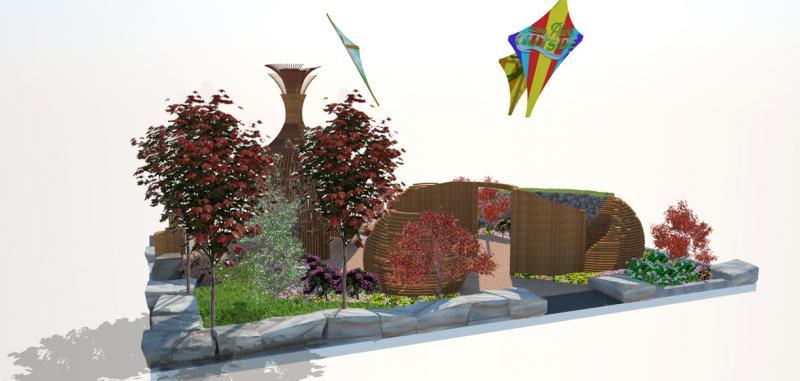 Other key elements within the garden are a curved drystone wall ranging from three to six ft. in height, with two additional curved walls constructed from cedar logs, and central recognition walls. The walkways are a detailed quilting of paver styles. A rich palette of flowering shrubs and herbaceous plants and a raised sodded lawn area will provide visual and sensory appeal. Extensive lighting, as well as subtle natural sound elements, enhance the experience. The garden is topped with large kites flying overhead, providing a sense of childhood whimsy to the space.

---
Garden contributors
Brydges Landscape Architecture
Tiffany Byrd, Paul Brydges
www.brydgeslandscapearchitecture.com
Dean McLellan Stonework
Dean McLellan, Patrick Callon, Ken Davies, James D'atri, Henry Mandawoub, Mike Wade Henry, Shawn Charlebouis, Dale Thomas, Andre Lemieux, Menno Braam
deanmclellanstonework.weebly.com
Edengrove Landscapes Ltd
David Kampen, Joshua Mcarthy, John Hordyk, Justine Lodder, Sean Kampen, Dave Kok, Jason Beatty
www.edengrove.ca
Fanshawe College
Evan MacAdam, Eric Abrams, Mark Muehmer, Brandy Suchostowsky, Corey Leader, Dylan Mcleod, Jaimi Uram, David Comfort, Emily Lougheed, Kyle Haskett, Morwyn Griffith, Jessica Rowland, Michael Pascoe
www.fanshawec.ca/programs-courses/full-time-programs/htn1-intro
Gardens in the City Inc.
Chaz Morenz
www.gardensinthecity.ca
Ground Effects Landscapes Inc.
Tim Kraemer
www.groundeffectsinc.biz/
Landscape Ontario Georgian Lakelands Chapter

Landscape Ontario Lawn Care Sector Group
Don Voorhees
Landscape Ontario London Chapter

Lee's Landscaping Design and Construction
Jeff Lee
www.leeslandscaping.ca
Saugeen First Nation #29
Dean McLellan, Patrick Callon, Ken Davies, James D'atri, Henry Mandawoub, Mike Wade Henry, Shawn Charlebouis, Dale Thomas, Andre Lemieux, Menno Braam.
www.saugeenecdev.ca/Amphitheater.html
The Scott Wentworth Landscape Group
Jim Philip, Tara Galpin, Andrew Wentworth, Cameron Trudeau, Brain Ferreira, Terry Moffat, Steve Ferreira, Matt Ferreira, Andrew Wilson, Chuck Turner, Diane Hill, Sian Pritchard, Scott Wentworth
www.swlg.ca
Turf Care Products Canada
John Higo, Brad Willis, Scott Sim, Gord White
www.turfcare.ca
Turf Systems
Alan White
www.turfsystems.ca
Weed Man Canada
Steve Tschanz
www.weedmancanada.com
Whistling Dwarf Stonework
Menno Braam
www.whistling-dwarf-stonework.com
Garden sponsors
Boots Landscaping and Maintenance
bootslandscaping.com
Connon Nurseries C.B. Vanderkruk Holdings Ltd.
www.connon.ca
Designs By the Yard - Design Studio & Boutique
www.designsbytheyard.com
Global Arch
globalarchinc.com
Grenville Stone Company
www.grenvillestone.com
Ground Effects Landscapes
www.groundeffectsinc.biz/
JP Horizons
www.comealiveoutside.com
Limberlost Stone
www.limberloststone.com/
Moonstruck Landscape Lighting
www.moonstrucklandscapelighting.com/
Nicholson and Cates
www.niccates.com
Nursery Sod Growers Association of Ontario
www.nsgao.com/
Outdoor Kitchens Canada
www.outdoorkitchenscanada.com
Picton Home Hardware Building Centre
www.pictonhomehardware.com
Plant Products
www.plantproducts.com
Stonescape Quarry and Fabrication
www.stonescape.co
The Branch Ranch
thebranchranch.ca
The CuttingGarden

TradeWinds International Sales
www.tradewindsinternational.ca/
Turf Care Products Canada
www.turfcare.ca
Unilock
www.unilock.com
Upper Canada Stone Company
www.uppercanadastone.com
Plant list


Canada Blooms 2014 Feature Garden

Acer platanoides 'Crimson King'
'Crimson King' Norway maple
Acer palmatum 'Bloodgood'
'Bloodgood' Japanese maple
Betula jacquemontii 'Multistem'
Himalayan birch
Amelanchier canadensis
Serviceberry
Cornus alternifolia
Pagoda dogwood
Hydrangea macrophylla 'Endless Summer'
'Endless Summer' hydrangea
Physocarpus oulifolius 'Monlo'
Diabolo ninebark
Rhododendron 'Golden Lights'
'Golden Lights' azalea
Rosa 'Meiswetdom'
Rosa 'Meidrifora'
Rosa 'Meigalpio'
Syringa 'Bloomerang'
'Bloomerang' lilac
Rhododendron catawbiense 'Roseum Elegans'
Rhododendron
Hydrangea macrophylla 'Nikko Blue'
Nikko Blue hydrangea
Nepeta racemosa 'Walkers Low'
'Walkers Low' catmint
Heuchera 'Caramel'
'Caramel' coral bells
Gaura lindheimeri 'Pink Cloud'
Gaura
Lamprocapnos spectabilis 'Gold Heart'
Gold Heart' bleeding heart
Solenostemon scutellarioides 'Lifelime'
Coleus
Imperata cylindrica
Japanese blood grass
Yellow begonia
White begonia
White tulips
Red and white tulips
Orange pansies
Blue pansies
Dark blue hyacinth
Light purple hyacinth
Ranunculus asiaticus
Yellow Persian buttercup
White hellebore
Note on the garden's turfgrass, Bella Bluegrass
This is a dark, alpine green bluegrass variety that is vegetatively propagated. Bella is a quick grower laterally, but has very slow vertical growth. This will equate to 50-80% less mowing.
Bella self-repairs from damage quickly. With a no-mow option, Bella will terminate in height at about 3.5 – 4 inches.