July 15, 2014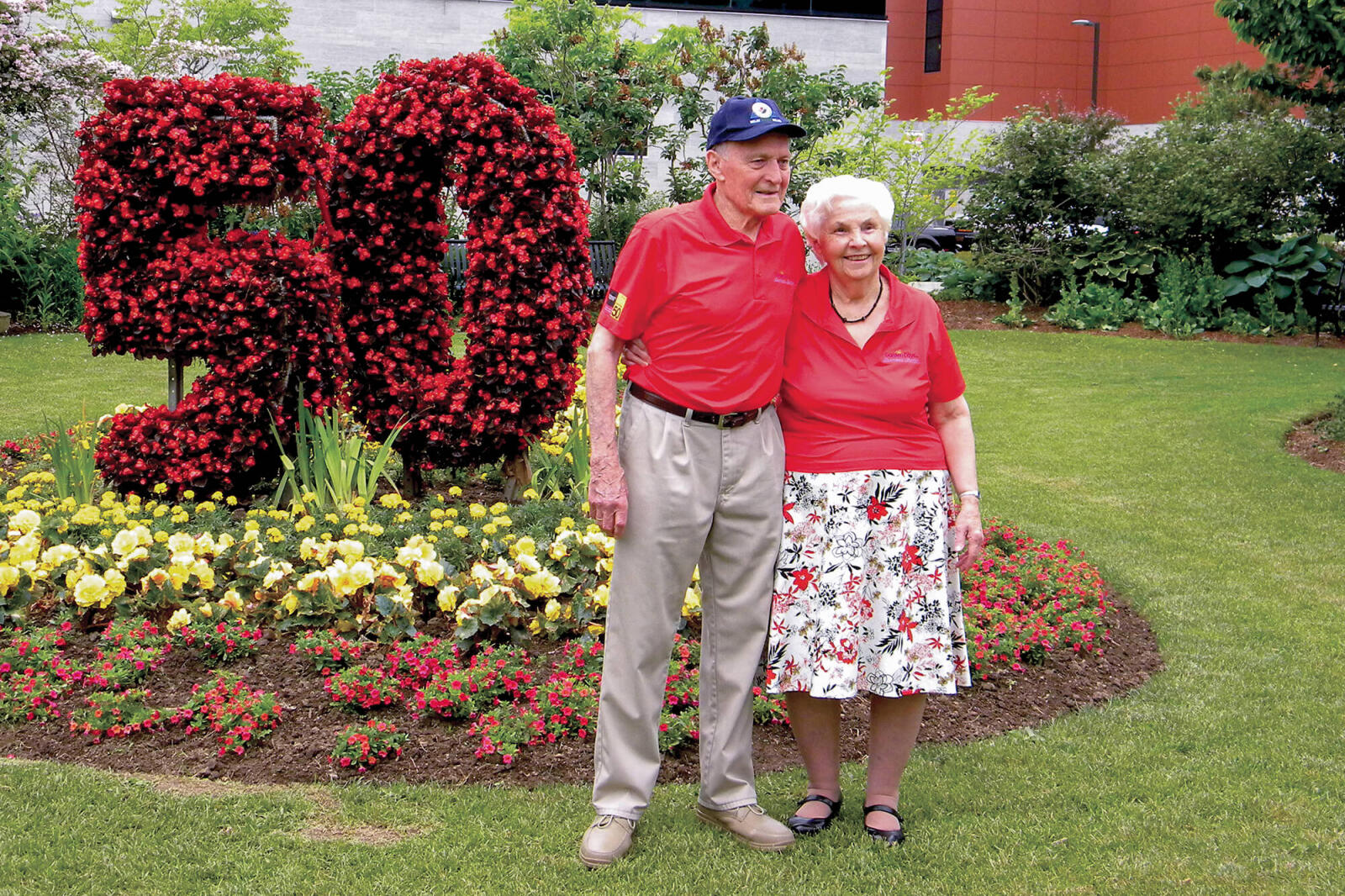 Contribution, legacy and turning 60
Tony DiGiovanni CHT
LO executive director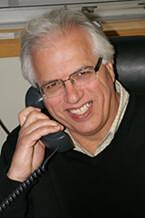 When my daughter was born almost 32 years ago, I was so overjoyed that I was compelled to write her a song. Her birth stimulated feelings I had never experienced.
As I approach the age of 60, the same thing is happening as when my daughter was born. I now find myself reflecting on the past and looking toward the future. How did 60 years get here so quickly? Will the next 20 years come as fast? Have I accomplished enough? How can I best use the next chapter of my life to make a positive difference?
In the past couple of weeks, I have observed that many people are motivated by a desire to make a positive difference; to leave behind a legacy of benefit; to make things better. This contribution ethic is a core value of our membership family. Every day your staff team at LO is inspired by the many members and friends of Landscape Ontario, who are driven by a desire to contribute. There seems to be an explosion of good will everywhere.
I offer some examples.
Mark Cullen and Michael de Pencier recently decided to personally fund the organization, Trees for Life. Carla Grant has taken on the position of executive director. She will focus on promoting 40 per cent urban tree cover. Mark and Michael and many others in the Trees for Life Alliance understand the societal benefit of trees. They are driven by purpose and contribution. I was pleased to receive a hand-written card from Mark. He pledged to match up to $30,000 a year for three years for horticultural scholarships. If you are up to this challenge please let me know.
Ed Lawrence is a well-known garden communicator for CBC Radio. He has this idea to develop a tree registry. He wants one tree planted for every person living in Canada in 2017, which is Canada's 150th anniversary. He sees it as a gift to the future. What an amazing way to celebrate Canada's sesquicentennial.
Margaret and Ivan Stinson are professional volunteers, community builders and legacy makers. You will have seen them at many LO events. Even in their 80s, they have more energy than many people in their 20s. They are the most inspiring couple I know. Recently, they organized the flagship Garden Day event that celebrated the University of Guelph's 50th anniversary.
Recently Joe Melo invited me to the Portuguese Wall of Fame induction ceremony in downtown Toronto. It was great to see Joe outside of his industry, contributing to the Portuguese community. Joe was on the original committee that founded the Wall of Fame project. His signature granite installations and water features reflect the importance of an event which honours those who have contributed to the growth of the community.
Joe Melo at the Portuguese Wall of Fame induction.
---
Dean McClellan and Patrick Callon led a training and certification program at the Saugeen Shores First Nation Amphitheatre. In addition to restoring the unique dry stone amphitheatre, the students earned their certification from the British Dry Stone Walling Association. It is interesting how a dry stone walling project can inspire and build community. It will also leave a legacy for many generations.
The students took a break from the restoration and certification activities to build a memorial dry stone tepee for missing First Nation women. What a powerful and profound statement this tepee makes.
I recently joined the Maple Leaves Forever Board. I was inspired by founder Ken Jewett, who has created a foundation focused on promoting the planting of native maples. This octogenarian is another one of those contribution-oriented individuals who has more energy than those half his age. His passion is infectious.
Earlier this month we attended the official opening of the Perry Molema Memorial Garden in Chatham. This project was inspired by Sasha Hunter and Chuck Catton. Many of our members participated. The garden spoke volumes about the core values of our industry. Perry's comment, "We are in the business of enhancing lives," is true.
On the same day, Audrey Partridge organized members' contributions for a garden at Bethell Hospice.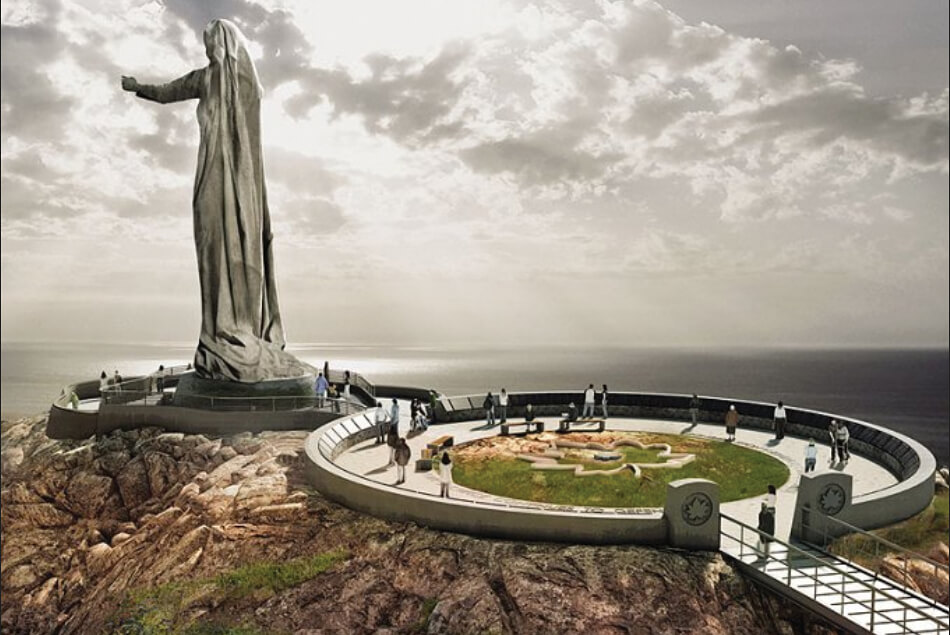 This artist's rendering depicts the vision of Tony Trigiani, who hopes to create a 'Never Forgotten National Memorial,' called Mother Canada.
---
In Durham, the members of the LO Chapter planted trees to enhance the new Centre for Food. Thank you to B. K. Baun Landscape, Lakeridge Contracting, Hard-Co, DLS Garden Centre, Arnts Topsoil, Battlefield Equipment Rentals, Dutchmaster Nurseries, Uxbridge Nurseries and Vissor Sod. Your contribution ethic inspires and reflects well on our entire industry.
A few weeks ago, one of our members, Bernie Wolfe from Crystal Lawn Care, took me to meet visionary Tony Trigiani. Tony has this amazing idea to create a 'Never Forgotten National Memorial' at the end of the Cabot Trail, facing the Atlantic Ocean. The memorial will be called Mother Canada. It will face a similar memorial known as Canada Bereft, built in Vimy Ridge to honour Canada's war heroes who lost their lives during the First World War. Bernie is the national champion volunteer liaison to the landscape industry.
These are just some of the ideas, projects and people with whom I have come across in the last couple of weeks. They are all connected by a contribution and legacy ethic, and a desire to leave something better behind.
Contribution, legacy and enhancing lives is the heart of our Landscape Ontario family and life in general.
---
Tony DiGiovanni may be reached at
tony@landscapeontario.com
.