November 1, 2019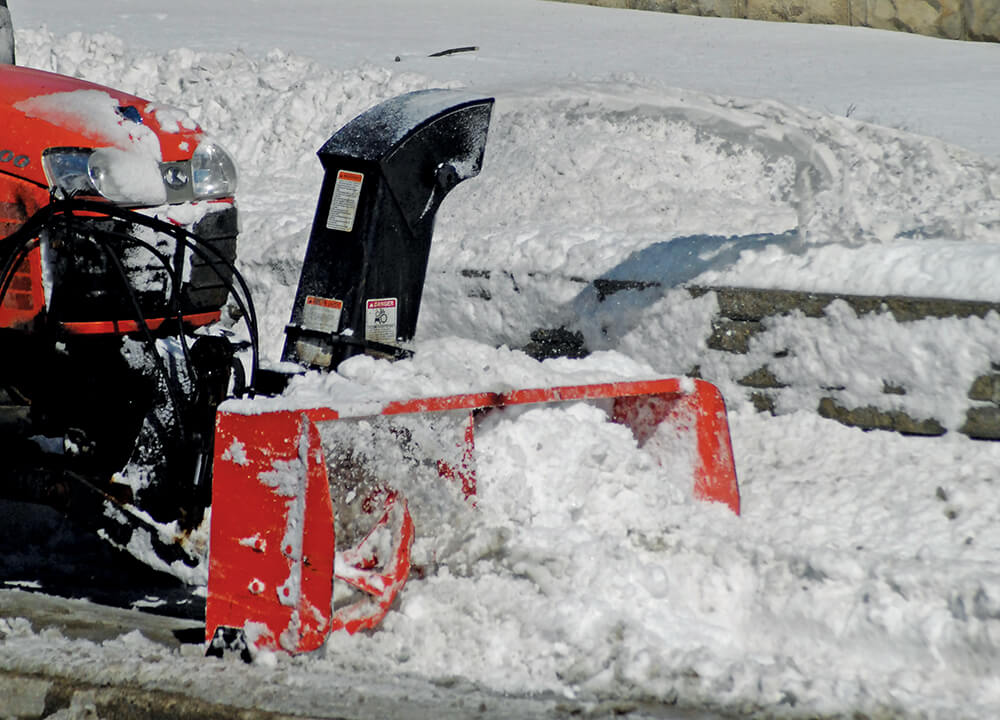 Create a sales process for snow
BY MARK BRADLEY
Winter is coming and you should be out there actively selling and firming up your contracts before that first frost. The most successful snow contractors have a proven sales process that scales as their companies grow. In order to ensure you are setup for success, follow these guidelines from the snow pros to create a sales process that is sure to drive a profitable season.
Define your market segment
It's okay to turn down work. In fact, if you take every job that comes your way, you are likely losing money. Whether it's because you want to keep your workforce employed year-round or because cash flow is tight, the reasons for saying 'yes' to everything may be completely understandable, but they aren't profitable. Whether you like it or not, you need to define your market segment to maximize your profits.
First, decide whether your snow and ice business will be focused on residential, commercial, HOA (home owners' associations), industrial, government or retail. There's nothing stopping you from focusing on more than one market segment, but less is certainly more when it comes to making money. Drill down further into your market segment to find your niche (a subset of your market segment). This way, you will be able to evaluate whether a prospect is a 'yes' or a 'no.'
Here are a few considerations when it comes to determining your niche:

Preferred contract type: Whether seasonal, per push or time and materials (T&M), find your contract preference — or ratio of contract types, and ensure you select a mix of prospects who share those preferences or fill your ratio. Preferences can be based on geography or climate — areas with a high volume of precipitation tend to favour seasonal contracts, whereas in areas of low precipitation, T&M might be king. You might need to be flexible here, but by being deliberate about your preference up front, you will be prepared to evaluate that potential customer.

Equipment and labour needs for each prospect can vary drastically. A wide open industrial lot versus an HOA with hundreds of driveways and walkways have completely different requirements in terms of service needs. You need to ensure that you are either already equipped (with your own fleet or equipment) or have the means to be equipped (via rentals or subcontractors) for the coming season. If you start bidding and winning residential jobs or jobs with lots of sidewalk shovelling, then you need to make sure you have a hiring strategy in place to find the labour.

Timing of service requirements: If a new prospect has strict requirements on when they need to be serviced, you need to ensure this falls within the scope of your current fleet, route and/or staffing. For example, a hospital that is open 24/7 or a business complex that opens at 7 a.m. will both have specific, and perhaps competing, expectations.

Site location: Contractors more focused on short-term cash flow than profit often make the mistake of taking jobs outside of their current routes. The additional time it takes to send a crew to that site can lead to costly inefficiencies. In these cases, it would have made more sense to actively sell neighbouring lots, versus take on random work.
The most efficient snow and ice contractors define their main market segment(s) and ensure they have the right equipment and staff to be the experts in their niche. While it does take discipline to turn down work, it pays off in the long run, as accounts that don't fit in your market segment could be siphoning profit.
Promote contract types
We have already identified using your preferred contract type as a key criterion for evaluating leads, but contract types are also an excellent opportunity to close deals. Snow and ice contract types can generally be categorized as follows and are well understood by those of us in the industry:
Seasonal or monthly: Base price for a select period of time.
All inclusive: This usually includes thresholds, caps and other stipulations.
Per event or per inch.
Time and materials: Growing in popularity as customers prefer to be billed only for work completed.
You have a huge opportunity to differentiate yourself by educating leads on the options available to them and the pros and cons of each. That said, before you begin presenting options, it's important to understand your prospect.
Identify their existing contract style
Are they satisfied with their current type? What do they like or dislike about it?
Always be on the lookout for additional revenue opportunities. Could you land a year-round maintenance contract or an install project?
If you can make your prospect feel valued and present your contracts in a way that makes sense to them, you will increase your chances of closing that deal.
Establish and work your sales funnel
Whether they are aware of it or not, every company has a sales funnel. It's all the steps a prospect takes (or doesn't take!) on the road to becoming your customer. Successful snow business operators document each stage in their company's funnel, have supports in place to push prospects down each stage and know exactly where each prospect is in the funnel.
A typical funnel (from top to bottom) for a snow business might look like this:
Prospect: Winter is the best time to prospect for leads. And your employees are your best source for intel. They see visible opportunities in terms of adjacent or nearby lots and whether those prospects are being properly serviced.

Qualify: This is where you determine if those prospects meet your qualification criteria, i.e., match your market segment, preferred contract type and routing. If they don't fit, take them out of your funnel and move on.

Fact-find: Get to know your prospect. What is their current contract type? Are they satisfied? Why are they looking to switch? Gain as much insight as you can to increase your chances of landing the business, including face-to-face meetings.

Educate: It's time to differentiate yourself. Listen to your prospects' needs and educate them. Showcase your equipment to prove reliability. Explain your technology, like site maps and real-time job tracking, to demonstrate your commitment to quality. Also be sure to share referrals from satisfied customers.

Quote: Snow contracts can be confusing. Keep things simple and ensure you have taken the time to understand their needs before presenting the options.

Negotiate: Implement a dedicated follow-up process to ensure you stay on top of your leads. And when you are dealing with the decision-maker from the get-go, you speed up the contract signing.

Close: If you're using an estimating system, you will know exactly what your costs and margins are to price work for profit, every time. So if a prospect comes back with an unreasonable counter-offer, you can walk away with confidence.

Pro tip: Using a customer relationship management (CRM) tool will ensure you never lose track of a lead and are able to stay on top of the process.
Snow and ice is definitely a high risk and high reward business. It can be very lucrative for contractors who have a well-defined sales process that is focused on identifying their ideal market, educating customers on contracts and establishing and managing a sales funnel. If you are looking for success this season, it's never too late to get strategic about your snow sales.
---
Mark Bradley is CEO of LMN Software, and former CEO of TBG Environmental, both based in Ontario.