January 1, 2018
Dr. Wilbert Ronald: Creator and believer
INTERVIEWED BY ROD McDONALD
Imagine, sitting down to write a book, knowing sales potential would be low and the chance of being compensated for all your time was nil? Yet Dr. Wilbert Ronald and Dr. Philip Ronald soldiered ahead. They did so because their book needed to be written and it needs to be read by nursery people, garden centre operators, landscapers and dedicated gardeners in the great Canadian north.
Their new book is titled
Trees for Northern Landscape
s and I have read it. The front part is a history lesson featuring pioneers and founders of tree breeding and production in zones two, three and four.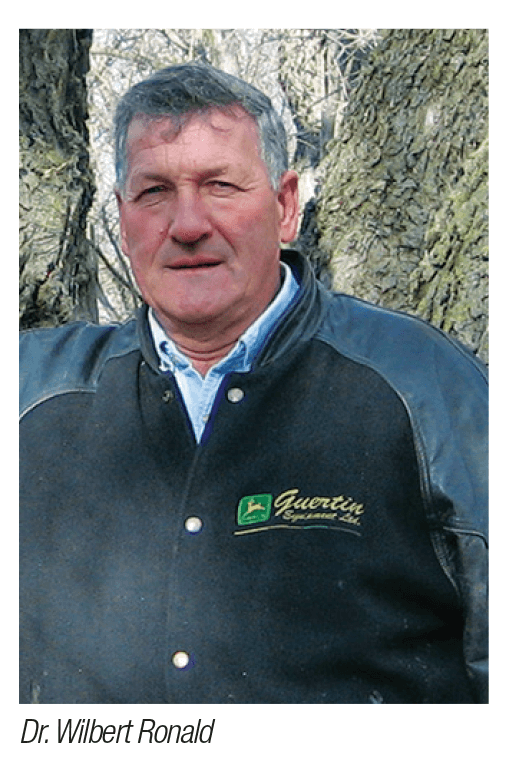 This book not only discusses zones as to cold temperatures but it also acknowledges the importance of soil types and soil alkalinity. Many horticultural books discuss the importance of cold temperature zones, but not the importance of soil type and pH balance. It is easy for a first-year student of horticulture to read, and it contains enough information to keep a 40-year veteran turning page after page. While this article features Dr. Wilbert Ronald in his role as a mentor, he is quick to point out he is neither sole nor the lead author of this brilliant book. "Philip was the one to get things going and he should get much of the credit for getting the book completed and published."
Wilbert eschews the title of Dr. except in the most formal of situations. He is well known as one of Canada's most prolific plant breeders. Working out of his nursery, Jeffries Nurseries near Portage la Prairie, Man., was not always the case; he was employed by the Federal research station at Morden Manitoba from 1968 until 1982. Copies of Wilbert and Philip's new book, Trees for the Northern Landscapes, can be ordered at
jeffnurs@mts.net
. It is also available in Saskatoon and Winnipeg at McNally Robinson Book Store, including online.
Why did you leave the security of a government job to carry on your work in the private sector?
"I had a desire to work with family and an entrepreneur's spirit inside of me. I did not have the funds or time to work on plant breeding when I left my research job, but gradually, as time permitted and needs became apparent, I was able to spend more of my time on cultivar improvement."
Was leaving the security difficult, considering you had a family?
"The first years getting going were tough, but with my wife's support and the addition of good staff such as Rick Durand, Mike Touchette and others, the nursery thrived. My three children all have good horticultural interests and largely put themselves through college. All of them work full- or part-time for the company."
Was it the right choice for you?
"It has been a good choice and there are no regrets. I enjoy going to work every day and still feel I have lots to contribute."
Who was the largest influence in your career when you were in your 20s and needing direction?
"I had many positive role models. Bill Cummings at the Morden Research Centre took me under his wing, when I was 22 years old. Bill gave me room to work and helped me to plan the road ahead."
What was your favourite introduction, your best introduction and your most successful introduction?
"My favourite introduction was 'Northern Treasure' ash and it is also my best work. My most successful introduction, as in best seller, is 'Amber Jubilee' ninebark.
Will there be any smaller independent growers and retailers in 20 or 30 years, or will it all be large growers and box stores?
"Yes, there will be independent growers and retailers in the future. These successful companies will involve themselves in the community and will be innovative and efficient. There is a tremendous business serving landscapers, cities, and other growers and this is where we show potential growth."
If you have a question to suggest, or a mentor to recommend, please write to editor@landscapetrades.com.
Landscape Trades
, January 2018