October 15, 2014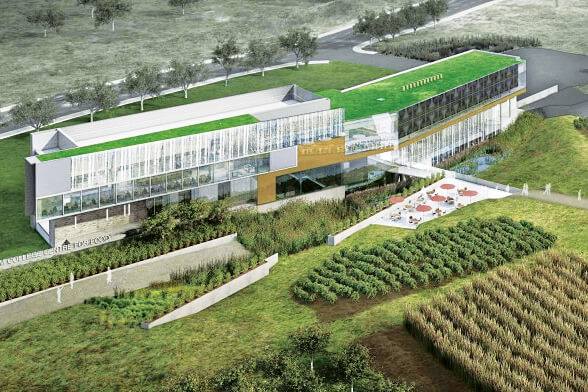 Durham College crowdfunding campaign
On Aug. 19, Durham College launched Field to Fork: Sowing the Seeds of our Community, its first-ever crowdfunding campaign.
The online campaign aims to garner support from the community for the completion of the landscaping and planting needed at the Centre for Food (CFF). The new learning facility was created in direct response to demand from the local culinary, hospitality, tourism, agriculture and horticulture sectors. It opened to students in September 2013.
Field to Fork: Sowing the Seeds of our Community offers an opportunity to support many aspects of the CFF's landscaping including the planting of trees, shrubs, fruits, vegetables and arboretum; garden tools; a walking path; new soil; and more. These will all be used by the college's CFF students, engaging them in the growing, harvesting, storing, processing, packaging and selling of food.
Supported by ambassador and celebrity chef Jamie Kennedy, the CFF can accommodate approximately 900 students studying in programs based on the field-to-fork concept, completing the full cycle from farming to the preparation, serving and celebration of food.
Landscape Ontario is a partner in the project. For more information, please go to
http://fieldtofork.durhamcollege.ca
.