January 7, 2019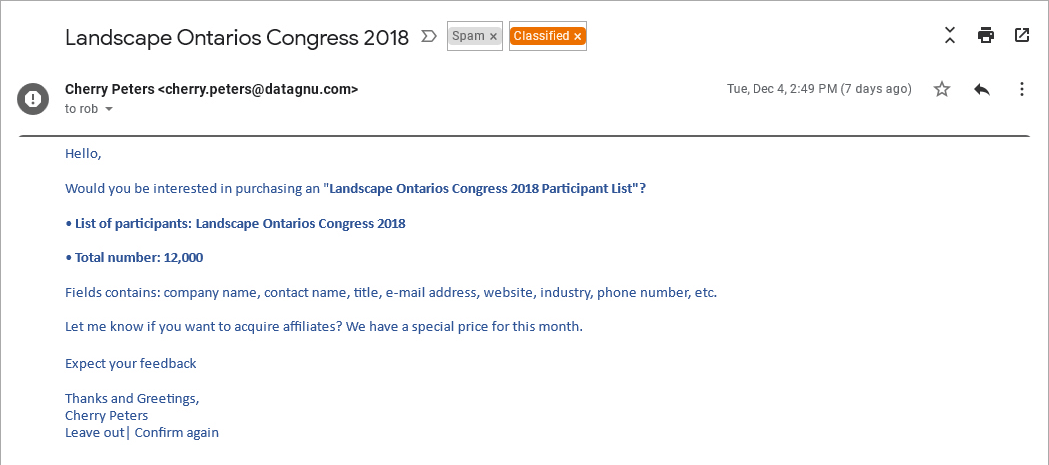 Email messages offering Congress lists are not from Landscape Ontario
Landscape Ontario members have noted receiving emails from various marketing and lead generation firms that claim to have attendee lists for sale for Congress 2018, Congress 2019 and other industry contacts.
These emails are not from Landscape Ontario, nor does Landscape Ontario ever sell such private lists to any marketing company or third-party. Measures are in place to keep all lists secure. Landscape Ontario does make lists available only to members in a limited format for an administration fee. This format does not include email addresses.
Landscape Ontario takes the privacy of members, suppliers, and those who conduct business within the profession very seriously. One of the benefits of membership in Landscape Ontario is the access to real, legitimate companies who have a proven history of conducting business in a respected, ethical and fair manner.
Landscape Ontario, Congress and LO members are not the only ones targeted by this email scam. Many other trade shows, events, organizations and industries are targeted as well. For years, Landscape Ontario has received emails claiming to have lists for sale from other trade and consumer shows.
As an association, we are aware of these false claims. Your safety is our concern. Below are some handy tips that may help you to spot fraudulent messages and phishing scams.
Do you recognize the sender? If you are not familiar with the person's name, email address or company, then it may be a complete stranger. Landscape Ontario would contact you from an @landscapeontario.com email address.
Free accounts with a general email like @hotmail.com, @gmail.com or @yahoo.com can be opened by anyone.
Is there a personal greeting or just a general salutation? If the message simply begins with "Hello" or "Hi" and not your name, then be very suspicious. Other indicators are receiving many, almost identical messages, but all different people or email addresses. You could also receive many messages from the same person that each offer to sell you something different each time. Repeated messages, whether from the same or different people are most-likely false.
Is there bad spelling, grammar and punctuation? If periods and commas are missing, words are incorrectly capitalized, and reading some sentences sound awkward, then the message may not be legitimate. Email can come from any country where English may not be primary language and translation software is used to create the message. A general rule is if it doesn't sound right, it probably isn't. Anyone prospecting business from you would want to project a professional, polished image.
Is there a proper email signature, detailed contact information and a way to unsubscribe? Legitimate businesses would want you to contact them for more information or to place an order. Anti-spam laws in Canada also include strict guidelines that business communications must adhere to, including who the communication is from and a link that enables you to unsubscribe from future communications.
Does your email program suspect the message? Messages containing some or all of the mistakes above can prompt your email software to indicate the content looks suspicious. Look for the warning signs, and where possible, use built-in options to mark or report messages as spam to central databases.
Be suspicious of any message that simply contains a hyperlink to a website, that claims to be from a banking or financial institution, that mentions overdue invoices, outstanding payments, or that requests login or personal information. Follow the rules, and remember, if it doesn't sound right, it probably isn't.
For full details on Landscape Ontario's Privacy Policy, visit
HortTrades.com/privacy-policy
.
Fraudulent emails offering lists of Congress attendees for sale are not from Landscape Ontario.