October 15, 2008
Every season brings new turf growing challenges
By Pam Charbonneau
OMAFRA turf specialist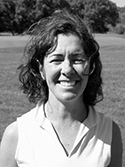 Every turf growing season is unique, and the summer of 2008 was a good reminder of that. Some areas saw record rainfalls in June, July and August. Those in the Windsor area didn't experience the wettest summer on record, but it was drier than usual. The north was also drier than normal.
What does this mean for turf? It was a pretty good summer for growing turf. Most areas of southwestern Ontario had green grass all summer long. The problem was, when you examined the grass closely, a lot of the green was weeds, not grass. Thin grass from the dry conditions in 2007 gave the weeds lots of opportunities to fill in bare areas. This made it a record year for crabgrass, dandelions, black medick, common wood sorrel and clover, to name a few.
This was a big contrast as far as the insect world is concerned. There were fewer insect problems the summer of 2008. The good thing about all the green grass is that if you did have insect feeding damage, it was not quite as evident. There was damage from bluegrass bill bug in July and some hairy chinch bug damage in late July and early August.
On the grub front, during our monitoring for grub insecticide sites, we encountered many European chafer grubs. Will they cause damage this year? It is still hard to say. The turf this fall has very numerous and deep roots. It is going to take high populations of grubs to cause damage. The exception is dry areas of the province. Some areas of the United States are reporting record numbers of grubs this fall, but they had drier weather than we had here in Ontario.
All this wet weather is great news for our newest turf insect pest, the European crane fly. There were large numbers of crane fly adults observed flying around in the month of September. The soil conditions were perfect for egg hatch and early larval development.
Hopefully, you put your first application of fall fertilizer down in mid-August to mid-September. October is a month where you should put your fertilizer spreader away until the very end of the month, or the beginning of November. That is the perfect time for the late fall fertilizer application. The turf should still be green, but not actively growing. With all the wet weather earlier in the season, the turf really needs the fertilizer this year. The turf either used up the nitrogen or it was long gone due to leaching as a result of all the summer rain.
---
Pam Charbonneau can be reached at (519) 824-4120, ext. 52597 or by e-mail at
pamela.charbonnea@ontario.ca
.