November 3, 2020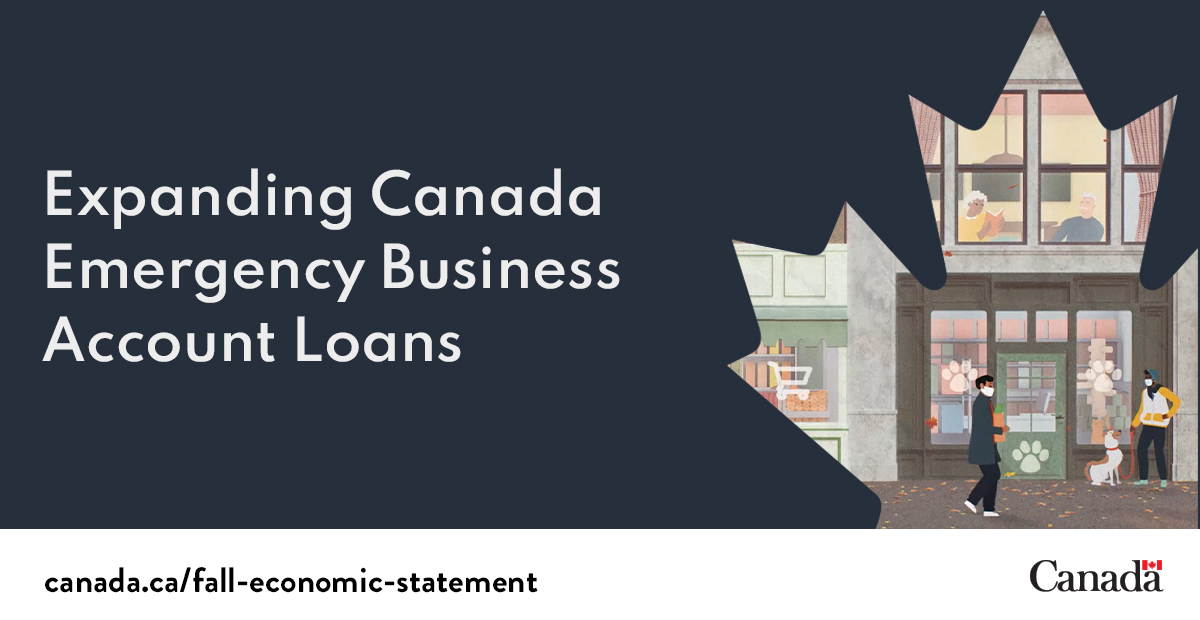 Feds raise CEBA to $60,000
Beginning Dec. 4, 2020, eligible businesses facing financial hardship as a result of the COVID-19 pandemic are able to access a second
CEBA loan of up to $20,000
– on top of the initial $40,000 that was available to small businesses. Half of this additional financing, up to $10,000, will be forgivable if the loan is repaid by Dec. 31, 2022.
This means the additional loan effectively increases CEBA loans from the existing $40,000 to $60,000 for eligible businesses, of which a total of $20,000 will be forgiven if the balance of the loan is repaid on time. As announced in the Fall Economic Statement, the application deadline for CEBA has also been extended to March 31, 2021. To apply, eligible businesses and not-for-profits need to contact the financial institution that provided their initial CEBA loan and provide the appropriate information and documentation.
"As Canada fights a powerful second wave of COVID-19, many of our small businesses are facing immense uncertainty," said Chrystia Freeland, Deputy Prime Minister and Minister of Finance. "They are resilient and have innovated and adapted during this pandemic, but our government knows they need support. This increased CEBA loan will help protect jobs, protect businesses and make sure the small businesses our communities love and rely on are not permanently closed once we have defeated the virus."
To qualify for CEBA, all applicants must have:
An active Canada Revenue Agency (CRA) business number with an effective date of registration on or prior to March 1, 2020;
and either: meet the payroll eligibility criteria; or demonstrate a minimum of $40,000 in eligible non-deferrable expenses, and have filed a 2018 or 2019 tax return.
CEBA is administered by Export Development Canada (EDC), which is working closely with Canadian financial institutions to deliver the loans to their existing business banking customers. The CEBA Call Centre can be reached at 1-888-324-4201 between Monday and Friday from 8 a.m. to 9 p.m. ET. As of Dec. 1, 2020, more than 793,000 CEBA loans have been approved, representing over $31 billion in funds.
Launched on April 9, 2020, CEBA provided a $40,000, zero-interest, partially forgivable loan to small businesses that experienced diminished revenues due to COVID-19 and faced ongoing non-deferrable costs, such as rent, utilities, insurance, taxes and employment costs. By assisting these businesses in servicing their non-deferrable costs, CEBA is intended to facilitate the post-COVID resumption of normal business operations.
Since its launch, the government has made modifications to CEBA to help even more small businesses, including:
increasing the payroll eligibility range to between $20,000 and $1.5 million;
making CEBA available to owner-operated small businesses that do not have a payroll, sole proprietors receiving business income directly as well as family-owned corporations remunerating in the form of dividends rather than payroll;
making CEBA available to businesses operating from a personal banking account that had previously been unable to apply due to not operating from a business banking account; and as of Friday, December 4, 2020, making available an additional $20,000 CEBA loan, for eligible businesses facing financial hardship as a result of the COVID-19 pandemic.
The additional $20,000 CEBA loan may not be available at all participating financial institutions on December 4, but is expected to be available soon, the government saaid in a media release.
Learn more on the federal government's website.