December 15, 2017
Tony DiGiovanni CHT
LO Executive Director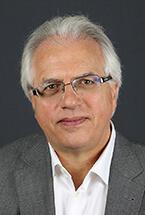 Earlier this year I received a call from frustrated member. Her company had plenty of work but could not find enough employees to do it. She asked how Landscape Ontario could help.
Just about every member I talk to says the same thing. In fact, all of our counterparts throughout North America have the same recruitment and retention problem.
Is it because we don't pay enough? Is it due to the sometimes-seasonal nature of our work? Is it because young people are not aware of the excellent opportunities? We have been asking these questions and more for a number of years.
I know of members who pay $25/hr to start and $40/hr to their forepersons, yet they still have problems. Others guarantee year round work for above average pay and still have problems. I know members with well-developed career ladders who place a high value on continuous training and certification. They too, share the same problems.
The answers to this issue are very complex.
Labour attraction and retention is by far the biggest issue facing our profession. This serious issue is getting worse. Many young people (and their parents) have a hard time understanding what meaningful work our profession can provide — especially when employers are forced to lay off employees over winter.
Lack of awareness about our profession is a serious issue. How can anyone choose a career they do not understand? We once asked a group of high school students to help us understand why they don't consider horticulture as a career option. Their answer was that young people simply don't know about the many career opportunities. Simple, but true.
We asked a group of university students, "How can we make the landscape profession more attractive?" First, they were not aware of the career opportunities available and they were also surprised to learn that ours is a multi-billion dollar profession employing over 140,000 people in Canada. Their advice was to advertise on social media and focus on the entrepreneurial opportunities available.
The lack of awareness is somewhat caused by urbanization. With over 87 per cent of the population living in cities, we have a generation who have not been exposed to people who grow or maintain plants for a living. The baby boomers were gardeners because their parents were. Children living in cities today are not.
The computer is also to blame. Young people have forgotten how to play outside. Parents are afraid to let kids play alone outdoors. How then, are children going to have an outdoor experience that leads to an appreciation of nature and landscape?
Landscape Ontario spends a great deal of resources dealing with this serious issue. We will focus even more attention on it moving forward. Here are some of our activities thus far:
Professional development:
The best human resource advice is to look in the mirror and ask yourself: "Would I work for me?" Becoming better employers who understands, listens and care for employees could solve many of our retention issues. LO provides many seminars focused on helping owners become better employers. We developed an Effective Leadership program at ELpathway.ca and the Peer-to-Peer Network that allows members to exchange ideas and help each other to become better leaders.
Apprenticeship and post-secondary programs:
Ontario's Horticultural Technician Apprenticeship Program is proven to help retain employees. LO hired a full-time person to assist members with enrolling employees into the program. Two new Apprenticeship Programs were started at Algonquin and Loyalist Colleges. We now have six colleges offering apprenticeship training in the province. LO is involved on the advisory boards of 12 colleges and one university who offer landscape programs. We assist teachers with materials and resources. We distribute over $40,000 in scholarships each year. Recently, the government announced an incentive of up to $19,000 to employers who enroll apprentices. Enrolling is easy: simply call us and we will do most of the work for you.
Secondary schools:
LO is involved in promoting the Specialist High School Major Program. Hosted at 28 high schools, this program allows interested grade 11 students to graduate with a major in horticulture. We also got involved in the Youth Fusion program designed to reduce drop-out rates by providing experiential learning opportunities to students.
Skills Canada Ontario:
We act as an advisor to Skills Canada Ontario, an organization focused on promoting the trades. Their flagship event involves a student competition. Each student team is provided a landscape plan which they must build within a two-day time span.
Websites:
A new, national labour website was created at landscape.jobs and a career website at greencareerscanada.ca. In 2018, we will devote more resources to promoting these sites to young people.
Canada Blooms:
Each year, the association builds a garden at Canada Blooms. The festival attracts over 100,000 people. Two years ago, LO President Paul Brydges created the "Choose your Path" garden that showcased the diversity and creativity of our profession.
Other activities:

We helped to form the Horticultural Educators Association (HEA).
Involved in the Come Alive Outside Design Challenge aimed at engaging young people in our profession.
We provided guidance to universities who provide training for secondary level teachers.
On the nursery side, we support the FARMS program.
We have a well-developed, integrated plan in partnership with CNLA.
We are participating in the National Association of Landscape Professionals (NALP) Labour Summit in which associations are working together to tackle the issue.
As an increasingly urban population becomes aware of the many environmental, social, economic, therapeutic, health and aesthetic benefits of our work, our limiting factor remains attracting and retaining employees. It's time to start thinking about the employee as a customer. That is our challenge for 2018.
---
Tony DiGiovanni may be reached at
tony@landscapeontario.com
.