May 13, 2014
Garden Days – Canada's Celebration of Gardens
June 13 to 15, 2014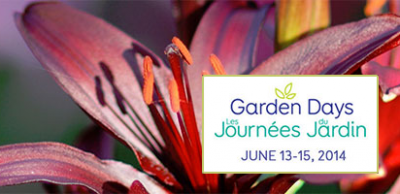 Garden Days is Canada's coast to coast to coast, three-day celebration of our National Garden Day which is held annually on the Friday before Father's Day.
This three-day program of activities and events is for gardening enthusiasts, families, schools and tourists alike. Garden Days is an opportunity for Canadians to enjoy their own garden, visit or take part in their favourite garden experience, get inspired at their local garden centre or travel to a nearby destination to enjoy their favourite garden.
Our gardens have long been among the country's great assets
Mark Cullen, national Garden Days spokesperson, recently said, "While the physical activity of gardening makes for better living, the mere presence of gardens enhances Canadian lives everywhere. Our public and private gardens have long been among the country's great assets and now, finally, they are being celebrated in a meaningful and purposeful way during Garden Days."
Register your activity and join the celebration
All Canadian gardens, garden and horticultural organizations and garden-related businesses (eg. garden centres) are invited to organize activities or events to celebrate public gardens and home gardening and to be included in the Garden Days program. It's as simple as visiting
www.gardendays.ca
and clicking on the 'Register Your Activity' button.
Find a Garden Days activity near you and enter the 'Best Garden Street' Contest
To find Garden Days activities near you, visit
www.gardendays.ca
and click on the 'Activities' button, or search by city on this easy to navigate site.
While on the site, be sure to enter the 'Canada's Best Garden Street' contest. Explain how gardens, private or public, contribute to the quality of life on your street and in your neighborhood and you could win $1,000 worth of Mark's Choice Lawn and Garden products from Home Hardware and be named Canada's 2014 'Best Garden Street'.
Above all, have some great outdoor fun by adding more garden to your life.
You can help make 'National Garden Day' a reality


On April 8, 2014, MP Malcolm Allen introduced a Private Member's Bill in the House of Commons to have the Friday before Father's Day officially designated 'National Garden Day'. If you would like to support this Bill, print the Petition and have as many of your friends and associates sign it as possible, then mail it (at no charge) to MP Allen's office in the House of Commons. Your voice is important.



Organized by the Canadian Garden Council, and kicked off with National Garden Day, always the Friday before Father's Day, Garden Days is a three-day celebration of gardens and gardening. The program's objective is to draw attention to Canada's garden culture, history and innovations and to underscore the importance of public and private gardens, the values of home gardening and the promotion of environmental stewardship.
Garden Days is a joyful, country-wide celebration of the role of gardens in our communities and in our lives.
Garden Days is sponsored by: VIA Rail Canada, Enterprise Canada, Chimpanzee and Baxter Travel Media and supported by the Canadian Nursery Landscape Association.
Follow Garden Days on Twitter
@CanadasGardens
and join in the conversation at
#GardenDaysCanada
.
Like Garden Days on Facebook at
www.facebook.com/CanadianGardenCouncil
For more information about Garden Days, please visit
www.gardendays.ca