May 15, 2013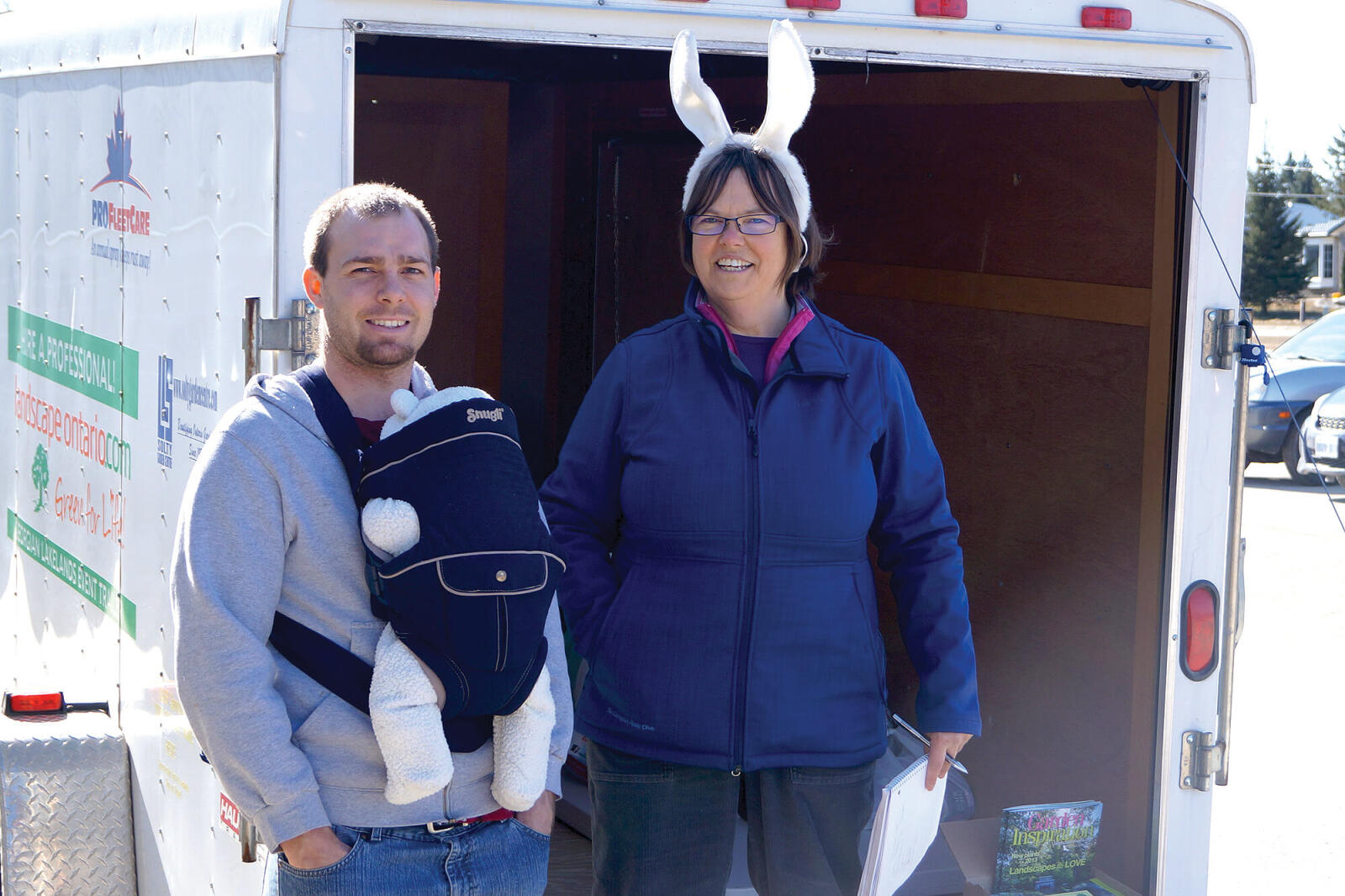 Georgian Lakelands Chapter looks at ambitious agenda
The Georgian Lakelands Chapter has joined the town of Wasaga Beach as a platinum sponsor for the brand new community garden being launched this spring.
The garden will feature 50 plots for the local community residents to rent, as well as five plots to grow food in support of the local food bank and five plots for the Community Help Centre, which will use the plots to assist low income families in the community.
The town is constructing the garden. Plans call for it be to launched on the May long weekend with an official opening ceremony in June. In addition to the Chapter's support, several local LO members are also involved with this important cause.
Easter food drive
The Georgian Lakelands Chapter once again joined the Beaver Valley Outreach Easter Eggstravaganza for the 'Fill The Landscape Trailer' food drive.
Over 260 pounds of food was collected and 50 Garden Inspiration magazines given out to participants. A prize of a $100 gift certificate from LO member nursery Ormsby's Garden Centre was given to Betty Ross who brought in 14 pounds of food.
The Easter Food Drive has become traditional part of the Eggstravaganza. The Chapter has set a goal of 500 pounds for next year's event.
Harnessing new technology
Georgian Lakelands Chapter has already started planning for its September meeting. This event will be held in conjunction with National Tree Day on Sept. 25 and feature information on Landscape Ontario member benefits, as well as how to access those benefits online.
Georgian Lakelands Chapter has been struggling to reach all of its members. New ideas are being looked at how to engage Chapter members to attend meetings without asking them to drive for 10 hours.
For those unaware of the vast geographical size of Georgian Lakelands Chapter, it runs up to the Manitoba border, and includes members in Thunder Bay, Sault Ste. Marie, North Bay and Manitoulin Island.
The Chapter board is planning to broadcast the member benefit presentation online with a board member stationed at a chat computer to field questions from those calling in across Northern Ontario. Details on how to get involved will be posted on horttrades.com this summer, along with a detailed guide to assist in connecting with the event. If this meeting is successful, than we will attempt to broadcast future meetings in an effort to bring greater engagement province wide
Questions to members
Members were asked to answer the three questions below. We included some of the answers from Georgian Lakelands members.
What is working in your Chapter?
Chapter events where there is a great speaker, some food and an opportunity to socialize.
Meetings like the ones with MTO that are held at the same time of the year and staff/employees attend.
Moving the meeting around to make them available to more members.
How do you attract and retain members to events?
Members come to events when they are asked by other members to attend (the old tap them on the shoulder route).
Members come when invited to come with other members — they feel welcome.
GOOD food and a venue where members can have a drink during/after the meeting while socializing.
What do you feel is critical to running a successful event?
Communications — the who, what, when, where and how of an event; the advertising and promoting of the event.
A successful event comes together when it is advertised and promoted at least three months in advance.
Good organization.
Georgian Lakelands apprenticeship committee
The Georgian Lakelands Chapter Apprenticeship Committee, led by Gabe Matamoros and Lexi Dearborn, has been progressive in its efforts to secure local apprenticeship training to support the projected future growth of the industry and this geographic region.
All green industry members are asked to help show support for this valuable educational initiative. To register your support, download a form letter at
http://bit.ly/ZgBpYI
, fill out the required information and email, fax or mail the letter to Sally Harvey at Landscape Ontario,
sharvey@landscapeontario.com
, or fax 905-875-3942.
Georgian Lakelands Chapter snapshot
Number of members: 165
Number of active members: 114
Chapter Board
Jeff Lee, President
Gary MacPhail, Treasurer/Provincial Board Rep.
Lynne Barnes, Secretary
Michael LaPorte, Past President
Andrew Beattie, Director
Earle Graham, Director
Kevin Hackson, Director