May 15, 2016

Golden Horseshoe Chapter gears up for Spring
Over 335 landscape professionals attended the Golden Horseshoe Chapter's Gear Up For Spring event on March 29 at the Ancaster Fairgrounds in Jerseyville, Ont.
Featuring a trade show, chapter AGM and many safety related educational sessions, the event was a great way for local companies to network, meet with suppliers and get informed before the start of another busy season.
Organizers had several ways to engage attendees and exhibitors and bring energy and crowds to the show floor. Attendees were encouraged to play "A Passport to Win," which proved to be a successful tool to connect and engage associate members with active landscape contractors and their employees. Lots of new products were showcased by local associate members in another effort to connect chapter members.
Cam Edgar from Ontario Truck Driving School felt the passport idea worked very well to increase visitor traffic to the many exhibitors. "The dialogue is important as it helps us to recommend the most appropriate driver and equipment programs to these business owners," he said.
Also adding energy to the show, the chapter held a "stand up AGM" on the trade show floor, which included elections conducted by past-president Fiore Zenone, combined with lively give-aways that made for an energetic and enthusiastic crowd. Many exhibitors appreciated not only the crowds, but also the insight into the workings of the chapter and the association.
During the AGM, all of the chapter's current board members remained, along with two new additions — a tribute to the passion of these dedicated landscape professionals. The chapter was also able to recognize many companies who have been members of Landscape Ontario for over 25 years, handing out special plaques to those in attendance.
Education is another big reason why people attended the event and the hall was able to accommodate both the large crowd and various vehicles for the ever-popular session by the Ministry of Transportation (MTO) as well as a vehicle inspection by Halton Police Vehicle Inspection Unit.
The chapter would like to thank the main event sponsor, Group Buy Protect, as well as B.R. Dickson, Eloquip and Nisco National Leasing for sponsoring lunch and Bobcat of Hamilton, South Oakville Chrysler and WPE Windmill Power Equipment for sponsoring coffee and doughnuts.
Bookings for next year's event have already begun.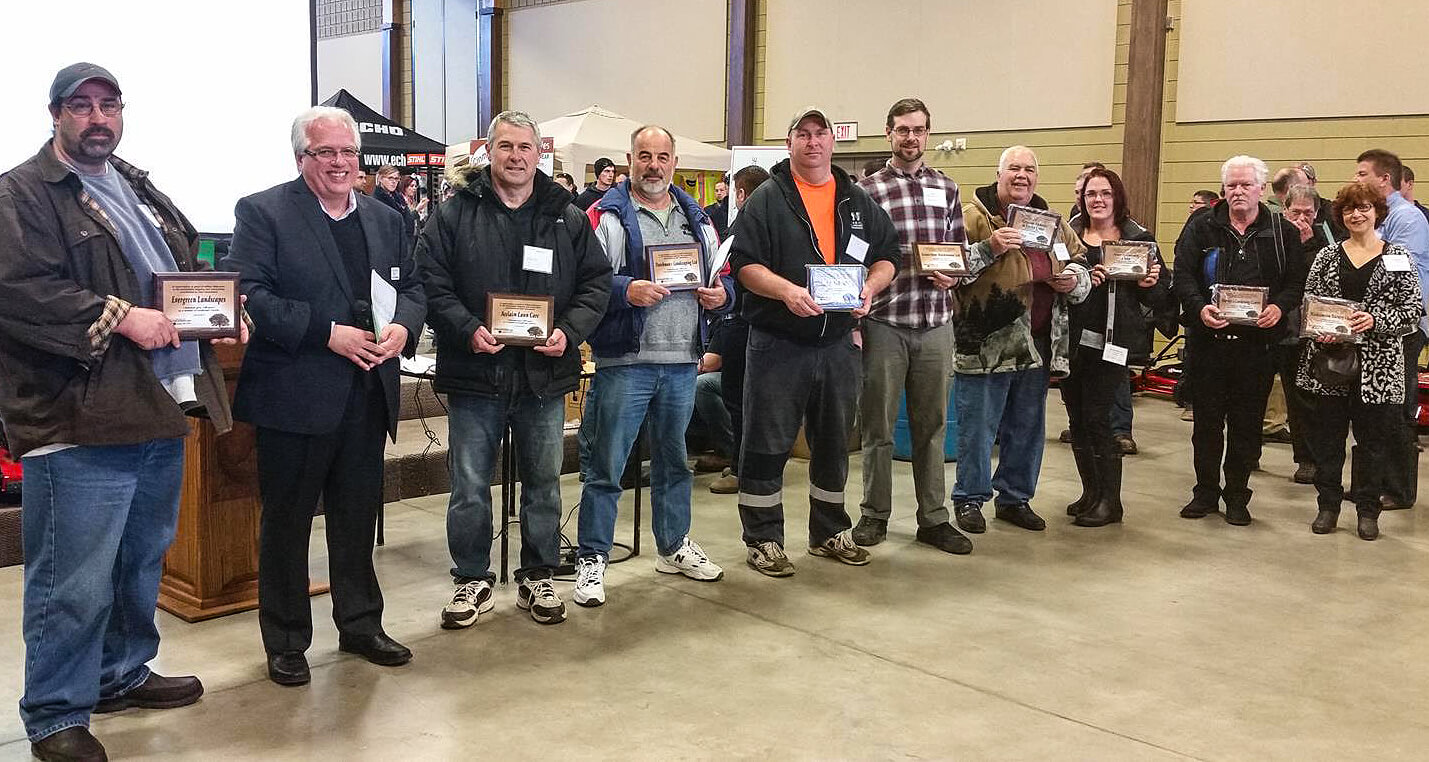 Companies who have been an LO member for 25 years or more were recognized with special plaques on the show floor.