May 4, 2011
Great garden peonies
BY DAVID VAN DE VEN
Landscape professionals rarely use peonies in modern garden design. I would have to assume that everyone in our industry at least knows what a peony is – it is, after all, one of the most basic of plants used in Canadian garden design. Who doesn't remember visiting Grandma's house in late spring or early summer and witnessing the massive blooms on shrub-like plants growing in the middle of the lawn? Of course we are no longer allowing peonies to reach maturity in the middle of lawns any more, but hopefully the way we used this fantastic plant in past will give you some idea of its resilience. Peonies have an incredibly long lifespan, and rarely require maintenance other than a wire frame to hold up the heavy flowers.
Today most peony plants are sold simply as red double, pink double or white double — pretty generic. I have to suggest this is based simply on price. The three basic colours have traditionally been the most cultivated, and to grow a peony clump large enough to divide is a relatively slow process. Peonies in general need to be grown in full sun, in well-drained soil with slightly more than average water. These plants have relatively low fertilizer requirements (specifically nitrogen); over-fertilization will result in fewer buds. These characteristics make growing peonies even better — lower maintenance on very long-lived specimens, without even mentioning the massive blooms on tidy bushes.
Peonies are categorized into three groups: early, mid- and late season, all related to bloom time. The early season begins early to mid-May and the late season blooms end late June to early July. Within each of these groups, four distinct flower types appear: single flowers (typical "basic" flower form, petals surrounding sexual structure); double flowers (the good old fashioned peony bloom); semi-double flowers, typically having half as many petals as a double-flowering; and Japanese/Chinese flowers, also known as anemone type, outside petals similar to single-flowering with modified petals filling the centre of the flower. This is the simplified version of the peony family, and I am only describing the standard garden peony that recedes back to the ground in fall. Tree peonies are another can of worms we'll leave alone for now!
Listed below are some of the varieties I prefer. All have nearly identical growing requirements as mentioned above, and are hardy to zone two. Plant peonies spaced well apart and leave them alone; they will be happy for years to come.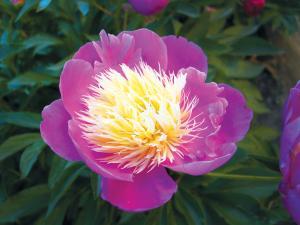 Paeonia
'Bowl of Beauty'
100 cm, Japanese-type bloom, mid-season.
Strong pink outer petals with sharply contrasting yellow centre.
Photo Van Noort Bulb Co.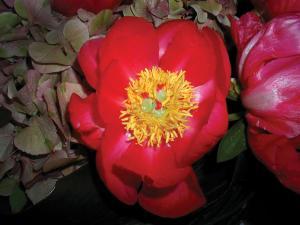 Paeonia lactiflora
'Flame'
60 cm, Japanese-type bloom, mid-season.
Large, red outer petals with bright yellow centre.
Photo Van Noort Bulb Co.
Paeonia 'Gardenia'
85 cm, double flower, mid-season.
Large, white blooms and very fragrant.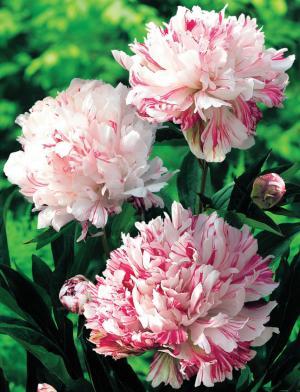 Paeonia 'Kirinmaru'
90 cm, double bloom, late season. Another unusual bloom;
fully double with white and red streaked petals.
Paeonia 'Sword Dance'
90 cm, Japanese-type bloom, mid-season.
Deep red outer petals with strong yellow centres.
---
David Van de Ven is a perennial grower in Mount Albert, Ont.