May 15, 2014
Great topics planned for this coming season's chapter meetings
By Rachel Cerelli
Membership and Chapter Coordinator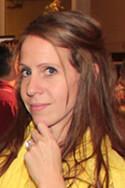 As many of you may know, this will be my last article for the next few months. I will be on maternity leave, as of May 16.
Myscha Burton will take over my position for the next year. She has already had a wonderful first few weeks meeting many of our board members, as well as getting to know the process we go through to ensure we support our local chapters, as well as maintain membership services.
Director of public relations Denis Flanagan and Myscha will start member visits accompanied by Grout (our Landscape Ontario spokesgnome
@lognome
or
facebook.com/LOGrout
). Should you be interested in having the LO membership team come out to see you and your crew on the job, please contact
myscha@landscapeontario.com
.
There are some great topics planned for this coming season's meetings. A glance into what some of your chapters are planning starts with Toronto coming up with a fun catch phrase, 'What's up with that?' This fall, the Chapter will run a growers' panel discussion on those cheap cedars we all see out there.
Durham Chapter plans to host a panel discussion on natural stone, similar to the Toronto Chapter's very successful event this past April.
Waterloo Chapter will host an evening meeting geared toward connecting with our youth to ensure the industry maintains a professional standard of excellence.
In the fall and winter, Georgian Lakelands Chapter hosts more than one educational meeting a month with topics such as Social Media — How to make it work for you — Septic Systems and Landscape Dos and Don'ts, not to mention the ever-popular Whine and Cheese meeting with round-table whining/wining.
Social media is also a popular topic this year, with many of your chapters hosting social media sites. This allows the chapters to update what is happening in their community on a regular basis.
To see who your incoming chapter board members for the 2014/2015 season will be, which chapter hosts a social media site, or see any of the exciting chapter meetings planned for this fall, go to
horttrades.com
and select your chapter and the rest is easy. Click and read.
Congratulations to all of you who have decided to give back to your chapter and help coordinate local meetings, events and community events. You are our strength.
If you have questions, contact Myscha Burton by email
myscha@landscapeontario.com
, or call 1-800-265-5656, ext. 354.