May 15, 2010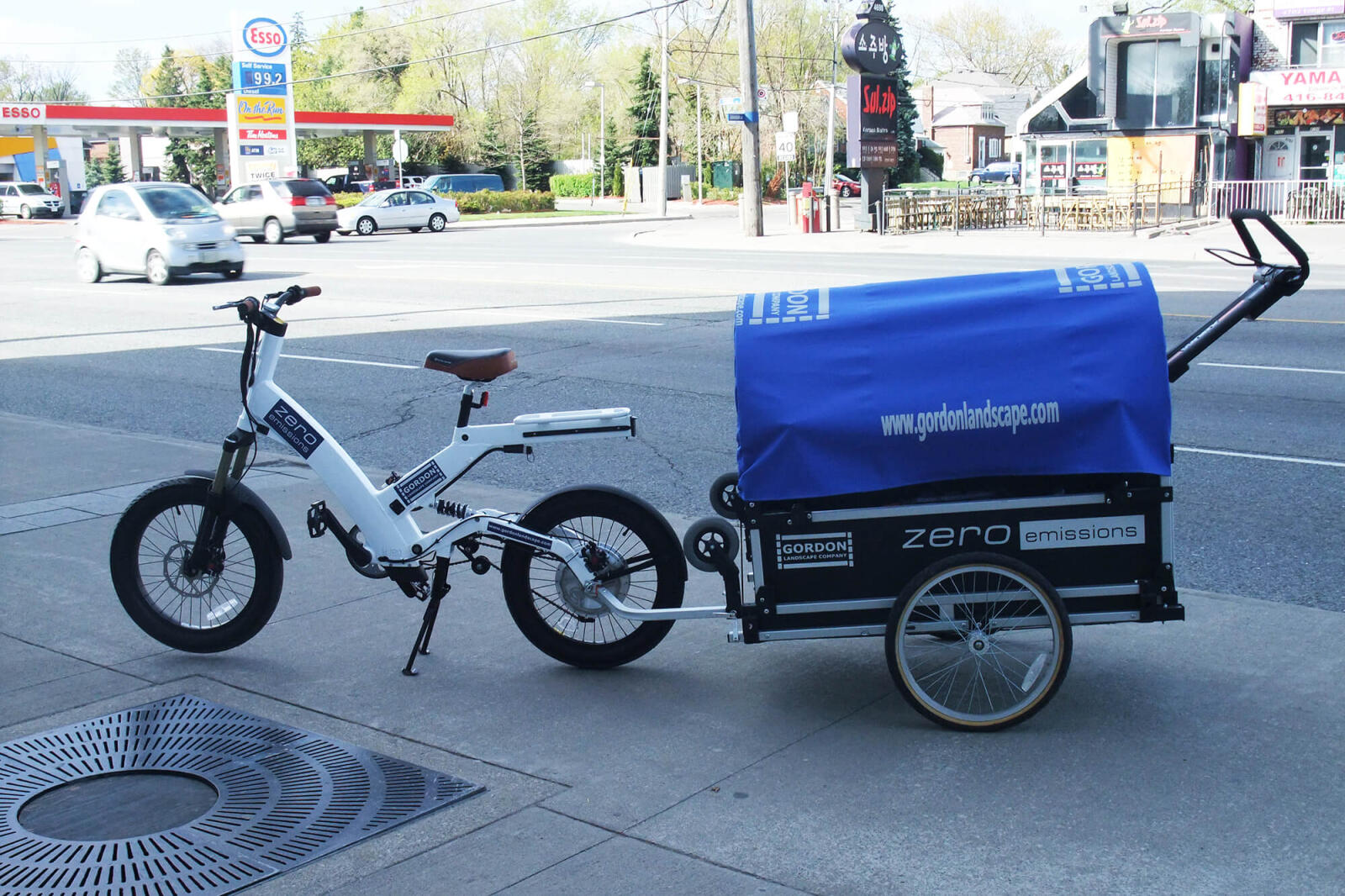 Grounds maintenance company offers no-emissions service
Reducing the impact on the environment has been the goal of Gordon Landscape Company's owners, Eric and Danielle Gordon, since they started the landscape maintenance business.
They offer Toronto commercial clients a branded Eco-Groundscare full service low-emission footprint, using bio-diesel for trucks, and onsite bio-diesel powered Kubota rugged terrain vehicles (RTVs) that burn .75 L per hour. Propane-powered zero-turn riding lawnmowers are used for larger grass areas. The snow and ice management service utilizes bio-diesel fuel in its trucks, RTVs and loaders, and the company works with organic liquid ice-melting products to pre-treat pavement and sidewalks. Eric Gordon adds that because many of their clients are grouped closely together, his staff can set-up shop close by and clear snow more frequently during a winter snow event.
Bicycle powered
While a low-emission footprint is admirable, Gordon Landscape wanted a no-emission option for its clients. This spring, the company launched a new green maintenance program—the Zero Emissions Team. The Gordons put three years of research and development into their latest venture, which features small equipment trailers pulled by street-legal electric bicycles. The custom trailers hold lawn mowers, trimmers and blowers, all charged by a powerful lithium ion battery. The compact set-up works perfectly for Gordon's commercial and condominium clients, who are concentrated in an urban core, with a small lawn footprint and ornamental gardens and containers.
"The Zero Emissions Team has allowed us to give our clients a choice. They are thrilled when they find they can have our Zero Emissions Team on site at no extra cost. It's great for corporations concerned about their environmental profile, or who are working toward LEED certification," says Eric Gordon.
In addition to the no-emissions option, Gordon Landscape is working with property managers to create low input landscapes, replacing high maintenance annual beds with perennials and drip irrigation. Space is left for spots of seasonal colour for visual impact. "There is a bigger cost up front to switch over," he admits, "but part of our job is to educate our clients and show them they can save money, resources and water in the long run."
Further reducing its environmental footprint, Gordon Landscape has put systems in place to allow for paperless record keeping. Additionally, clients can log in to their dockets through the company's website and see the status of their jobs and billing history. The Gordons are completely committed to the process, and have turned down jobs with large corporations that insist on receiving paper invoices.
While they are the first company to roll out and test market their zero emissions team concept in a commercial setting, they are looking to license the brand to companies that are interested in adding a zero emissions option to their offerings. Gordon Landscape recognizes that zero emissions won't work for every maintenance company in every instance, but there will often be a place for the no-emissions option, allowing companies to provide another level of service.
The couple is investing in their idea to make sure the science behind the claims is impeccable. They have hired Ray Comeau, of Return Sustainable Enterprises, to create a system that will quantify the carbon credits saved by using battery-powered equipment. "If we're going to offer the Zero Emissions Team concept to others, we have to make sure all the right things have been done. We must have absolute brand integrity."
While hoping others will embrace and get excited about the Zero Emissions Team, the Gordons recognize that adapting to a new culture requires education and a long term commitment. They don't expect companies to completely change the way they work, and understand it's important to find a balance that works for the client, each company and the environment. For more information on the Zero Emissions Team, visit
www.gordonlandscape.com
.