April 14, 2015
grow a great lawn to celebrate earth day
Grow a great lawn to celebrate Earth Day
Easy, practical tips for turf success — from Ontario's professionals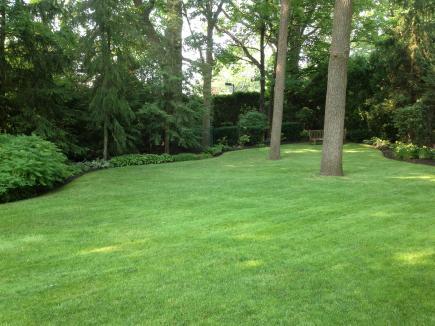 Research from Lakehead University shows that a properly fertilized and well maintained lawn is one of the most efficient groundcovers for limiting runoff.
Photo: Dusty Miller Landscaping
Ontario homeowners love great lawns. Healthy turf prevents runoff, cools temperatures and produces oxygen — all powerful reasons to celebrate great lawns this April 22.
Toward that end, Landscape Ontario members, the province's green industry pros, are happy to share their simple, time-tested strategies for success. All of the tips below will improve your turf. Taken together as a program, they provide a master plan for lovely lawns.
Regular fertilizing keeps grass thick and healthy. For do-it-yourselfers, independent garden centres can advise you on quality, slow-release options. Measure your area carefully, and do the math to assure the proper application rate. Never, ever spread fertilizer by hand. Fertilize about four times per season; early spring, late spring, summer and fall.
Overseeding every spring and fall promotes thick growth, which helps fight weeds. Spread quality seed in a spreader or by hand; just be sure to avoid flower beds. Follow this seeding program, and you will notice a marked improvement in your lawn.
Weekly mowing is important. If you feel energetic, mowing twice weekly during May promotes thicker turf. Use sharp blades set at two or three inches (six to eight cm), and avoid mid-day mowing during hot weather.
"Being a lawn guy (or gal) is not all that hard, if you just stick to the program," says Landscape Ontario's public relations manager Denis Flanagan. Throughout, keep in mind that water is essential to maintaining your green, living carpet. As a general guideline, lawns need an inch of water per week, whether the source is rain or irrigation. Remember that lawns are important for water conservation; lawns filter and absorb 2,000 times more water than bare soil, and prevent the problems associated with runoff.
One final note about fertilizers: when used right, they promote environmental health. "Our members have been very proactive in limiting the use of phosphorus in their lawn fertilizer mixes," says Flanagan. In fact, most professionals use phosphorus only when establishing lawns. Slow release nitrogen formulations, now widely available, are another advancement.
The secret to a beautiful lawn is no secret at all; resolve to follow this simple program from Ontario's landscape pros, and enjoy life outdoors this summer. Visit www.landscapeontario.com for more on healthy lawns.
A light topdressing of compost, applied each time you reseed, will help your lawn to out-compete weeds.

Photo: Allweather Landscape

Your lawn is a photosynthesizing, oxygen-producing, carbon-sequestering miracle, teeming with beneficial microbes and insects.

Photo: Shades of Summer Landscaping

Cool green turf is the classic foil for landscape focal points.

Photo: The Cultivated Garden