March 15, 2016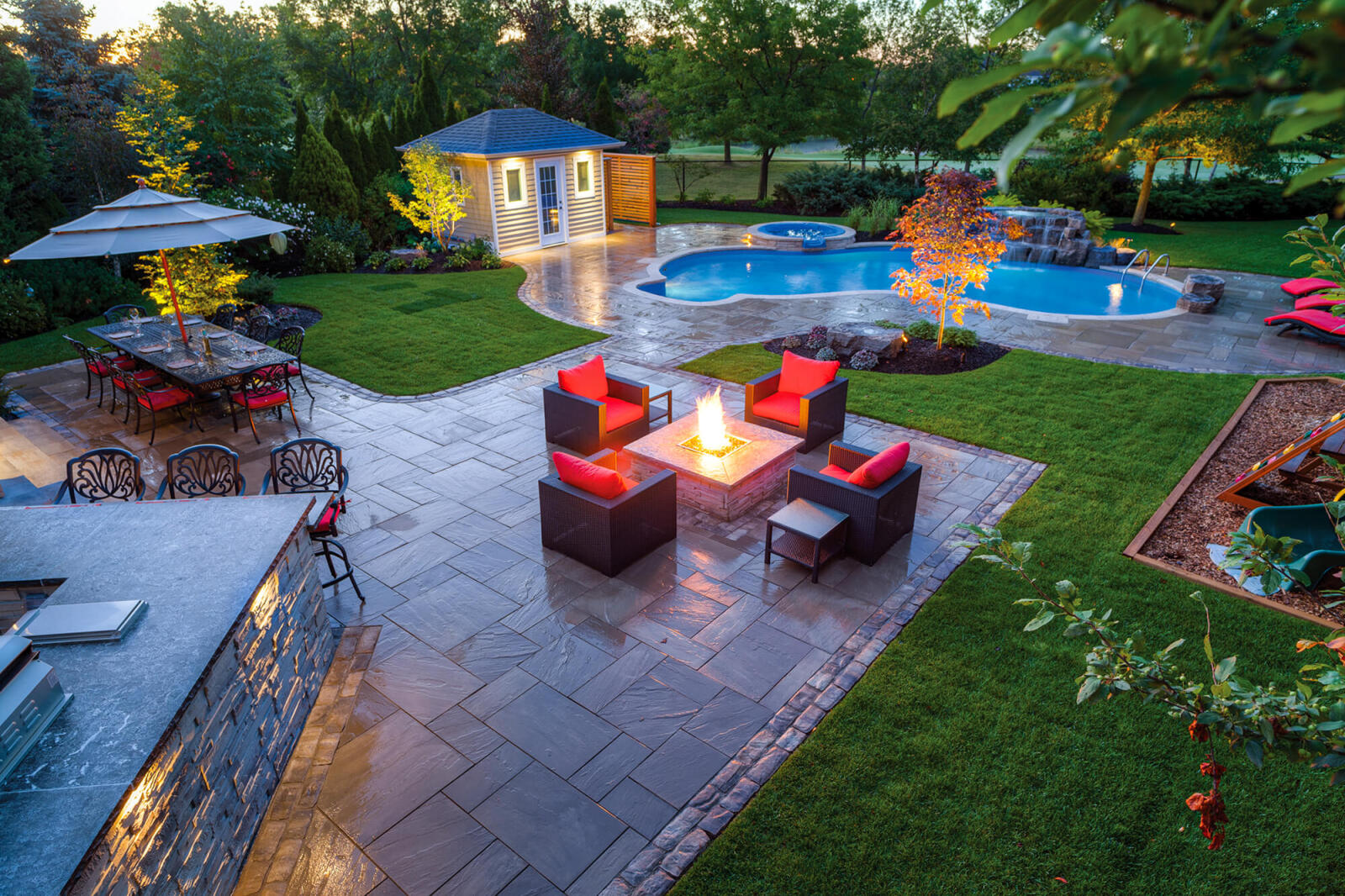 Having a solid base key to Cedar Springs success
We wanted to make it clear "that we're here to stay," says Adrian Bartels, president and owner of Cedar Springs Landscape Group. Bartels has just finished discussing the source of the beautifully rustic reclaimed wood coffee table in the reception area of his Oakville head office.
"I'll get you the number of the guy who makes them," he tells a pair of middle-aged clients who would just love something similar at their home. Now, Bartels is explaining how his upscale maintenance, design and build company came to own one of the most visible and stylish landscape offices in the country.
"It was our dream to eventually have a design studio where we could give presentations to our clients," he said, referencing the spacious conference room complete with a large boardroom table and projection system, surrounded wall-to-wall by blown up photographs of some of the company's numerous Landscape Ontario Awards of Excellence winning projects. "Marketing has always been very important to our company and it occurred to us that nobody else (in the industry) really did it well, (where they) had a showroom location that was visible to the public and was a place where if anyone ever had an issue, they could come in and see us."
Located on South Service Rd. in Burlington., the Cedar Springs office and its large company logo are visible to the more than 200,000 passersby along the 403 each day. It was a major investment to purchase the property, but Bartels says it was important for the company to "be confident enough to spend the money, recognizing that we might not be able to quantify what the return is going to be." Through the use of natural materials including stone and wood as well as an earthy colour palatte, the Cedar Springs team transformed the building — formerly home to a pool company — into a clean, crisp, modern showcase for their business. "You're limited in the size of a sign you can put up; the Ministry of Transportation governs signs along highways in the province," Bartels explained. "So we figured, what better sign could we have than doing the outside in a way that reflects our brand. I mean, we're in the landscaping industry, so as long as we're on the highway and people can see our office, it better be a good one and it better show who we are and what we do."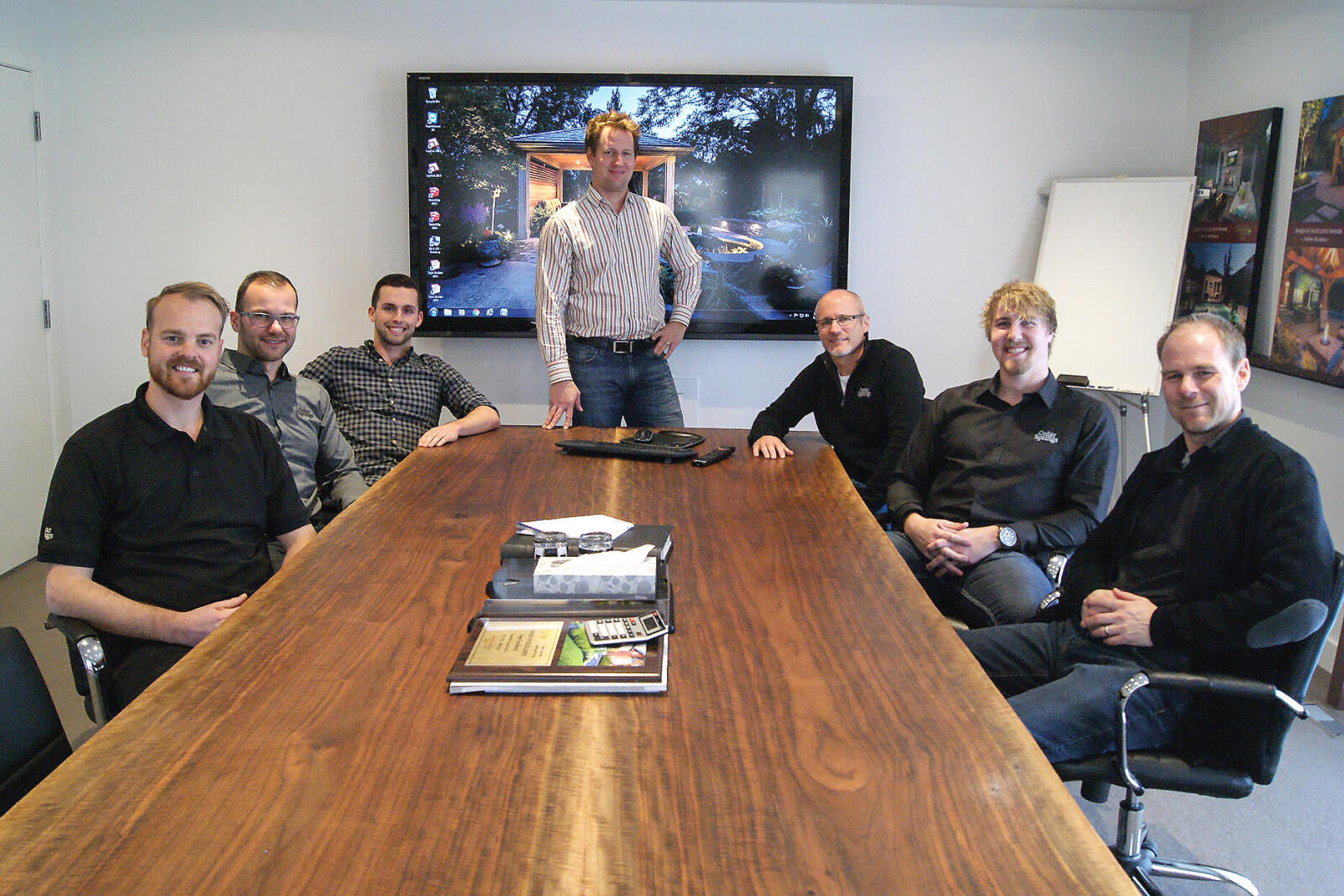 The large boardroom at Cedar Springs' head office provides a great space for staff meetings and client consultations.
---
Having a well recognized head office also provides "some comfort (to clients who know) that if they sign with us, we're not just going to someday close up shop and they (won't) be able to get hold of us," he adds. And while it's difficult to quantify the impact the investment has had on the company's bottom line, Bartels is convinced it was money well spent.
"When we were designing the office, we thought about who are we? Well, we're a high end company and we like to think that we are on the cutting edge in terms of design ideas; so we better have cutting edge design ideas outside here and we better keep this place looking like it's maintained exceptionally well, because that's what we do. Basically, the office itself became a big sign for us."
The premium location is part of a marketing strategy Bartels and his team developed following an amicable separation of the company's business structure back in 2014, which saw founder Jack Wieske launch a new brand — CSL Group — focused on commercial work. Bartels, originally hired by Wieske as a teenager in the mid '90s, described the transition, which was consummated earlier this year with an ownership swap. "In 2008 when the economy started to dip, we felt it too," he said. "That's when we started getting into commercial work, knowing that the government was putting money into infrastructure, we tapped into that. And so while most companies had a downturn while the economy slowed, we actually grew. It did so well that the following year we developed a separate brand, CSL group." By 2014 the offshoot business had grown to the point where it could run independently, and while Bartles and Wieske remained business partners — and co-owners of each company — Cedar Springs and CSL Group were officially separated.
For his part, Wieske says business continues to grow for CSL Group — they will be opening their third branch (along with Ancaster and Ottawa) in Mississauga this year — and he is enjoying the ability to focus exclusively on commercial clientele.
"I love the excitement and the challenge that our growth has offered over the past number of years," Wieske says. "We have a great collection of people here and most of the people are of the same mindset, which is that growth is good for the company because it creates opportunity … Honestly, the best thing about growth is that guys can come here out of high school to cut grass and if they're good, 10 years later they can be a branch manager. Employees want to know that they're working for a company that has a great future and that there will be opportunities to progress throughout their career."
urrently, snow and ice services make up about 40 per cent of CSL Group's business, while construction projects comprise the bulk of their spring, summer and fall revenues. At its peak during the summer, CSL Group employs some 160 staff members, and one of its highest profile contracts is planting more than 100,000 bulbs for the Ottawa Tulip Festival each spring.
During the summer, Cedar Springs Landscape Group employs up to 75 staff members on its construction and maintenance crews, compared to 35 through the winter. Its residential design and build team had six projects recognized in the $100,000 to $250,000 category at the 2016 Landscape Ontario Awards of Excellence ceremony. Bartels echoes his former boss's sentiment on growth, noting that in order for a business to keep the best and brightest employees, it needs to provide avenues for personal and professional development.
Of course, his own career path reflects that very principle.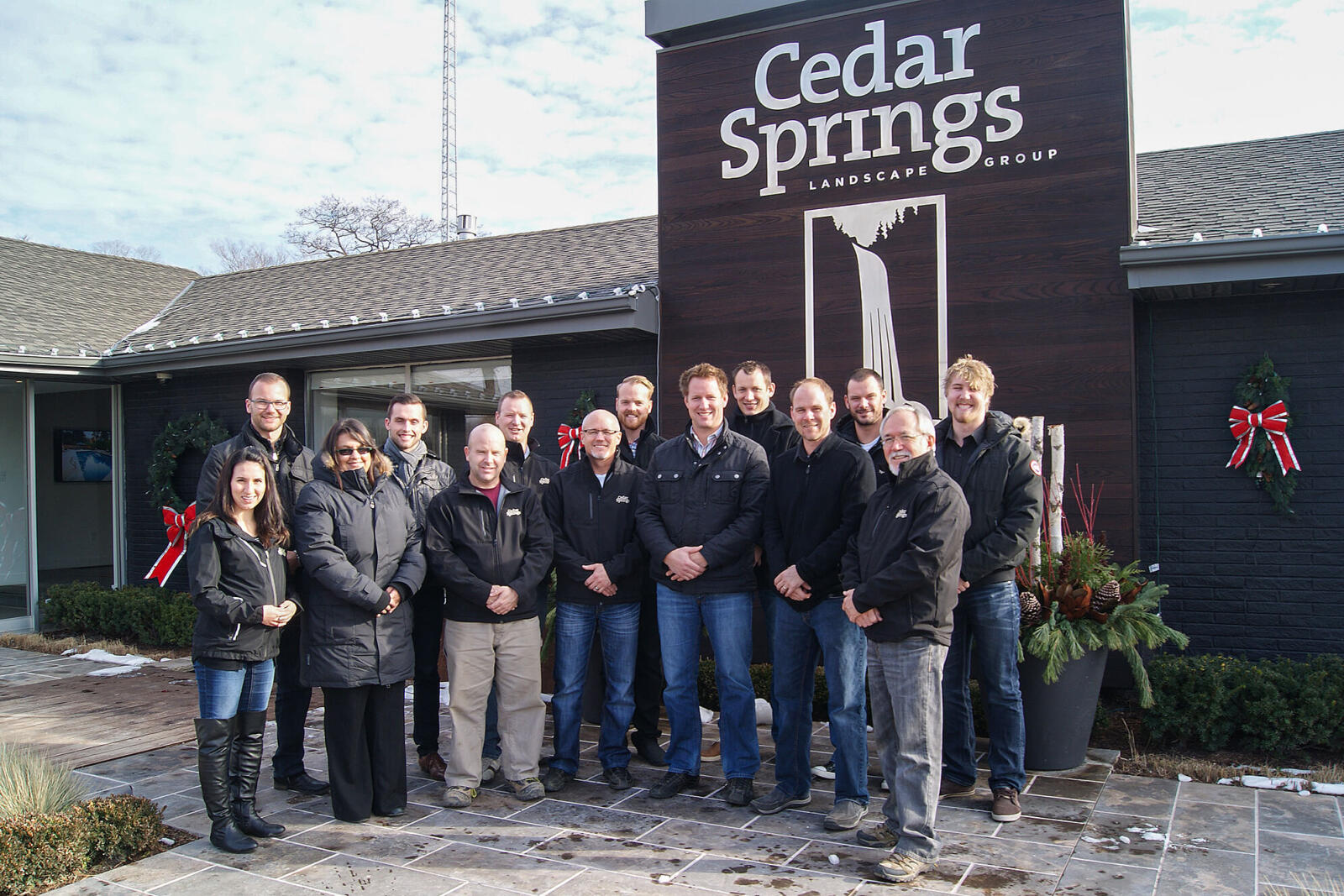 Beautiful planters and wreaths adorned Cedar Springs' head office as staff gathered for a group photo during the holiday season.