June 15, 2008
He came with the building
Tony DiGiovanni CHT
LO Executive Director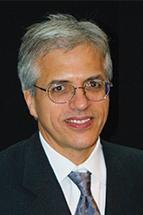 In 1994 Landscape Ontario purchased the home office site from Shemin Nurseries (Weyerhaeuser Corporation). Our contact for the sale was Shemin's general manager, Terry Murphy.
I had met Terry four years earlier, in 1990. At the time, Shemin Nurseries was a member of Landscape Ontario. Terry would always invite the association to participate in the Shemin's customer education and mini-trade show events. I was so impressed by Terry's detailed, logical and thorough approach to organizing these events that I thought he would make the perfect chair for our statistics committee. He turned down repeated recruitment requests because of time commitments.
After the purchase of the home office site, we needed help with understanding the site's operations. Terry wrote a report (which I still have) documenting all of the systems: wells, irrigation, fire pumps, electrical systems, heating and air conditioning, septic, etc. This thorough document came complete with historical data, maintenance schedules, supplier contacts and other useful information that saved us countless hours. Again I was impressed with Terry's thoroughness and his helpfulness.
In 1995, we had the opportunity to run a Youth Initiatives Program. Terry was hired (on a six month contract) to coordinate the program that took 50 unemployed youth, between the ages of 18 to 24, and put them through a three-month intensive training program. The program was hugely successful. Jobs were found for all 50 youth. Some continued on to community colleges. Others entered the apprenticeship program. A number eventually started their own businesses and are now successful members of Landscape Ontario. Lives were changed. The industry benefited. I still remember the graduation ceremony held in a garden the students had built in the warehouse. Parents, the mayors of Halton Hills and Milton, the MPP, MP and media were all on hand to watch as young enthusiastic students graduated into the industry. Terry was in the centre of it all. He had done an amazing job.
After this initial contract, we hired Terry full-time to be the executive director of the Ontario Horticultural Human Resource Council. There was no looking back. As director of the council, Terry has made enormous contributions to Landscape Ontario and the industry.
Here are some brief highlights:
Helped organize the secondary and postsecondary schools' horticultural teachers into organizations, known as Horticultural Ontario Secondary Teachers Association (HOSTA) and Ontario Horticultural Educators Council (OHEC). This was done to optimize synergies between all horticultural programs and to improve connections and communications with the industry.
Developed and distributed horticultural career posters and brochures to thousands of young people encouraging them to enter the industry.
Worked with Skills Canada to develop a horticultural skills competition at the high school and postsecondary school level.
Participated in numerous job fairs, encouraging young people to consider horticulture as a career.
Developed partnerships with the Ontario Youth Apprenticeship Program in order to link high school co-op students with the industry. This has evolved into Canada's first High Skills Landscape Major program and has now expanded to over 10 high schools.
Developed a high school skills certification program based on the Certified Horticultural Technician Program.
Developed and executed a high school communication and awareness program that utilizes regular visits to high schools and participation in guidance counsellor conferences in order to get the horticultural message out to young people.
Developed a website called http://hortcareers.com.
Developed an interactive CD that explains the benefits of a horticultural career
Developed a career power-point presentation that can be used by employers at local career fairs.

Owner/manager training and education
11. Assisted in the development of a series of owner/manager human resource guides that were distributed to all horticultural operations.
12. Started the Winter Workshop Program. The program has been hugely successful, attracting over 1,700 people per year.
13. Presided over a seasonality study, which has been instrumental in helping the industry develop retention programs such as Banking Hours.
14. Developed a safety plan that has been instrumental in promoting a safety culture and reducing accidents in the horticultural sector. It has saved the industry millions of dollars.
15. Developed a safety manual and video used by the industry as a guide for tailgate sessions with employees.
16. Worked with WSIB to develop pioneering safety training programs for the industry. The Safe Communities Program and Safety Groups Program have been instrumental in reducing WSIB premiums by almost 50 per cent, because of fewer accidents in our sector.
17. Administered the science and technology grants program
18. In partnership with the Agriculture Human Resource Council, developed a safety audit program that has helped farmers and horticulturists implement safety systems in their unique workplace.
19. Written numerous articles appearing in the trade magazines, dealing with all aspects of Human Resource Development
Employee development
20. Promoted and organized the Certified Horticultural Technician Program (CHT) practical evaluation program for horticulturists.
21. Developed and executed a plan to ladder and integrate training programs at all levels of the education system from co-op, pre-apprenticeship, youth apprenticeship, apprenticeship, technology, university and professional development.
22. Coordinated activities of the Industry Advisory Committee to the Minister of Training, Colleges and Universities.
23. Executed communication programs to encourage employers to sponsor apprentices.
24. Coordinated the Red Seal program aimed at connecting apprenticeship programs across Canada.
25. Developed the "Adopt an High School" program.
Space limitations make it difficult to list all of his accomplishments, but it's obvious Terry has served the industry very well.
Terry Murphy will retire on June 30, 2008. The industry has benefited from Terry's focus, productivity and most of all his service-oriented caring and nurturing nature. I have personally benefited through his modelling and mentorship. He is one of the most productive people I know.
In recent years I have watched Terry struggle with the concept of retirement. It took him a long time to make the decision to cut back a little. Selfishly speaking, I am hoping he will make a little time for some short-term projects. In the meantime, and on behalf of the thousands of people he has touched, we wish him and his wife Valerie a happy and healthy retirement.
On more than one occasion, I have had young people come to me to say that Terry has "changed my life." Terry has made a significant impact on many individuals in the industry. He has made a positive difference. His legacy is assured. He will be missed.
---
Tony DiGiovanni may be reached at
tonydigiovanni@landscapeontario.com
.
Caption: LO's original "Safety Man," Terry Murphy has worked on many initiatives over the years to educate the industry in safety awareness.Terry appeared on the cover of Horticulture Review in June 2001, dressed in full safety gear.