February 22, 2013
Before he became a pioneer of the Ontario landscaping industry, Leno Mori's career as a major nursery grower began in door-to-door sales.
Leno sold his services as a landscape designer and installer in the late 1940's, finding eager clients in the newest developments around Niagara Region.
"I just kinda liked that type of thing. Plants and going out and doing a little bit of landscaping and, I'll be honest, I was so green I didn't know anything," Leno said.
With a Sheridan Nursery catalogue in hand, Leno knocked on doors and frequently got an "oh no, not another salesman" reaction. Upon revealing that he was only at their home to discuss plants, Leno said "Every one of them" was suddenly interested.
"I was using the Sheridan (Nurseries) catalogue to get all the names and the varieties," he said.
"I'd go in and do a nice little sketch for them and they'd say 'That's going to look beautiful!'" he continued. "I thought 'My goodness, I hope so.' I didn't have a clue, I'll be honest with you . . . I really didn't know that first year. After that it was quite a bit different."
Assisting in the success in Leno's amateur designs was the accommodating plant hardiness zones of Niagara Falls and St. Catharines.
"If it's gonna grow anywhere, it's gonna grow here."
Leno got out of door-to-door landscaping to begin Mori Nurseries in Niagara-On-The-Lake in 1950. He started out on seven acres of land, then 25 acres, and then 30 acres.
Leno said that his father, Vittorio, told him "Don't get any more (land). That's enough."
"You know what? If I only had seven acres I worked every day, all the time," Leno recalled. "When I had 30 acres I worked the same amount of time as before: all the time. If I have 100 acres, I can't work anymore.
"It really doesn't make any difference as to what I'm going to do personally. So we just kept growing a little bit more each year."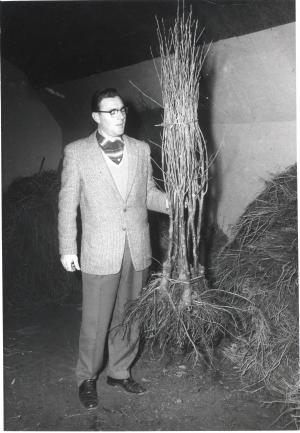 Leno Mori, president of Mori Nurseries, pictured holding a bare around the same time he was president of the Ontario Nurseryman's Association in 1960.
Mori Nurseries has a vast landscape filled with plant varieties at different stages of growth. It can take up to five years for certain plant material to be ready for sale at a local garden centre.
Mori Nurseries and its partners currently own about 1,000 acres across southern Ontario and in upstate New York.
It used to be even more when Leno bought Hilltop Nurseries in Michigan in 1989.
Leno sold Hilltop to U.S. investors in 1995. Around that time, Leno entered into a partnership with the Armendariz family in Mexico to begin growing fruit trees on 250 acres of land.
"In Mexico you have to have a partner. You can't do it on your own. This partner was very very good. Excellent, excellent family," Leno said.
"Had it for two years," he continued. "In November, they got a freeze that was unbelievable. I don't know what it went down to. It didn't go down to 0 (degrees Celcius), but it was cold. It froze everything.
"It's never happened before, it's never happened since," Leno said. "We probably would've kept on going if we hadn't had the freeze."
Leno was president of the Ontario Nurserymen's Association in 1960. Leno's first wife, Phyllis Mori, contributed to the April 1960 ONA Newsletter with a recipe for Mrs. Leno Mori's Black Devil's Food Cake.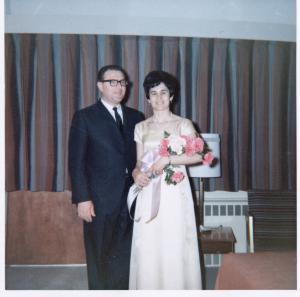 Leno with his first wife, Phyllis Mori
Mori Nurseries continues to grow and sell just about every plant variety except annuals. Their staple product is still fruit trees, but their MoriStar Perennials line, which began in 1997, continues to have strong sales.
The gradual decline in the price of plant material, combined with rising oil prices and the Province of Ontario's multiple minimum wage increases in consecutive years has made the cost of doing business increasingly difficult, Leno said.
"It's been an interesting time. But I'm going to say that we had just as many challenges today as we had back then."
Written by Stuart Service