June 15, 2014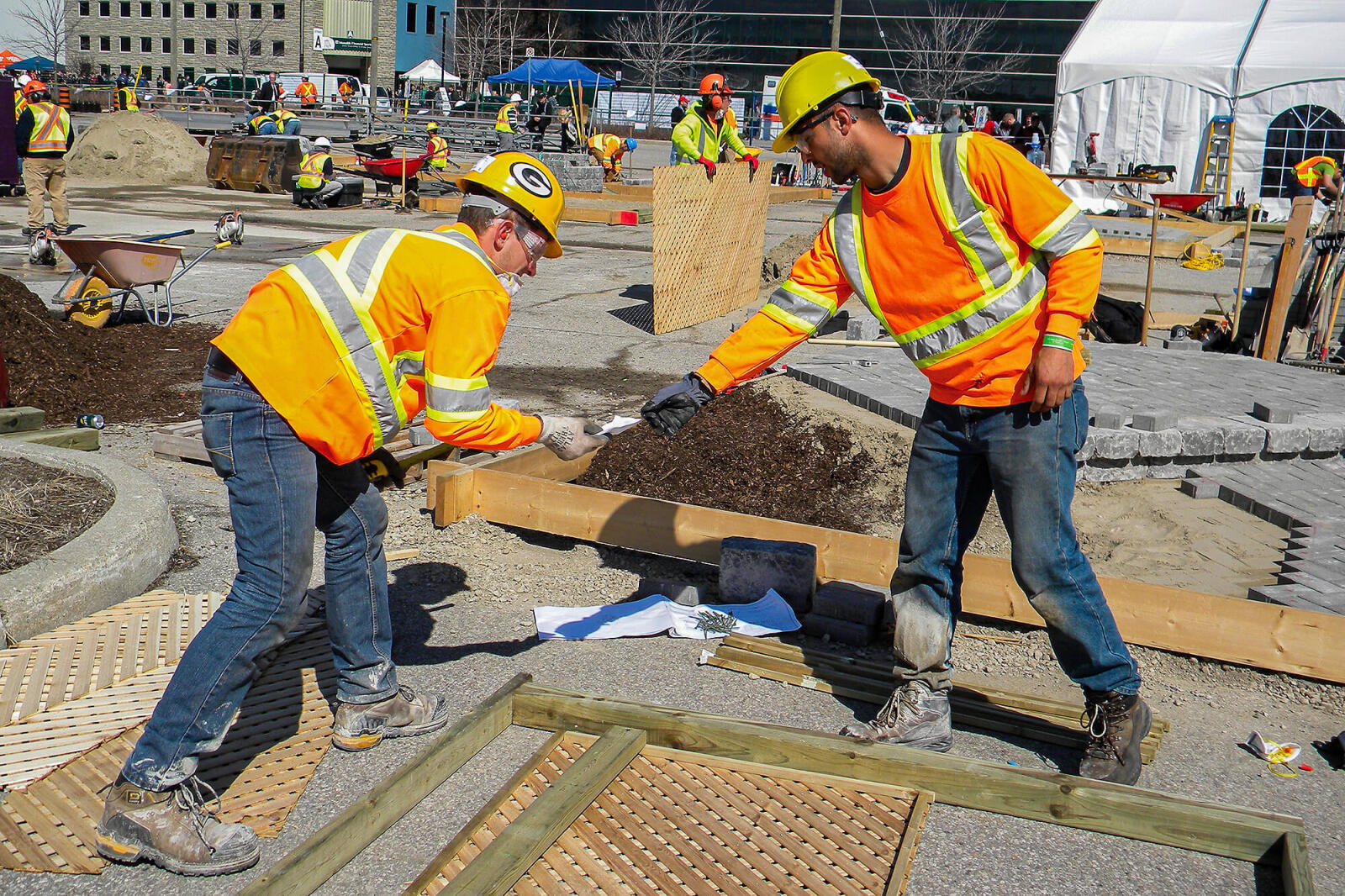 Horticulture and landscape students compete in provincial Skills
Top students from both college and secondary school horticulture programs had the opportunity to test their skills in the annual Skills Canada — Ontario competition at at RIM Park in Waterloo.

The Ontario event is the largest in Skills Canada with over 1,900 competitors from across the province in more than than 60 contests in the skilled trades and technologies. Over 30,000 spectators attended the event from May 5 to 7.

Competitions included horticulture–landscape and design.

Landscape Ontario staff once again supported the Skills Ontario competition, including workshops this year. Six classes of grade 8 students had the opportunity to try their hand at the trade. Students learned about plants, horticulture, and Landscape Ontario.

In addition, LO supported the technical committees of post-secondary and secondary horticulture and landscape competitions. The association provided a career booth.

It was David Tsubouchi's, registrar and CEO of the Ontario College of Trades, first time to attend the competition. "I was genuinely blown away by what I saw. The level of skill and expertise that was on display at RIM Park in Waterloo was phenomenal and it's clear that some of Ontario's best and brightest young minds have wholeheartedly embraced skilled, technology-based trades."

He went on to say, "There is an enormous demand for skilled trades professionals in Ontario. For those with the right skills and the right work ethic, there is a big, bright future in this industry."

In the horticulture-landscape competition teams of two were tested by building a garden based on a common set of criteria and drawings. Registered skills included creating walls from precast paving units, laying paving stones, plant selection and placement of landscape rocks.

In the post-secondary level, the team from St. Clair College, Shaun St. Pierre and Zac Hertel, took home gold, while Lucas Kennedy and Matthew Silvaggio of Humber College won silver. Another St. Clair College team brought home a medal when Simon Van Raay and Mark Hecnar received bronze. In order of placement, other teams included Alastair Hugli and Chris Thompson of Humber College and Ryan Daley and Carson Clugston of Durham College.

In the Secondary School competition, gold went to Cole Mackey and Ryan Campbell of Bluewater District School Board in the Owen Sound area. Silver medal winners were Mathew Fernandes and Blake Betts of Waterloo Region District School Board and bronze went to Sujeththan Ravichandran and Caleb Gryfe of Toronto District School Board - South West.

In order of finish, the remaining secondary school teams included Bryanna Ross and Brett Corkum of Thames Valley District School Board, Griffin Yacnynuk and Hannes Oberholzer of Halton District School Board, Eric Furlong and Liam Flynn of Waterloo Catholic District School Board, Tyler Marcantoino and Tom Bennett of Halton Catholic District School Board, Sean Bruno Teves and Jason Ali of Toronto Catholic District School Board, Paolo Sottile and Kyle Dube of Niagara Catholic District School Board, Matthew Bedell and Zakary Jagdeo of Peel District School Board, and Dmytro Korol and Nick Roberto of Dufferin-Peel Catholic District School Board.

The Landscape Design competition saw Ismail Edun of Peel District School Board take gold, while Jael Matthew of Bluewater District School Board won silver.

Medal winners are eligible to go to the national competition taking place from June 4-7, in The International Centre, 6900 Airport Road, Mississauga. From there the World Skills competition will be held in 2015 in Brazil.