January 15, 2010
How do we make LO more relevant in your community?
Tony DiGiovanni CHT
LO Executive Director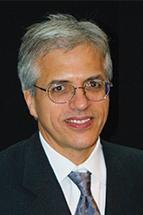 I believe we need to re-think chapters. In my heart I know that the more relevant LO is in the local community, the stronger the whole association becomes. I also know that one of the greatest benefits to members is the interaction that happens when groups of people get together - It's the meeting before and after the meeting. This provides the motivation to continue our chapter development priority, however, chapter meetings need to be re-invented.
Many members rarely attend chapter meetings. We need to understand the reasons why this is so. It is one area where we are underachieving. A vibrant, relevant and local horticultural community is essential in realizing our vision of a "prosperous, professional, ethical, recognized, trusted and valued" horticultural industry.
Here is an approximate tally of members taking part in LO activities:
1,800 enrolled in over 220 seminars
800 take part in IPM Symposia
2,000 attend conferences at Congress, Garden Expo and Green Trade Expo
1,000 attend chapter meetings
12,000 attend Congress
1,200 at Green Trade Expo
4,000 at Garden Expo
220 enrol in Growers Short Course
1,000 take part in golf/ball tournaments/chicken roast/auction and other events
In total, 24,020 industry members engage directly (face-to-face) in Landscape Ontario activities.
My point is that we need to find other ways to connect and benefit members outside of the current chapter meeting concept. Society has changed. Access to community is much easier today. Members are dedicated to a more balanced lifestyle. The demographics and cultural attitudes have also changed. We need to respond to our new customer and give members what they want and need.
LO is one of the few associations in North America that maintains a chapter system. It is also one of the most successful horticultural associations in North America, and even the world. I believe that the chapter system is one of the main reasons for this, however, we need to change the way we approach the job.
I have posted this thread on our new 'Members Only' forum. We would love to hear your views on chapter renewal, as well as any other topic. Please go to
www.horttrades.com
, click on Sign in, click on Members only forum, click on 'Chapter Renewal.' Contribute your views by following the 'contribute to this thread' link at the bottom and let's start a broader discussion.
---
Tony DiGiovanni may be reached at
tonydigiovanni@landscapeontario.com
.