April 15, 2011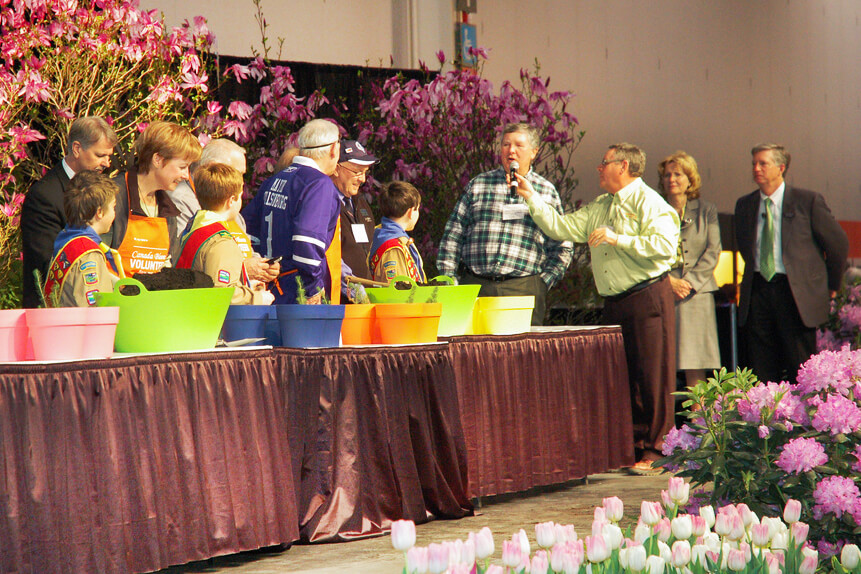 If only all challenges were this much fun
Denis Flanagan CLD
Director of public relations and membership services
During 2011 there will be a real focus on tree planting programs, with a new bill being passed that officially recognizes National Tree Planting Day. It's a move to increase awareness for Arbor Week and many other initiatives.
So, it seemed fitting that we celebrated tree planting at our largest consumer show, Canada Blooms. In partnership with Communities in Bloom - Ontario and the Ministry of Natural Resources, we organized an event on the main stage on Mar. 18. Many partners made the event a great success.
Natural Resources Minister Linda Jeffrey announced her Plant Local Tree Challenge to encourage native tree planting across Ontario. This was followed by the minister announcing tree planting tips as boys from the 7th Milton Scout Troop came on stage and planted tree seedlings. "In my job I see first-hand how planting trees helps us build a better Ontario," she said.
We then invited some special guests to join in the celebration. Lee Rozon from CiB - Ontario organized over 18 mayors, from communities such as Aurora, Lincoln, Tillsonburg, Lake of Bays and Ingersoll, to appear on stage for a fun competition. They were grouped into four teams, representing northern, western, eastern and southern Ontario. A team leader was chosen, and while blindfolded he or she had to plant tree seedlings into pots of compost with hollered instructions from the rest of their team.
Apart from a few seedlings being planted upside down and compost spilled down the front of many of the elected officials, everyone had a great time and really got into the spirit of the cause. Several hundred attendees in the audience enthusiastically rallied behind their favourite team. As a reward, audience members were all given a seedling to take home.
The event concluded with all the mayors and Minister Jeffrey gathering at the Landscape Ontario Green for Life Garden for more photo opportunities and a glass of punch. Minister Jeffrey thanked all the participants for the day's efforts and encouraged everyone to go back to their respective communities and promote local tree planting.
I would like to recognize Minister Linda Jeffrey and the MNR staff, Lee Rozon, executive director of CiB Ontario. Mark Cullen, the MC for the event. Sommerville Seedlings, for the donation of seedlings; Compost Council of Canada. Sheridan Nurseries for the donation of pots. Lorraine Ivanoff, the Scout organizer and stage manager; and Ian Service and Rob Ellidge for their photography.
---
Denis Flanagan may be contacted at
dflanagan@landscapeontario.com
.