July 13, 2017
In Memoriam — William Bill Vanderkruk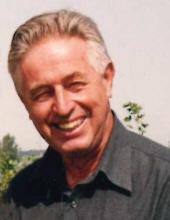 Bill's earthly journey ended March 23, 2017. He moved to Paradise, to tend the heavenly gardens to his heart's content. Bill was an avid plant propagator and loved roses. Loved by his wife Ria for 51 years; children John and Malita Vanderkruk, Irene and Andrew Dykstra, Sharon and Gerald Kodde, Deborah and Lawrence Moore, Philip and Erin Vanderkruk; grandchildren Natasha, Daniel, Thomas, Josiah, Chantal, Cameron, Kelsey, Liam, Nathan, Caleb, Rachel, Salome, Clara; siblings Neil and Linda, Art and Dorthy, Cor and Alida, Nel and Bill, Ann and Rene, Laurie and Sam, Pauline and John; Ria's siblings, Fred, Bob and Chris, Janneke, Ena and Ben, Pauline and Rients, Joanne and Hank, Marinus and Yvonne, Dave and Kathy, and faithful caregivers Audrey, Fatima, Sharon M, Florence, Rosie and Elizabeth, Sharon A.
Visitation will be on Sunday, March 26, 6-9 p.m. and a Memorial Service will take place on Monday, March 27 at 1 p.m. followed by a reception at 2 p.m.
Both Visitation and Service will be held at Bethel Christian Reformed Church, 616 Dundas St. E., Waterdown, Ont.
View full details
Psalm 139
Please consider
World Hunger Relief
in lieu of flowers