January 9, 2018
Industry news

Congress 2018 provides networking and education
Join over 13,000 industry friends and colleagues at Landscape Ontario's Congress trade show and conference, held January 9-11, 2018 at the Toronto Congress Centre. With more than 600 international exhibitors, dozens of world class speakers and industry leading educational programs, the three-day event offers unique opportunities to check out the latest products, meet face-to-face with business partners, and learn leading edge techniques to help you make money.

New to the show floor this year is Green Live! a tree planting and maintenance workshop led by engaging and knowledgeable industry professionals. The presentation will take place each day of the show at 11:30 a.m. and 1:30 p.m.

The Hardscape Live! presentations will also provide interactive educational opportunities, each show day at 10:30 a.m. and 2:30 p.m. Meanwhile, Drive Live! a safe vehicle refresher demonstration led by OPP and Toronto PD officers, will help you and your team operate safely this landscape season.
The three-day conference program is highlighted by keynote speakers: Becky Keller, a four time Olympic medalist with Canada's women's ice hockey team; Cheryl Pounder, a two-time Olympian on the Canadian Women's ice hockey team; Harry Jongerden, a professional gardener, garden designer and garden director for 40 years; and business expert Dr. Charlie Hall of Texas A&M University.

The lineup also includes the annual IPM Symposium and Garden Centre Symposium, as well as the popular Owners Only Workshops and Life Lessons at Lunch sessions.

Following busy days at the conferences and checking out the show floor, enjoy the social side of Congress in the evenings, with the Awards of Excellence ceremony on Jan. 9 and the Tailgate Party on Jan. 10. Tickets must be purchased for the Awards ceremony, but admittance to Tailgate is free with a trade show badge.

Be sure to ask suppliers for a digital VIP Pass, providing free admission to the trade show floor, a $30 value. Registration and more details about Congress 2018 are available at locongress.com.
Alberta's Green Industry Show heads to Calgary
The Green Industry Show and Conference is back in Calgary, Alta., Nov. 16-17, 2017. Landscape Alberta has put together a conference program aimed to inform and inspire everyone from designers to arborists, owners to students, growers to contractors. The conference sessions are timely and responsive to industry issues - focusing on a variety of topics with 32 one-hour sessions over two days. For more information and to register, visit www.greenindustryshow.com.
Landscape Horticulture Red Seal to be harmonized by fall 2018
Since the Forum of Labour Market Ministers (FLMM) announced its strategic plan to harmonize 30 Red Seal trades in most jurisdictions by 2020, with an effort to harmonize training for two-thirds of Red Seal apprentices by 2017, the Canadian Council of Directors of Apprenticeship (CCDA) has made great progress. Work is well underway to harmonize the next set of five trades by September 2018 (including Landscape Horticulture). The CCDA has commended the strong collaboration between industry, training stakeholders and apprenticeship authorities who make the harmonization of apprenticeship training possible. More information is available at www.red-seal.ca.
Communities in Bloom announces 2017 winners
On Sept. 16, the 23rd edition of the Communities in Bloom National and International Awards Ceremonies were held in Ottawa-Gatineau, National Capital Region, honouring municipalities across Canada, the United States, Northern Ireland, Belgium, Ireland, Croatia and Italy. National and international award winners were: Up to 4,500: Maple Creek, Sask.; 4,501-15,000: Stonewall, Man.; 15,001-50,000: Cobourg, Ont.; International Challenge (Small): Castlecaulfield, Northern Ireland U.K.; International Challenge: (Medium): Niagara-on-the-Lake, Ont.; International Challenge (Large): Holland, Mo.; Class of Champions (Small): Tignish, P.E.I.; Class of Champions (Medium): Millet, Alta.; Class of Champions (Large): Leduc, Alta.
Oakville council blocks Glen Abbey development bid
City councilors in Oakville, Ont. voted unanimously against development plans on Glen Abbey Golf Course, on Sept. 27. The development plan outlined by course owner, Clublink, would see the construction of 141 detached homes, 299 townhomes and 2,782 apartments in the Toronto suburb. Instead, councillors are vying to have the lands protected under Section 29 of the Ontario Heritage Act. Glen Abby was designed by golf legend Jack Nicklaus in 1976, and has been home to 25 Canadian Championship PGA events, more than any other course.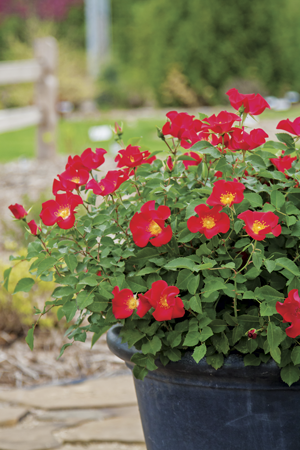 Easy Elegance rose feted at Biltmore International Trials
The Easy Elegance Screaming Neon Red rose received four awards at the 2017 Biltmore International Rose Trials in Asheville, N.C. on Sept. 23. This variety, introduced to the consumer marketplace in 2015, received the following honours: George and Edith Vanderbilt Award for Most Outstanding Rose of the Trials; Lord Burleigh Award for Most Disease Resistant; William Cecil Award for Best Growth Habit; and the Chauncey Beadle Award for Best Shrub. These two-year trials are judged by a permanent jury four times each year, and take place at the famed Rose Garden at Biltmore. According to Biltmore's rose experts, the competing roses are evaluated for overall health and vigor, fragrance, disease resistance, and ability to repeat bloom.
AAS honours Vicky Rupley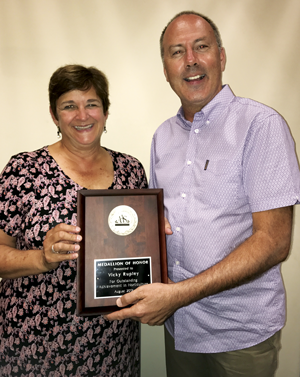 All-America Selections recently honored Vicky Rupley of Rochester, N.Y.-based Harris Seeds with the AAS Medallion of Honour. The award is presented to an individual who has shown a lifelong dedication to the advancement of horticulture. Rupley has generously given her time as a member of the National Garden Bureau Board of Directors from 1995-1998, then as a member of the All-America Selections Council of Judges beginning in 2006. While serving as a judge, Rupley then joined the AAS Board of Directors, serving as a director, vice president, president, past-president from 2007-2015.
CanWest celebrates Canada 150
British Columbia's green profession celebrated Canada 150 at the CanWest Hort show, Sept. 27-28 at the Tradex in Abbotsford, B.C. The show featured outdoor equipment demonstrations, a greenhouse showcase and a variety of educational offerings and exhibitors from each landscape sector. Kato's Nursery won best overall exhibit, Burnaby Lake Greenhouses won for most original displayand Minter Country Gardens took top prize in the container competition.

Landscape Trades, November 2017