October 4, 2018
Industry news
Alberta stages Green Industry Show
Landscape Alberta's Green Industry Show and Conference will take place on Nov. 15 and 16 in Edmonton. Over 140 exhibitors will participate in the trade show and organizers will deliver 24 pro-level education sessions. Nursery producers are planning a live and silent auction on Nov. 14. Visit www.greenindustryshow.com for details.
Leadership transition at Sheridan Nurseries
After five decades, Karl Stensson, CEO and President of Sheridan Nurseries, recently announced he will step down. Throughout his career, Stensson has been a passionate industry supporter, serving as president of both Landscape Ontario and the Canadian Nursery Landscape Association. Stensson will continue in a reduced capacity as Vice Executive Chairman and Director of Brand Integrity for Sheridan. "It has been an honour to have worked with so many talented and dedicated people at Sheridan to help the company grow into the leader that it is today," Stensson said. Colin Cruji will succeed Stensson as President and CEO. He has served as Senior Vice-president of Canada Bread Co., and holds an Executive MBA from the Richard Ivey School of Business at the University of Western Ontario. Founded in 1913, Sheridan operates eight garden centres and is one of Canada's largest nursery growers.
HortEast set for Truro, N.S.
The annual HortEast Trade Show and Conference runs Nov. 27-28 at the Rath Eastline Community Centre in Truro, N.S. HortEast is geared towards people who have an interest in the landscape industry in Atlantic Canada and surrounding areas, focusing on seminars and exhibits for landscape design, maintenance and construction professionals, greenhouse and nursery operators, municipalities, tree specialists, garden centre operators, lawn care specialists, turf producers, and golf course professionals. The event offers the opportunity to network with new and old friends at social events (including a welcome reception and kitchen party), learn at pre-show workshops and conference sessions, participate in industry exams and visit over 50 exhibitors from across Canada. For full details, visit www.horteast.com.
Dynascape acquired by EverCommerce
EverCommerce of Denver, Colo., has added Dynascape to its portfolio. Dynascape software is widely used by landscape professionals; Mike Bosch and Kirk Ware grew Burlington, Ont.-based Dynascape to over 3,000 users. Sales and marketing manager Joe Salemi will continue with the company. EverCommerce is comprised of 19 companies, including 14 in the field and home service sector.
Industry recognizes Landry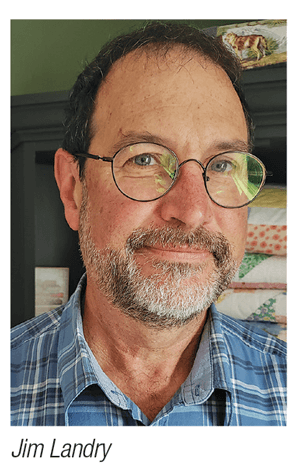 Landscape New Brunswick and Landscape P.E.I. honoured executive director Jim Landry with a Lifetime Recognition Award during the National Awards of Landscape Excellence on Aug. 15, 2018 in St. Andrews-by-the-Sea, N.B. LNB/P.E.I. president Karen Carrier made the surprise announcement near the beginning of the 15th annual NALE presentation, drawing applause from the 100 guests in attendance and a shocked expression from Landry, who was on stage as a co-MC of the event.
"As ED for LNB/PEI, Jim Landry is well known for keeping the momentum going," Carrier said. "He is always there to assist and even push us when we need that extra infusion of encouragement to keep moving our industry forward. In addition to lending an ear to member concerns and organizing events that bring our tradespeople and suppliers together, he has also been instrumental in promoting the Red Seal Apprenticeship program in our provinces. Even when we think a block may not move forward in a given year, Jim pushes on and returns to us with a big smile and a sigh of relief as he successfully exclaims that we have once again managed to secure enough "bums in seats" to run the program." Carrier also noted Landry's involvement in numerous charitable causes, including the Vimy Oaks project, Pink Days in Bloom and National Tree Day.
Spring Meadow supports breast cancer research
Spring Meadow Nursery has surpassed its $1 million fundraising goal for breast cancer research. The Grand Haven, Mich.-based company launched the Invincibelle Spirit Campaign in 2009, donating one dollar from every Invincibelle Invincibelle Spirit and Invincibelle Spirit II (pictured) hydrangea sold to the Breast Cancer Research Foundation. The company also promotes Pink Day marketing events, hosted by independent garden centres across North America. Spring Meadow plans to continue fundraising for BCRF into the future through sales of the Proven Winners ColorChoice Invincibelle Spirit II hydrangea and special fundraising events.
AAS releases annual report
All-America Selections (AAS) released its 2017-2018 Annual Report reflecting the group's recent activities. For the past eight years, AAS has prepared a yearly statement of organizational updates including those of sister organization National Garden Bureau. Key points in this year's report include implementation of the new Ambassador programs, continuing financial health of AAS, details of the newest AAS winners, social media successes and how the industry can utilize the platform, and an update on the NGB. View the full report at all-americanselections.org.
NGB announces plant promotions
National Garden Bureau, the non-profit organization promoting gardening in North America on behalf of the horticulture industry and its members, is pleased to announce the four plant classes that will be featured in the 2019 "Year of the" program: for the bulb crop, 2019 will be the Year of the dahlia; for annuals, 2019 will be the Year of the snapdragon; for edibles, 2019 will be the Year of the pumpkin; for perennials, 2019 will be the Year of the salvia (nemorosa and others).
The "Year of the" program chooses crops specifically for the North American market that are easy to grow, genetically diverse, and with a lot of new breeding to showcase. Breeders, brokers, seed companies, growers and garden centers throughout the U.S. and Canada are urged to highlight these flowers and plants when planning their marketing for the 2019 season as the publicity generated from this program is substantial.
Both members and non-members are encouraged to take advantage of the publicity this program generates by using the attached logos in their 2019 catalogs, websites, advertisements and other marketing materials. Visit ngb.org for full details.
Landscape Trades
, September 2018