May 23, 2013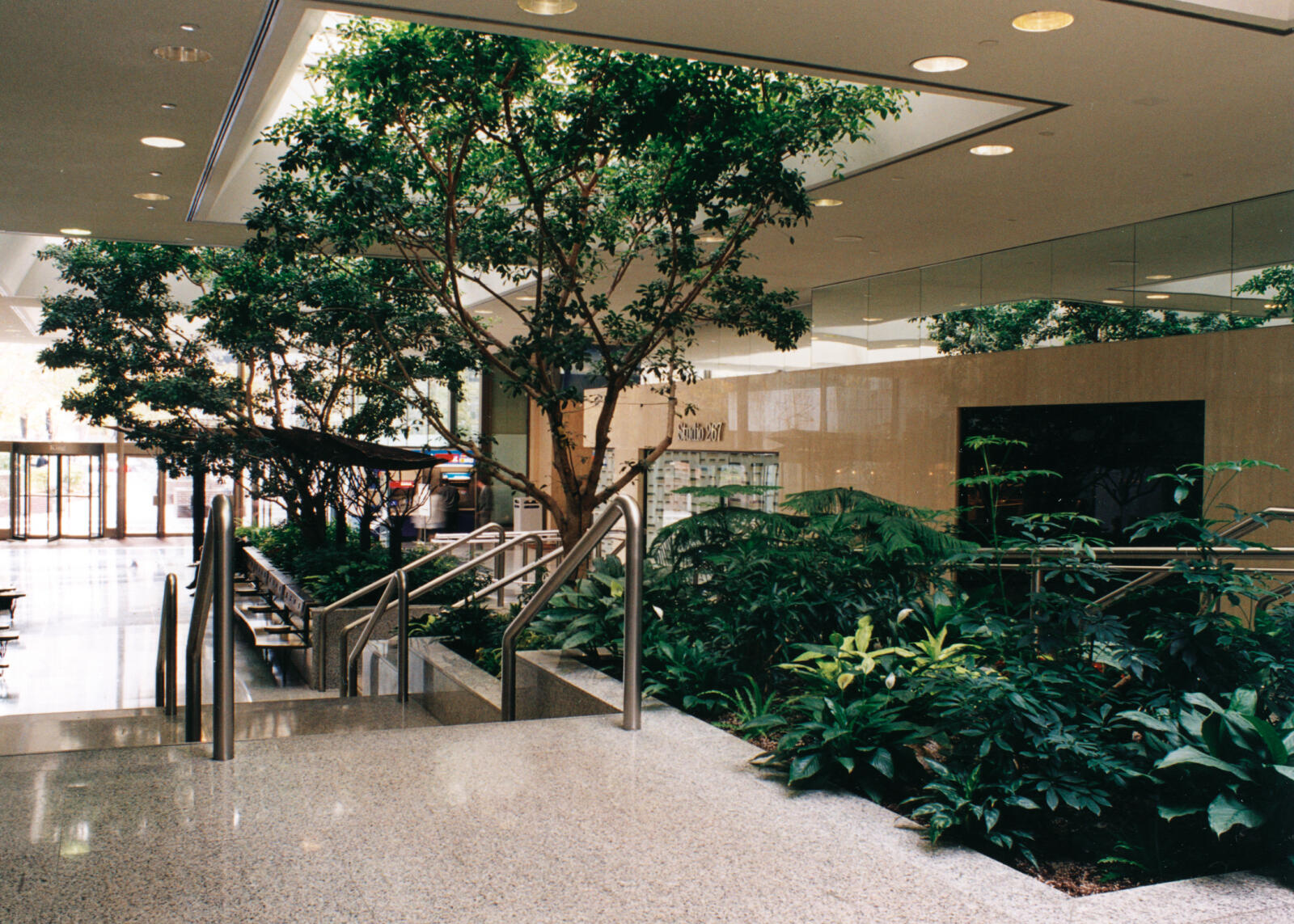 Interior landscaping: A practical user's guide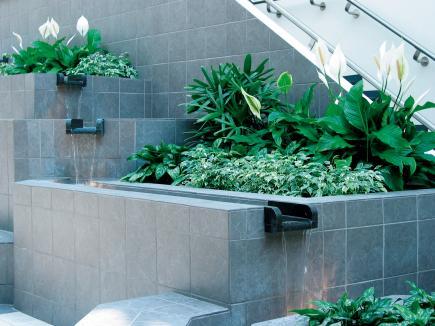 People like plants. And where there are people, the indoor environment is improved by the addition of a well-planned, well-executed and well-maintained interiorscape.
By drawing on the specialized skills, knowledge and technologies available through an interiorscape professional, your ideas can become reality.
The interior landscape process consists of three main components:
Design/consultation
Installation
Maintenance
An interior landscape company may offer all or some of these services. This brochure is a practical guide to finding, hiring and working with qualified interiorscape professionals. We hope you find it helpful. If you have further questions,
you are invited to call the Landscape Ontario office or visit our website for more information on contacting professional interiorscape members in your area.
Design and consultation services
A good design offers logical solutions to potential site concerns and ensures the compatibility of plant selection with proposed environmental conditions.
Whether the project is a new installation or the refurbishing of an existing interiorscape, the key to success is a good planning process, best facilitated by the hiring of a qualified interiorscape designer or consultant.
Services offered by designers include:
design and planting specifications
evaluation of existing installations
writing of project specifications
writing of, or evaluation of, third party maintenance contracts
sourcing of plant materials, products and accessories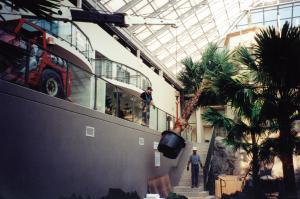 Installation
The key to a successful project is to be sure you are working with a credible, qualified contractor. Price should never be your single determining factor. A higher priority is knowing the contractor can meet your expectations, especially as they relate to quality, size and scope of work. Be sure these concerns are appropriately addressed when researching contractor references.
Using the following criteria will enable you to determine whether the contractor has the necessary capabilities to complete the project as intended.
Plant preparation
Prior to delivery, tropical plants should be both fully acclimatized and properly prepared. This preparation should include:
soil leaching
re-potting
cleaning
pest prevention measures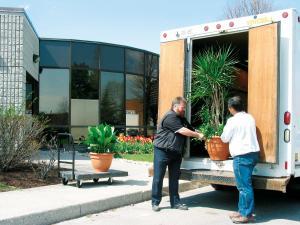 Delivery
Minimizing stress to tropical plants that are moved from ideal growing conditions to the indoor environment requires expertise and proper equipment. Delivery considerations may include:
climate controlled vehicles
scheduling (after office hours or not)
plant protection
supervised/qualified delivery and installation personnel
special delivery requirements
Installation
On-site or off-site preparation


Determine with the contractor the scope of the project and how much work will be completed both on and off-site. By performing as much work as possible off-site, disruption to your workplace is minimized.



Quality of plant material


Accepted standards of quality have been developed by the industry and are specified by the Associated Landscape Contractors of America (ALCA).



Planting techniques


Must be in accordance with horticulturally sound industry practices, as specified by ALCA.



Scheduling


Predetermine if work will be completed during or after regular office hours. Be sure the contractor has the capability to complete the project within a prearranged, realistic time frame.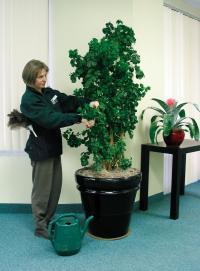 Maintenance
Generally, design and installation may be considered one-time, relatively short-term contracts. Maintenance contracts, on the other hand, are long-term and can include many different components. Review competing maintenance agreements carefully to be sure that you are in fact comparing apples to apples when hiring a maintenance contractor.
Depending on the size and scope of the maintenance contract, it may be advisable to seek the services of a consultant to develop an appropriate maintenance regime for the long-term protection of your interior landscape investment.
Service
A good maintenance program will offer all of the services listed below. Determine if each item is part of the maintenance contract price or if it will be an extra charge.
watering
pruning
grooming
fertilizing
soil dressing
media additions
pest and disease control
transplanting
soil and water analysis
relocation or moving
plant inventory management
communication log
container washing and conditioning
after hours special services (spraying, etc.)
Warranty/guarantee
Most contracts include a warranty or guarantee on the plant material and maintenance services. Determine if the guarantee includes the cost of any plants that may need replacing and if there is an extra delivery charge. Warranty agreements should specify the length of the guarantee as well as details as to what is included and excluded.
Frequency of service
Frequency of service is an important consideration. Infrequent visits result in plant stress, shortening their expected life span.
Pest management programs
Indoors or out, from time to time, plants are affected by insects or diseases. You will need to determine not only if their treatment will incur an extra cost, but also how the contractor intends to deal with these challenges.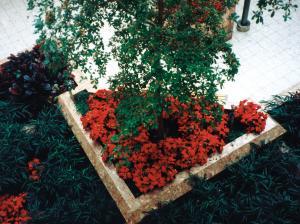 Seasonal colour
Once you have designed, installed and maintained your interiorscape with the assistance of a professional contractor, it becomes a relatively simple matter to expand the scope of your living decor, especially during important holiday seasons.
Services such as seasonal plant rotations are a great way to add colour to your lobby or office areas. It is recommended that you consult with an industry professional to discuss ways of maximizing the impact of seasonal and holiday plant displays.
Seven ways an interior landscape can benefit your business:
First impressions count


By adding plants to your decor, you can help create a positive first impression for both potential customers and employees.



People like plants


Finding and retaining good employees is a challenge. Studies show that people are attracted to environments enhanced with plants and tend to stay in the employ of those companies for a longer period of time.



Plants reduce stress


Plants have a humanizing effect on otherwise sterile office environments. This reduces stress and increases productivity.



Plants play a big role in "green" buildings


When combined with current technologies, plants help to optimize the humidity and cooling requirements necessary to create energy-efficient buildings.



Live plants reduce 'sick building syndrome'


Property managers face a serious dilemma; on one hand buildings need to be energy efficient, on the other hand, reduced air circulation is a primary contributing factor to an increased number of employee sick days. Studies prove that indoor plants improve air quality and reduce employee absenteeism.



Plants reduce noise levels


Open office concepts in today's busy workplace environments often result in noisy distractions and a less productive workplace.
Well-placed plants can actually abate noise.



Too expensive? Interior plants offer a great ROI


For all of the reasons listed above and more, interior landscaping
has proven to be one of the most cost-effective interior decor expenditures.
---
To find an interior landscape professional near you, visit the Find a company page
and click on

Interior Landscape Companies

.
---