December 15, 2011
It's the chicken and egg syndrome
By Helen Hassard
Membership and Chapter Coordinator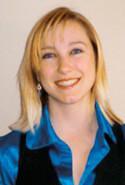 Recently I was in Windsor for that Chapter's annual Awards of Distinction. I found myself in a conversation with a new member company, our executive director Tony DiGiovanni and our public relations manager Denis Flanagan.
One of the interesting things that I learned from this conversation was the origin of our logo. As most of you may know, a few years ago LO adopted the Green for Life logo. It was the result of our branding committee's hard work. But what you might not know is this brand has gone national with PEI, Manitoba and New Brunswick joining us.
When the board decided it was time to rebrand, the branding committee hired a marketing company to develop a logo and tagline. This company found that the target market for our membership is women between the ages of 35 to 60. Although this is a generalization and does not necessarily represent all members, what they found through the survey is that those consumers related to the image of a little girl on a swing. Just like that, the GFL logo was born!
As I mentioned, the research was a generalization. For those members who didn't want to use the little girl on the swing, because they knew it wouldn't appeal to their clients, the tree logo came to be. It is an equal, but different logo. We encourage you to use whichever one will best suite your business needs.
I've have heard that a number of members don't want to use the logo, or put the decals on their trucks, because their customers don't know what it means. Well to them I say, it's the chicken and the egg situation. Consumers aren't going to recognize the brand until they see it out there on your trucks, business cards and websites.
Now, I don't expect to convince everyone, but for those of you that see the value and want the GFL brand recognized, please start incorporating this into your marketing. We have free promotional materials available at
www.horttrades.com/green-for-life
.
In addition, your local chapters and LO home office are always working on building GFL brand recognition, whether it's by attending local events, community projects, or sponsoring charities and events. If you have a great idea, or want to get more involved, we would love to hear from you.
---
Helen Hassard may be contacted at
Helen@landscapeontario.com
.