October 15, 2019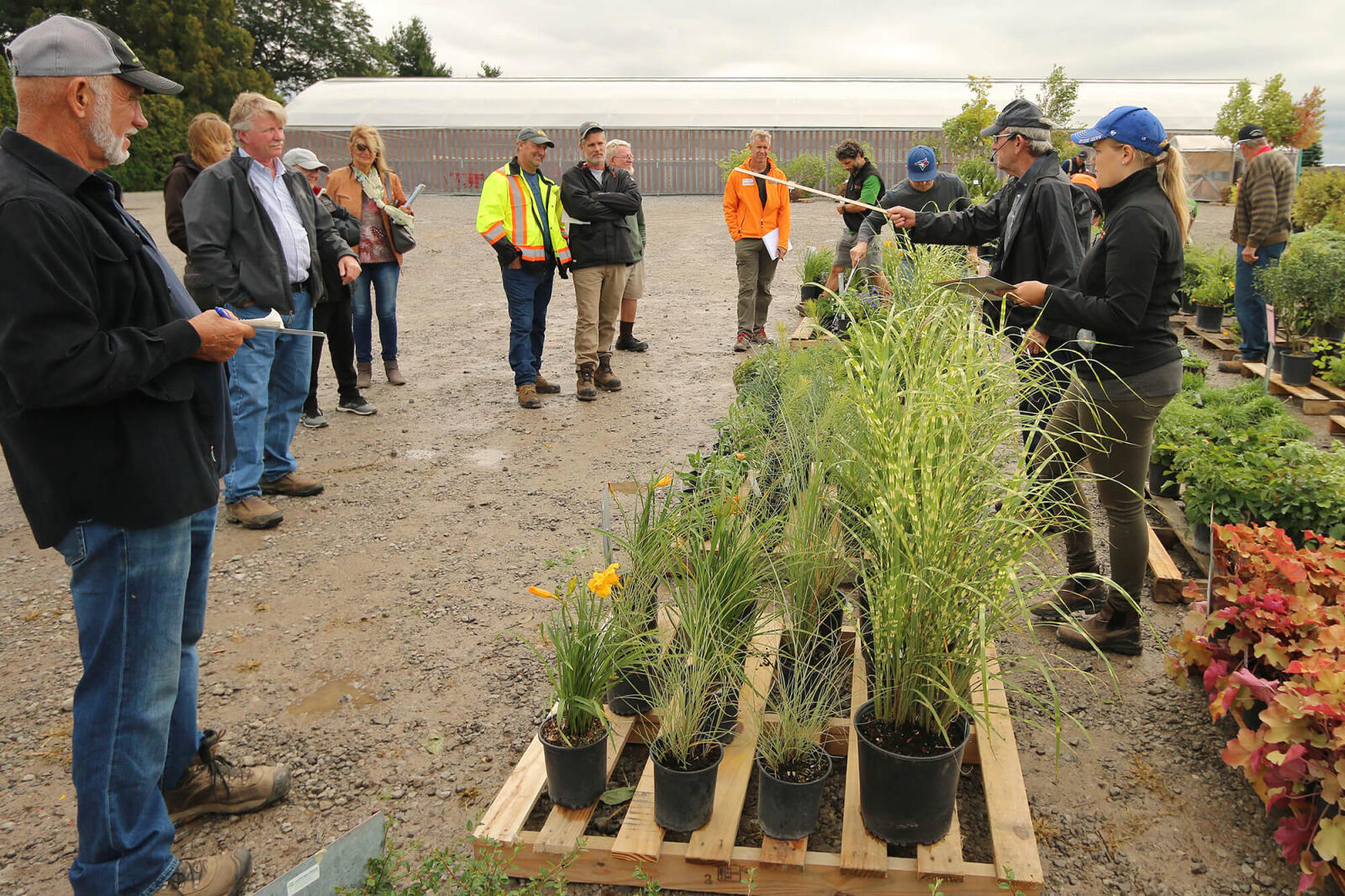 J.C. Bakker hosts successful Industry Auction
An incredible location, amazing food and gorgeous plants delighted participants of the 41st annual Industry Auction, held Sept. 12 at J.C. Bakker & Sons in St. Catharines, Ont. Presented by the Landscape Ontario Growers Sector Group, the event saw a wonderful turnout despite cold and rainy weather that morning.
Proceeds from the auction help to raise money for horticultural research, scholarships and sector development and promotion. All donated plant material and items are placed up for live biding, with even more items donated by growers and suppliers for a separate silent auction. This year, over 200 skids of plant material and silent auction items were sold to the highest bidder.
Prior to the auction, attendees got time to preview the lots up for bid, take one of several tours and enjoy a full lunch. Also that morning, entries in the LO Growers Awards of Excellence were judged by an expert panel. Thanks to volunteer judges: Glen Lumis, University of Guelph; Sean Fox, University of Guelph; Jon Peter, Royal Botanical Gardens; Mary Jane Clark, Niagara College; Rodger Tschanz, University of Guelph; and Sue Clarke, Niagara Parks. Winners of the various categories were announced during the live auction where Andrew Barbour, LO Growers Group Chair, was on hand to present winners with a certificate of achievement. Winning lots were then sold to the highest bidder.
Once again, auctioneer Jim McCartney kept things light – and moving at a steady clip.
The event would not be possible without the outstanding generosity shown by donors this year, including:
Plant Material:
Braun Nursery, Brookdale Treeland Nursery, Canadale Nurseries, Dutchmaster Nurseries, Hillen Nursery, JC Bakker & Sons Nurseries, Kobes Nurseries, Lagendoen Nurseries, NVK Holdings, Pan American Nursery Products, Potters Road Nursery, Putzer (M) Hornby Nursery, Sheridan Nurseries, V. Kraus Nurseries, Willowbrook Nurseries and Winkelmolen Nurseries.
Silent Auction Donations:
Canada Blooms, Gro-Bark (Ontario), Hermanns Soils & Mulches, Kam's Growers Supply, Royal Botanical Gardens, Timm Enterprises, University of Guelph Arboretum, and UPI Energy FS.
Cash donation:
Somerville Nurseries.
To sweeten the pot, a Samsung Smart Watch was donated by Plant Products and raffled off to the auction participants. Nancy Boekestyn from Berger was the lucky winner this year.
Landscape Ontario would like to thank all donors and participants, as well as J.C. Bakker & Sons and their incredible family and staff for hosting such a great event.