December 15, 2008
Denis Flanagan CLD
Manager, membership services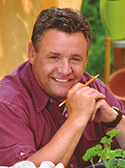 As part of our continuing branding initiative, the goal is to form as many partnerships as possible to promote the LO name and our members.
An opportunity came up in October to become involved with the first annual Style at Home Show. It was really three shows in one, sponsored by the three magazines
Style At Home, Canadian Gardening
and
Canadian Home & Country.
The target audience of this group of magazines is exactly the same demographic that our branding committee has identified: females 30 to 45 years of age with above-average incomes.
So, it made a lot of sense to meet with Aldona Satterthwaite, the editor-in-chief of
Canadian Gardening
, to discuss the possibilities of how we could help the show in return for an opportunity to promote LO at the inaugural event.
Shawn Gallaugher agreed to design a stage set in a garden. We loaned Shawn props and furniture that we had in storage for Canada Blooms, and he created a colourful fall-time garden with quality plant material that was supplied by Sheridan Nurseries.
Aldona put together a line-up of speakers with a wide range of topics. For just about all the presentations, there was standing-room only. At the beginning of each seminar, Landscape Ontario and Sheridan were recognized and thanked for their contributions.
I believe we met our marketing objective of achieving maximum exposure for minimum expenditure, a model we will pursue in the new year. I would be delighted to discuss any opportunities with our members across the province.
---
Denis Flanagan may be contacted at
dflanagan@landscapeontario.com
.
Caption: Denis Flanagan answering a question from a visitor at the first annual Style at Home Show.