November 15, 2011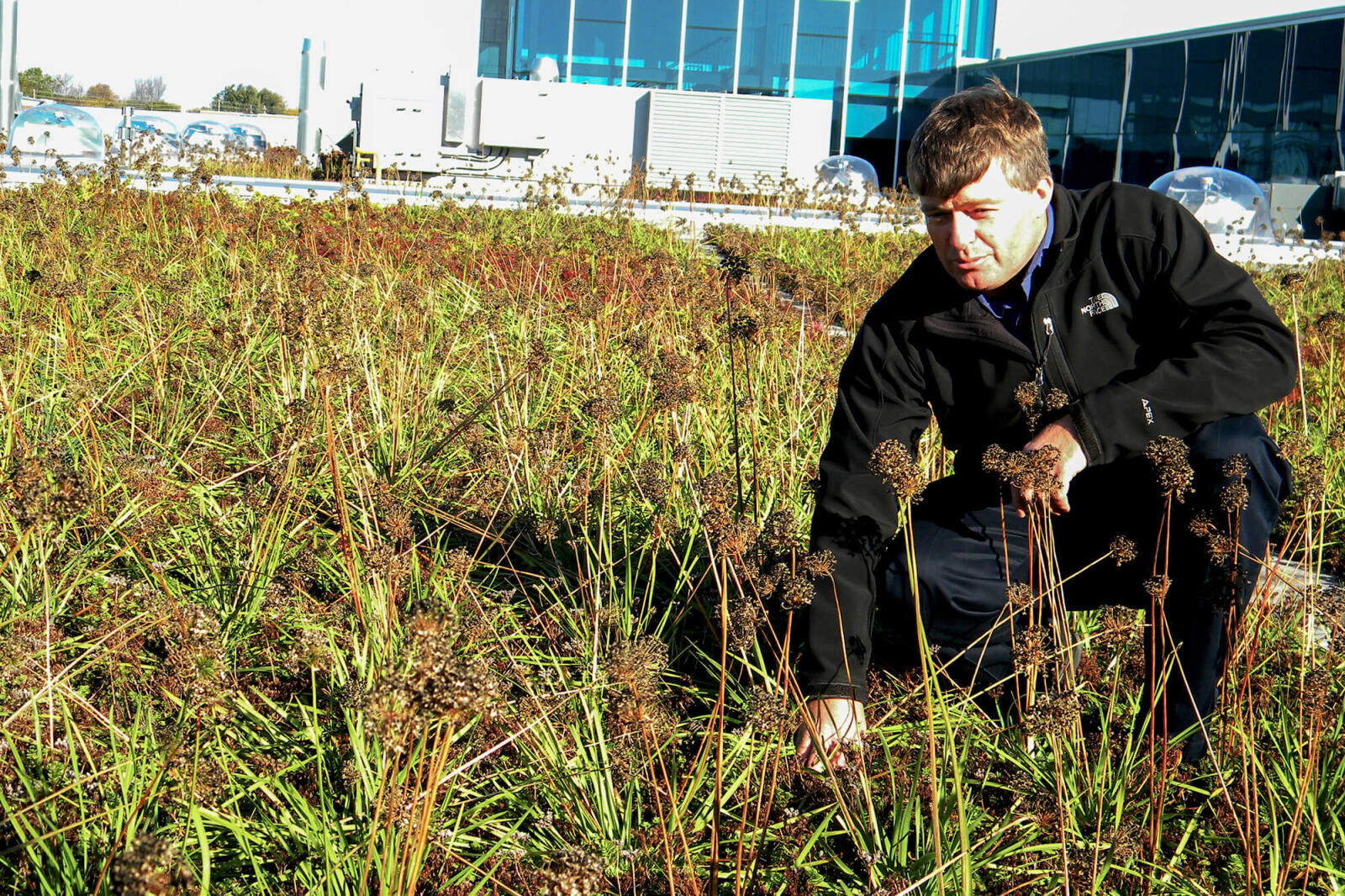 Kees Govers on the ground floor of fast-growing green roof industry
By Allan Dennis

The concept of green roofs has quickly become the fastest growing reality within the green industry. Landscape Ontario member Kees Govers of LiveRoof Ontario in Mount Brydges has become one of its driving forces.

"I began actively in the green roof industry in 2006," says Govers. Previous to then, he was involved in the perennial nursery business selling to garden centres.

The rising Canadian dollar and depressed prices were making the wholesale perennial market difficult. "I saw where the green roof industry was heading, and changed my focus towards it." In 2009 the industry grew by 16.1 per cent, and last year was up by 28.6 per cent, according to Green Roofs for Healthy Cities, which gathers data on the industry.

Govers says his company has increased its production and sales threefold, while its labour force grew five-fold.

The public sees the major benefit of greenroofs as a method to improve the environment through air quality, and reducing the urban heat island effect. Govers says the vast majority of his business comes from clients who are looking to solve stormwater issues and increasing the lifespan of roofing systems.

Govers estimates that green roof surfaces absorb up to 99 per cent of a one inch of rainfall, reducing runoff, lessening the risk of sewer overflows and flooding.

He says, "Many cities have no room to handle the stormwater runoff, so they are looking at greenroofs to handle the problem.

It's a way to eliminate digging up streets and installing expensive systems to deal with stormwater." The other selling factor is the extension of a roof's lifetime anywhere from 100 to 200 per cent, by protecting the rooftop from ultraviolet rays, large temperature fluctuations, drying winds and punctures.

Govers' company provides unique service by growing all its plants at LiveRoof Ontario's facility in Mount Brydges, near London. "As far as I know, we are the only ones to do this," says Govers. Plants such as sedums, alliums, Sempervivums and Delospermas are used with media in a depth of four inches. When fully vegetated and saturated, each container weighs just under 30 pounds per square foot.

Once the plants have become established in the containers, they are delivered to the site. And, there's no random placing of the containers on the roof. Long before the plants have begun growing, LiveRoof creates a design for the project, so that each module is placed in a very specific pattern. Govers says the system allows a quick installation of the modules, as staff members know exactly where each unit goes.

Another advantage of delivering mature plants, according to Govers, is that installation can take place anytime from Apr. 1 to Nov. 15. "With new plantings, you can't complete the process in the dry months," he says.

He says the Toronto by-law that was passed in 2010, has already resulted in more than 1.2 million square feet of new green space planned for commercial, institutional, and multi-unit residential developments across the city. He foresees more municipalities such as Mississauga, Hamilton, Vaughan, and Richmond Hill passing similar by-laws. He doesn't see the provincial government placing similar laws across Ontario. "It tends to be an urban focus right now." Since he began in the greenroof sector, Govers says he has seen many changes.

"At the beginning, it was a bit of a wildwest show, but one of the best things to happen was the establishment of standards. He credits Green Roofs for Healthy Cities for developing its Professional Accreditation Program.

Govers says the future is bright for the industry. His company is currently growing plant material in the nursery for 17 to 18 projects. Some may begin this fall, depending on weather, while the majority will be ready to start in early 2012.

A past president of the LO London Chapter and chapter rep on the provincial board, Govers says he now has a 'peripheral' relationship with Chapter activities.

Horticulture Review interviewed Kees Govers at Fanshawe College in London.

The Oxford Street campus building has most of its roof covered in plants, installed over a year ago by LiveRoof. In mid- October the green roof was still lush and healthy.

It has been maintained by a private company, but soon Fanshawe College horticulture students under Michael Pascoe will take over the program, performing maintenance, while learning something about this fast growing industry service.

Pascoe says he thinks Fanshawe is the only college in Ontario offering a greenroof program. "It's a great opportunity to have this major greenroof canvas on one of our (college's) buildings," says Pascoe.

Kees Govers is proud of his involvement with Fanshawe College. He is optimistic about what's ahead for the green roof industry, and believes educating students will ensure that the industry will be in good hands down the road.