May 6, 2019
Landscape Ontario and Stihl Canada gives students some hands on experience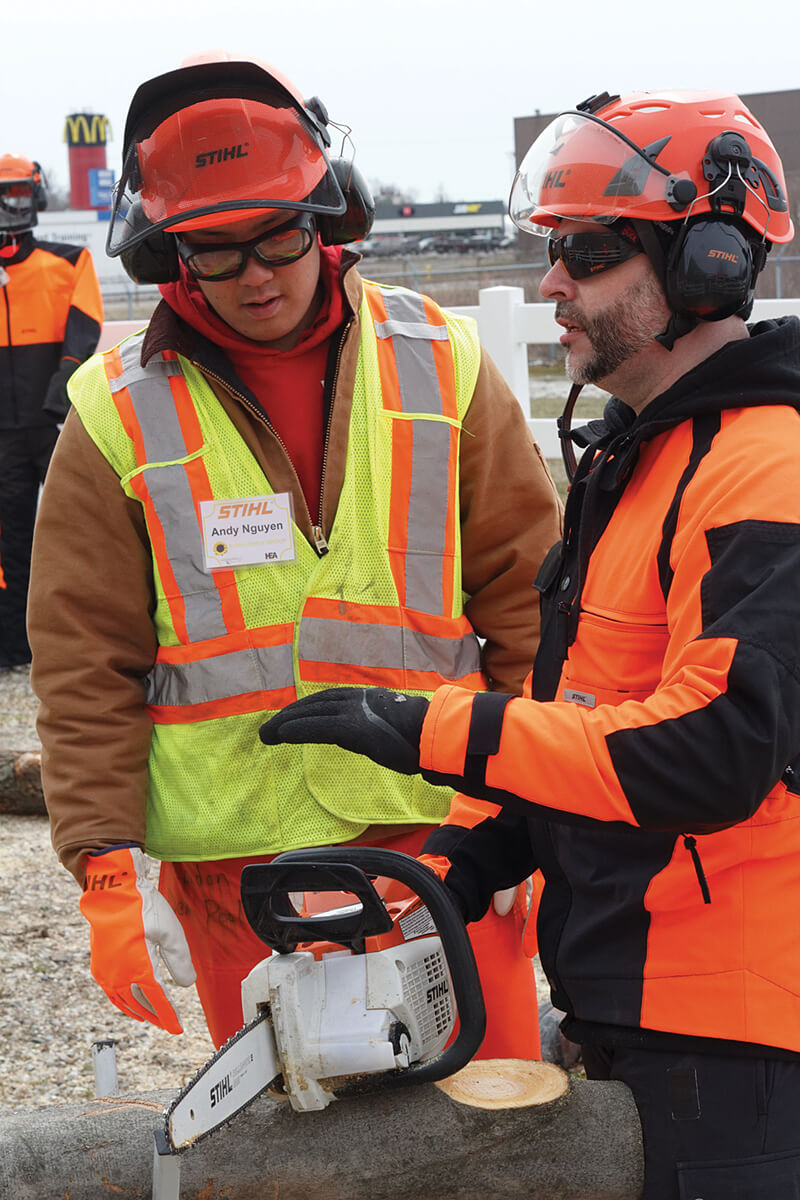 Horticulture and landscaping students enjoyed a day outside the classroom, cutting stone, trimming grass and using chainsaws at Stihl Canada's London, Ont. headquarters on April 4, 2019.
The first ever Stihl Experiential Learning Day was a great hands-on experience for students from Fanshawe College, Parkside Secondary School, and Grey Highlands Collegiate Institute.
A partnership between Stihl Canada and Landscape Ontario, the event was designed to connect youth with industry and engage them in learning safe operation of equipment commonly used in the profession.
For those working in the profession, safety is top priority. Lissa Schoot Uiterkamp, youth engagement coordinator at Landscape Ontario, said, "The Stihl Experiential Learning day provided hands-on learning experiences for college and high school students where they learned the safe application of a variety of products from the amazing Stihl technical trainers."
Training for the students began in the classroom. That morning, Stihl trainers, Chad Dubois and Stephen Anderson led students through a detailed lesson on equipment operation, best practices and safety.
With the students up-to-speed, they were then led through the Stihl Canada warehouse and outside to the back of the building, where stations were set up with cut-off saws, chainsaws, grass trimmers, blowers, and an assortment of battery powered equipment.
Students then rotated through each station to get experience using the various pieces of equipment before taking a break for lunch, provided by Stihl.
Both Parkside and Grey Highlands have in-school landscaping and horticulture programs under the Specialist High Skills Major (SHSM) program, and the day provided them with an introduction to industry, as well earning students a credit towards the program.
"This has been such a fun day for us," said an enthusiastic high school student from Parkside S.S. "This is what I enjoy most about the SHSM program: getting out and trying new things."
Fanshawe College student, Tobias Edwards, enjoyed the opportunity to learn from Stihl's equipment experts. "This event has been a valuable experience for us," Edwards said. "It's been great to get to try out the equipment, especially some of the battery powered machines."
Schoot Uiterkamp said the day was such a huge success, in large part due to the leadership of STIHL Canada. "This day allowed for connections to be made between landscape professionals, college students and high school students, to inspire our future professionals. We couldn't have asked for a more amazing group. In addition, the experienced Stihl staff truly made this day an educational experience the students will remember for a long time. We hope to continue to promote connections between students and professionals through more days like this."
Greg Quigg, Stihl Canada president, says the company enjoyed the opportunity to host the experiential learning day. "This is a great chance for us to connect with passionate students, who represent the future of the profession," Quigg said. "We want to thank Fanshawe College, Parkside Secondary School, Grey Highlands CI and Landscape Ontario for participating. It has been a special day for our team here at Stihl."
WATCH VIDEO