May 15, 2009
Leaders inspire by their immense contributions
Tony DiGiovanni CHT
LO Executive Director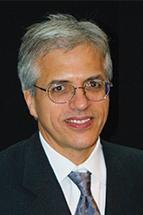 LO trade show coordinator Linda Nodello gave me a book entitled
The Mark of a Leader
by Doug Keeley. The book is well described by its sub-title Inspiring Stories of Ordinary People Who Have Done Extraordinary Things.
The book made me think about all the great leaders who participate in Landscape Ontario. I am always amazed and inspired by the immense contributions made by our members to their industry association, but most of all to each other.
A few of their stories
What motivates someone like Tim Kearney from Garden Creations of Ottawa to volunteer to build the LO garden in Toronto? When asked, he said he wanted to stimulate an esprit de corps amongst all sectors and geographical groups within the membership. He wanted to raise morale, build camaraderie, co-operation and fellowship. He certainly succeeded; not only with the chapters and sector groups but between his staff, other members, apprenticeship students and our staff. The spirit of goodwill also infected all those who visited the garden at Canada Blooms.
The garden told the story of industry members coming together to contribute their time and resources, using the skills and passion of their occupation. Community projects from every chapter were featured. Collectively, the LO community contributed over $500,000 worth of labour, products and goodwill to help make our communities better, and to showcase our profession and principles. Our message of leadership, legacy, professionalism, caring, societal benefit and trust was very clearly communicated in a powerful way.
Stephanie Scott created the wonderful design. Jeff Scott, Ryan Kearney, Tim O'Brien, Jason Robinson, Tim Scullion, Lynda Blackburn, Nathan Armstrong, Lindsay Ross, Todd Pugh, Chris Kuhn, Cynthia Burns, Ryan Kelly and Will Loudon came from Ottawa to ensure that the installation was expertly executed. After working over 18 hours a day, four straight days, in dust and diesel fumes, you would think that the fun would have waned. At the end of the build, beaming with pride Tim's staff told me they would welcome building next year's garden at Canada Blooms. Talk about esprit de corps!
Thanks are also owed to the many members, students and staff who all helped out.
The garden also was graced with the participation of the following contributors. Bosman Homefront, Camilla House Imports, Connon Nurseries/NVK Holdings, Fossil Landscapes, Humber College Apprentice Program, Kemptville College Apprenticeship Program, Moonstruck Landscape Lighting, PAO Associates, Permacon Group, RJ Rogers Landscaping and the University of Guelph Trial Gardens.
Thanks are also due to the entire LO staff and branding committee. Denis Flanagan and Kristen McIntyre coordinated the staff effort. Sally Harvey and Rachel Burt coordinated the apprenticeship students.
I hope I did not miss anyone. Please let me know if I have and I will make sure to recognize you in future issues of
Horticulture Review
.
Landscape Ontario's 4,000 sq. ft. Green for Life garden was an incredible showcase for our industry, but it was much more than that. It was a reflection of the leadership and legacy principles that guide our community and that truly make a positive difference in the world.
Member saves the day
I received a call from David Turnbull (LO past president and operations manager of Canada Blooms) on the Saturday night before Canada Blooms. David said, "I am not exaggerating when I say we have a disaster on our hands because of the nature of the sand." The sand was not coarse enough and was saturated with water. Paving stones could not be levelled and in one case, expanding sand knocked over a retaining wall.
Where does one get 300 tonnes of sand on a Saturday night? I called Bob Wilton from Clintar and Mark Humphries from Humphries Landscape Services, because both are heavily into the snow business. I also called Steve Moyer, sales manager for LO, because of his contacts with industry suppliers. All three gentlemen cheerfully took time on Saturday night to see if they could help.
In the end, Pat Lamanna from Earthco Soil Mixtures came to the rescue. He opened one of his supply depots that night especially for Canada Blooms. The Canada Blooms gardens would not have been completed if not for Pat. We owe him a great deal of thanks for his contribution.
One of my favourite quotes is "Leadership is a choice not a position." All positive change requires optimistic people who reflect, prepare and take action within a framework of ethical conduct.
Leadership in training
The LO garden was not the only reflection of our association. The Skills Canada garden also communicated societal benefit and symbolized the future of our industry. Although there were many people involved with that effort, I want to focus on one person who is always going above and beyond in the service of our industry and association.
Beth Edney is a tireless leader who is always front and centre when it comes to contributing time, effort, passion, creativity and support. She is the recipient of the Glen Beatty Award from Skills Canada – Ontario. See the story elsewhere in this issue of
Horticulture Review
.
Financial leadership
Mark Bradley of the Beach Gardener called to reflect on some of the pervasive fear and negativity about the economy. He lauded the education and promotion efforts of the association, especially the Prosperity Partners concept. However, he urged us to focus on some immediate, simple and practical solutions. He suggested that in times of insecurity and fear it is imperative that companies use budgeting as a management tool. You can not manage what you don't measure. Budgets provide clarity. They tell you when to cut costs, or ramp up expenses. They are fundamental to reduce stress and promote action.
He then offered to lead a free budgeting workshop. What impressed and inspired me the most was not related to budgeting at all.
It is an attitude that I see every day working at LO. It is the contribution ethic, the caring nature, the willingness to share and mentor that is so prevalent in our association.
We can make some very powerful changes to our industry and society by cultivating an army of leaders who model professional, ethical and trustworthy behaviour.
The best way to teach leadership is to model it. We are fortunate to have so many wonderful models.
---
Tony DiGiovanni may be reached at
tonydigiovanni@landscapeontario.com
.