May 11, 2022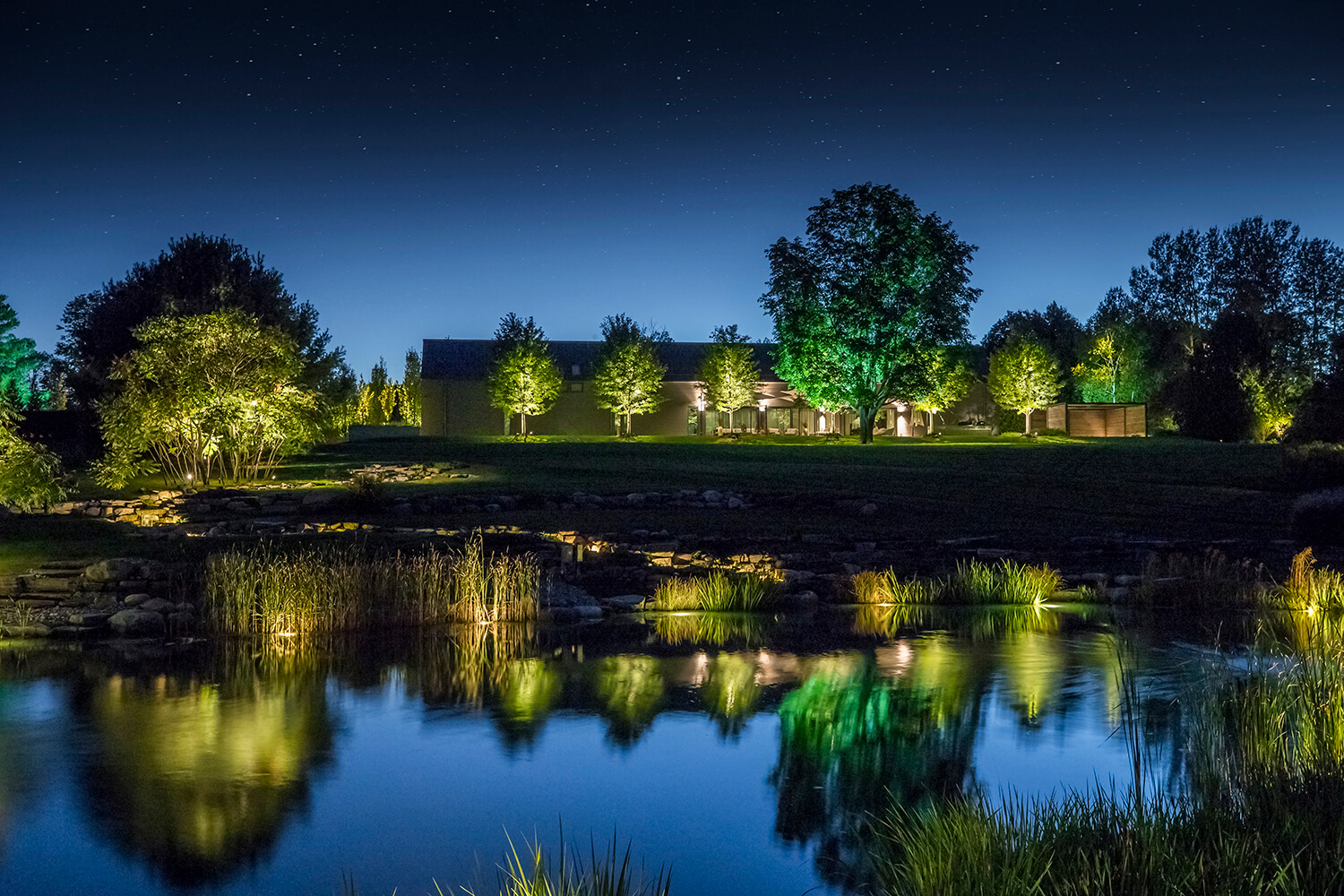 Let there be (landscape) light

BY AUDRIANA VANDERWERF

On snowy winter nights, I love being out for a walk with my rescue, Holly. On one such walk, I noticed the white ground flashing and twinkling, refelecting the red and and greens of Christmas lights shining brightly around our neighbourhood.

"They should be up all winter," my neighbour Tim said, pointing to his long string of multi-coloured bulbs as we passed his place, "to brighten the nights."

I couldn't disagree. The lights add a bit of brightness to a long, dark winter night.

"What if we designed some landscape lighting?" I offered.

"We already have that," he replied, nodding to the solar mushroom-style fixtures, intended to light his front walk.

At the end of her leash, Holly quivered as though she read my thoughts, and since I was not there as a consultant to offer opinions, we continued down the street.

If Tim were my client, it would have been a prime opportunity to educate him: with professional landscape lighting, his clump jacquemontii would look exquisite well into the evening hours while providing visual distraction from the building beyond it; the patio would be inviting for a late night beverage and conversation; the gardens along the fence could be enjoyed even from inside year round; and the path could be more dependently lit, not only in the evening, but also in the early morning hours. Additionally, the foundation garden's up-lights could accentuate architectural highlights, giving a fresh look to the home's curb appeal at night while also providing security. Clearly, there are lots of ways professional landscape lighting can enhance a property.

Certified Landscape Designer Kari Renaud of Lily Design near Windsor, Ont., designs landscape lighting in just such a fashion. "The beauty comes from all of the different ways you can light up an area or feature," Renaud said. "Never competing with the home, lighting is meant to accent the home's best features."

Landscape design is the art of combining beauty and function, and devising a lighting schematic is no different. How to carefully illuminate the route to the hot tub so a naked client can both find the way, and run to it without their neighbours seeing, requires just the right fixture, placement and lumens.

Suppliers are almost always eager to help with layout and willingly "bare" with designers as we tackle the learning curve.

Unfortunately, landscape lighting is often the first element on the chopping block when a client is looking to trim costs from their project.

"No kidding," remarked Justin Scott, owner of The Grounds Guys in Barrie, Ont., when I mentioned this unwelcome, yet common scenario.

"Landscape lighting is the piece that turns your outdoors from a daylight space to a nighttime entertainment area, creating a whole different ambiance to the already great space." Scott said. But, he admits, in his 24 years of landscaping, no one has reduced hardscaping to make room in the budget for lighting.

I find it interesting that while lighting can be a tough sell, it's often one of the most beloved elements of the finished project. One of my clients, Grant M., testified, "When we hired Audriana to transform the gardens at our home in Springwater, we agreed with her that aspects needed to be illuminated for enjoyment at nighttime. We get countless comments from neighbours about how lovely the grounds, especially the water feature, look at night. We also feel the safety aspect has been beneficial. It would be difficult for someone to lurk in the shadows without being noticed."

Educating clients on the benefits of landscape lighting during the proposal stage is a popular and mostly successful way of approaching the subject. To further entice, what if we also offered lighting in tiers, as we do with many other parts of a project? For example, we could begin with a basic package and present at least a minimum of fixtures — perhaps pathway and security lighting. Once that is accepted, we can approach with mid-level then high-level upgrades.

Designer Ann-Marie Brewer of Price Landscaping in Lutes Mountain, N.B., has a tip when starting small: "I spec a transformer with lots of room for future additions," she explained. "I find that in most cases, once a client has some lighting installed, they love it and often ask for more. If the transformer is big enough to accommodate additions, then adding more fixtures in the future is super quick and easy."

And, um, aren't we forgetting something? We don't even start designing without the landscaping budget at hand. When clients sign on with you, they are mostly saying, "Here's my money, do your thing!" Perhaps the monetary priorities are only as limited as our priorities and imagination?

Perhaps we need to make sure we always design the lighting with, not after, the landscaping. We can design it in zones, so implementing it in stages is an easy option. Barring that, Renauld suggests laying conduit for future lighting at the very least.

We have pathways to "yes." Lit pathways.