February 15, 2022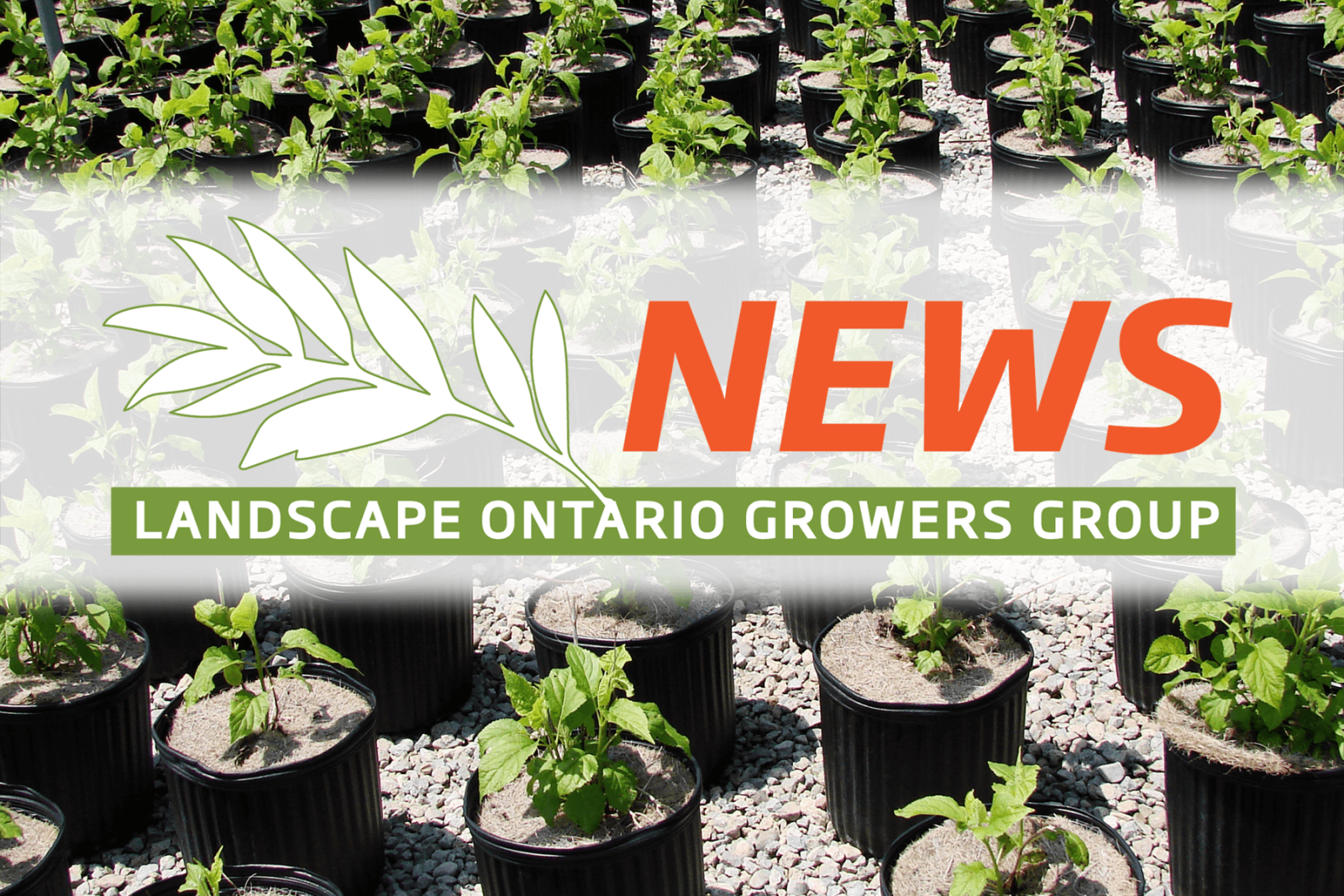 LO Growers Group Newsletter - February 2022
This report is provided by LO's Grower Technical Analyst, Jeanine West.
Please contact Jeanine for more information:
jwest@landscapeontario.com
or 1-705-796-8812.
We need your feedback! If there are items you wish us to include in these updates, please let Jeanine know.
1. OMAFRA Sector Leadership Meeting News:
Ag worker guidance
The Ontario Ministry of Health has some revised provincial COVID-19 guidance for ag workers that has been shared with all the Public Health Units in Ontario:
Please note that your local Public Health Unit may provide local direction that may be different and/or in addition to what is in the attached guidance documents to mitigate risk at a local level. Your local PHU may also be working on updating their documents so please check with them if their Sec. 22 will be revised. Also note that this information is NOT all-inclusive — federal requirements (e.g., for arrival testing quarantine/isolation) are not included in these documents, and OMAFRA is working with federal ministries to get appropriate guidance for farms over the next weeks.

One of the big changes in Ontario is that fully vaccinated workers that test positive (from a post-arrival infection) can isolate for 5 days (instead of 10) and then may go back to work if they're masking and physical distancing for an additional 5 days. The number of symptoms to be considered positive during active screening has also decreased from two to one.

Any feedback you have will be welcome. The Ministry is also working on a Q&A document to provide additional insight.

Rapid Antigen Test (RAT) availability and distribution

Orders placed for rapid tests through the Provincial Antigen Screening Program (PASP) that have been on hold and not processed will be filled this week (January 24, 2022).
If you have placed an order since December, it is in the queue, and will be fulfilled as supply is received. Please do not place new orders during this time.
Backlogged orders in the PPE Supply Portal have been reconciled to remove any duplicates. If you have multiple orders, you will receive one order (whichever is the highest volume).
Re-ordering should only occur once the backlogged shipment has been received and the RAT supply has been run down to approximately two weeks' supply of tests.
Once you have used the supply of tests received through your backlog fulfillment and are looking to place a new order:
Order for a one-month period (four weeks).


The volume of tests required should be based on prioritizing RATs for symptomatic use wherever possible (i.e., to provide to staff to have on-hand at home to use if symptomatic to either confirm or clear themselves of a diagnosis of COVID-19).

Note: While asymptomatic use of RATs (i.e., routine surveillance screening) is still permissible under provincial guidance and may be required in sectors with vaccine policies, it is recommended that the ongoing supply of RATs be used for symptomatic individuals.

Please refer to the Ontario Together Portal for information on how to apply for RATS. For questions regarding current orders, please contact omafra.labour@ontario.ca.

HEPA filtration units
HEPA filtration units are available (1 per bunkhouse) for free from OMAFRA. To help combat the spread of COVID-19, OMAFRA will provide 5,500 air filter (HEPA) units to employers with international agri-food workers (IAWs) living in congregate settings (see attached news releases). These HEPA units will be deployed in partnership with the Ministry of Government and Consumer Services at no cost to employers through the voluntary Registry of Employers International Agri-food Workers.

Farms and agri-food businesses that employ and provide housing to IAWs are eligible for one HEPA filter unit per employer-provided congregate living setting. To calculate the number of HEPA units each business is eligible for, businesses are asked to input into the registry all locations where housing is provided and the number of structures at each location. Additional information is included in a news release on the government website.
---
2. Service Canada Webinars
Service Canada is offering live online information sessions to employers who have Temporary Foreign Workers (TFWs) arriving under the Primary Agriculture program, including Seasonal Agricultural Worker Program (SAWP) or the Agriculture Stream, offered through the Temporary Foreign Worker Program (TFWP).
These virtual sessions will provide you with information about the new quarantine requirements, your responsibilities pre and post TFW arrival and the inspection process to ensure you are aware of your obligations under the TFWP during COVID-19.
Attendance is optional, however strongly encouraged.
Click here to view a list of upcoming dates and to register for a session
. The presentations are delivered via Webex.
---
3. OMAFRA nursery grower connector calls to have resumed
Reach out to
Jennifer.Llewellyn@ontario.ca
if you are not on the email invite list!
---
4. Ministry of Environment has a new online portal
The MECP is moving to use the new 'Public Secure' portal for:
PTTW new applications, renewals, and water taking reporting.
Environmental Compliance Approvals for water discharges.
Any Government of Ontario service (outside of MECP).
The original 'one-key' portal and WTRS websites will be phased out over the next year, but you may use the WTRS to report your water taking for 2021. Contact Jeanine if you need more information. OFVGA and OMAFRA teamed up last year to create a
YouTube webinar
to help you login and set up your new account.
---
5. Boiler and Pressure Vessel Regulations
For those of you with greenhouses, contact Jeanine if you have a hot water or steam boiler. Take a picture of your boiler plate(s) and note the pressure rating of the pressure relief valves. The Ministry of Government and Consumer Services, under the
Technical Standards & Safety Act
(TSSA) have new regulations that may affect you.
---
6. Strawberry Blossom Weevil (A. rubi) Pest Module Updated
CFIA has updated the indoor and outdoor production modules for
A. rubi
. The latest versions are available in the Grower section of the
Landscape Ontario website
. If you have an approved module, you will not need to update your files.
---
7. CNLA Update
CNLA funding opportunity: CNLA has funding from AAFC's AgriMarketing program to share any expenses growers have incurred to market nursery plants in the U.S. Currently we can support activities completed from April 1, 2021 to March 15, 2022. The cost share will also be available for the coming year. Final details of the program are being developed and will be shared with growers in the next week.

Box Tree Moth: At their bilateral meeting on January 25, USDA-APHIS confirmed that they are reviewing CFIA's request to remove BC from the federal order prohibiting boxwood, euonymus and ilex imports from Canada, but have not yet made a decision. CFIA's risk management document on box tree moth is expected to be released soon, and industry will then be given the opportunity to comment on proposed options for regulating box tree moth in Canada.

The Clean Plants box tree moth module is nearing completion with industry training opportunities now being developed. Even if you are not on Clean Plants, all nurseries growing boxwood have free access to the best management practices within the module. Implementing those BMPs is your best defence for keeping box tree moth off your farm.

With all of these things in motion, it is hoped some movement is made in the next few months to ease the trade restrictions still in place.
---
8. Invasive Species
The annual Ontario Invasive Plant Council conference was January 13, 2022. The keynote speaker was Dr. Jennifer Grenz from UBC. Her perspective on considering all plants that might be appropriate for the future goals of a site was refreshing — she does not categorize all non-natives automatically as 'bad,' but rather takes a holistic, indigenous view of the site properties, history and future when determining the best course of action for site remediation.
---
9. Blue Box Regulations
Do you need to register with RPRA? The producer registration deadline was October 1, 2021. More information is available in the January 2022 newsletter. Contact
Jeanine
if you need assistance.
---
10. MTO hours of service changes and Electronic Logging
A reminder that commercial drivers that are currently required to log their hours must start using electronic logging devices by June 12, 2022. For more information, see item #3 in the
January 2022 newsletter
.