January 5, 2022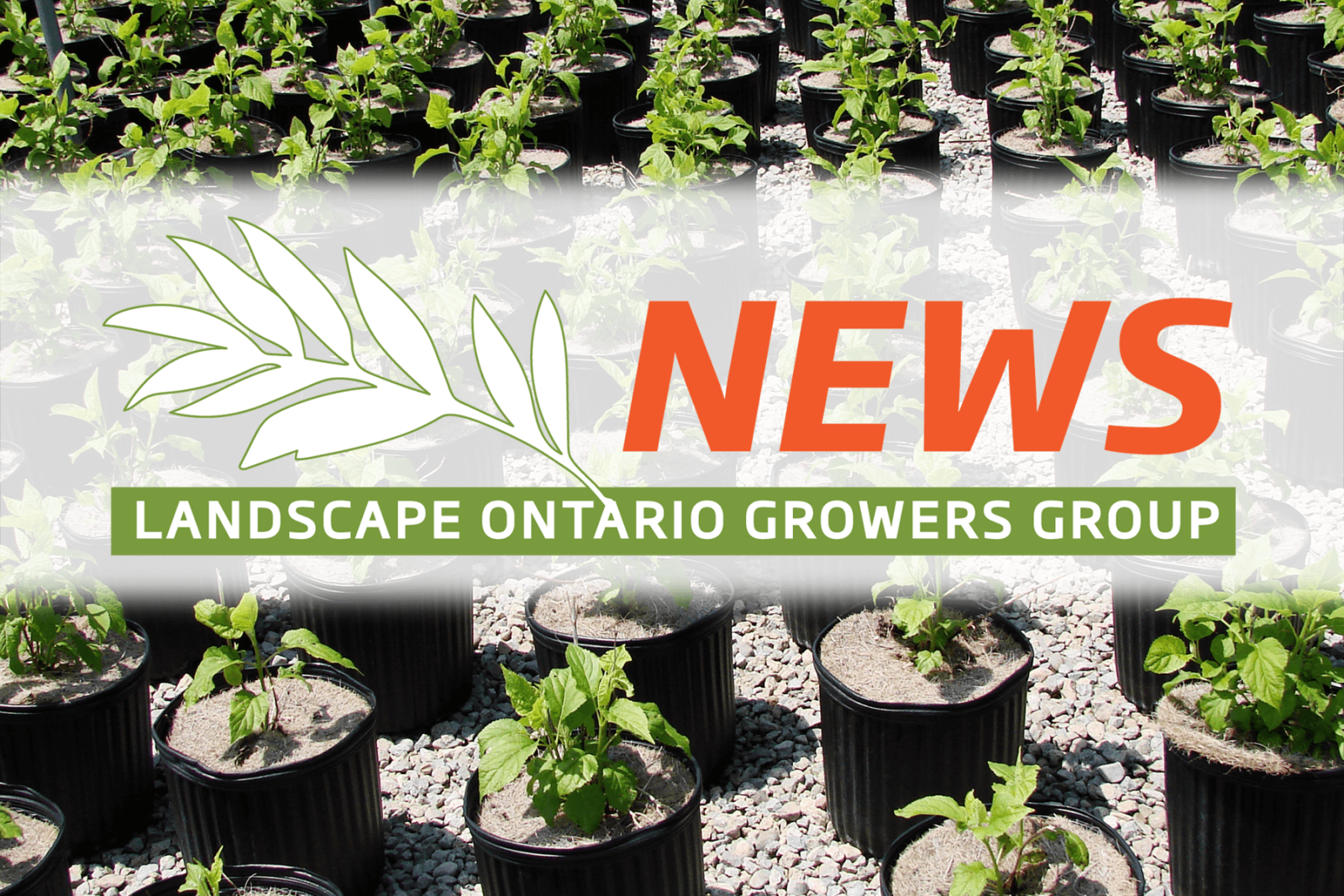 LO Growers Group Newsletter-January 2022
This report is provided by LO's Grower Technical Analyst, Jeanine West.
Please contact Jeanine for more information:
jwest@landscapeontario.com
or 1-705-796-8812.
We need your feedback! If there are items you wish us to include in these updates, please let Jeanine know.
January 12, 2022
Growers are being affected by the randomized testing of fully-vaccinated individuals that is occurring at the airport on TFW arrival. This random testing came into effect December 15, 2021.
Some farms are seeing over 50 per cent of their workers on a given flight being selected. This has a huge impact for two reasons:
Workers must quarantine until they get their test results back, so they are unable to work during this period. This adds cost and issues with managing quarantining vs. working TFWs)
Test results are really slow coming in, can be up to 7-8 days now
Combined with the Ontario rules that everyone living in a congregate setting must quarantine for at least 10 days if there is a positive result, we could see serious labour issues. One option for farms includes preparing for this eventuality by isolating workers, not just having 'group' quarantine. Our association and OMAFRA will be pushing for the federal government to review the random testing of fully vaccinated farm workers, looking for funding opportunities to offset these costs, and we are also looking for faster turnaround on test results.
travel.gc.ca/travel-covid/travel-restrictions/covid-vaccinated-travellers-entering-canada#randomized
---
January 11, 2022
To prevent the spread of COVID-19, the Canadian Centre for Occupational Health & Safety (CCOHS) has a free training course on guidance for Temporary Foreign Workers available in English, French and Spanish.
This five module course provides information to TFWs and their employers on how to protect themselves and others from COVID-19 at work. Participants will gain knowledge of the factors that significantly contribute to the introduction and spread of COVID-19 in the workplace, the control measures to take to protect themselves while working, living and travelling to and from work, and what to do if they become sick with COVID-19.
This course is highly interactive. Pop-ups, external links, review questions, and activities are used to apply learning throughout. There is a self-assessment quiz to test understanding of the material at the end of each module. Upon completion of the course learners will be able to print a certificate of completion.
www.ccohs.ca/products/courses/tfw-covid
/
---
January 10, 2022
Vaccination Clinic re-activated at Pearson Airport starting January 11, 2022
As you are aware, we are in a new phase of the pandemic with cases increasing rapidly over the past couple of weeks and booster shot campaigns accelerating. In response to the current situation, the vaccination clinic at Pearson airport is being re-activated beginning on January 11, 2022. The clinic will run similarly to last season out of Terminal 1.
In response to the current situation with Omicron, the vaccination clinic at Pearson airport is being re-activated beginning on January 11, 2022. The clinic will run similarly to last season out of Terminal 1 (tentatively until end of February). Boosters and first/second doses will be available to TFW's. Workers entering Canada with vaccine doses received outside of the COVAX-ON system will need to bring documentation/proof of their vaccines that were received in their home country.
Employer registry:
Register to receive direct updates from OMAFRA regarding TFW and COVID issues:
https://www.ontario.ca/page/registry-employers-international-agri-food-workers
Guidance for COVID testing and isolation/quarantine in Ontario:
Note that congregate living is considered a high risk environment, so additional testing is required and isolation period is 10 days.
https://www.health.gov.on.ca/en/pro/programs/publichealth/coronavirus/docs/contact_mngmt/management_cases_contacts_omicron.pdf
OFVGA Workplace Daily Screening App – updated for 2022
Please ensure the requirements of both the province AND your local public health unit are met if you use this app for your workers.
https://www.ofvga.org/screening-app
---
1. COVID/OMAFRA webinar
OMAFRA is inviting you to join one of their province-wide free webinars on COVID-19 Infection, Prevention and Control. Each session will provide valuable information on what you need to know as an employer to keep workers safe against the virus and its variants. Webinars are on January 6, 11, and 18 from noon-1 p.m. ET.
Participants will learn more about:
Infection, Prevention and Control (IPAC) measures for employer health and safety awareness
Workplace inspection process
Ontario's Workplace Safety Plan Builder
Supports available through OMAFRA to protect worker health and safety

Enhanced Agri-food Workplace Protection Program (EAWPP)
Workplace Safety & Prevention Services (WSPS)
Sign up online for a free webinar.
You will receive Zoom details after confirming your registration.
We invite you to register today for one of these informational webinars and share these details with other producers and food and beverage processors that may be interested in participating. Please contact us if you have any questions or concerns.
For any questions, please email
ag.info.omafra@ontario.ca
or call 1-877-424-1300.
---
2. Blue Box Regulations
If you previously reported blue box materials (i.e., cardboard, metals, plastics, etc.) under Stewardship Ontario, then you will need to transition to Resource Productivity & Recovery Producers (RPRA) — the new authority that is responsible for administering Ontario's recycling programs.
The
Resource Recovery and Circular Economy Act
(ON Reg. 391/21) outlines the requirements for 'producers' – i.e. facilities that import blue box materials from out of province (e.g., pots) as per the
RPRA website
.
How to register with the RPRA:
The producer registration deadline was October 1, 2021. Producers must complete this
Registration Form
and email it as an attachment to
registry@rpra.ca
as soon as possible.
As part of the registration process, producers are required to submit their 2020 supply data and pay the associated
2021 Registry Fee
.
---
3. MTO hours of service changes and Electronic Logging
Commercial drivers that are currently required to log their hours must start using electronic logging devices by June 12, 2022.
The hours of service regulation has been updated (Reg 555/06) and details are available at
mto.gov.on.ca/english/trucks/electronic-logging-devices.shtml
---
4. Covid-19 update from Premier Ford and team 2022-01-03
Effective Wednesday morning (January 5) at 12:01 a.m. until at least January 26, 2022 going into Modified Step 2 of 'Roadmap to reopen Ontario'.
Closure of indoor spaces where risk of transmission of Omicron is more likely.
Focused to minimize hospital admissions, and allow time for more vaccines/boosters.
Introducing expanded supports to small businesses.
Tracking/metrics will focus on hospitalizations.
Details at covid-19.ontario.ca/public-health-measures
---
5. Invasive Species
The annual Ontario Invasive Plant Council conference is January 13, 2022. Jeanine will be attending on LO's behalf.
---
6. OMAFRA nursery grower connector calls to resume in January
Check your email inbox for the details in the coming week!
---
7. Inbound Temporary Foreign Worker (TFW) webinar planned
LO is planning a webinar – tentatively set for 1 p.m. on Thursday, January 20 2022. Watch your inbox for the call-in details.
FARMS shared the following update on Jan. 3, 2022:
RE: ARRIVAL OF FOREIGN SEASONAL WORKERS IN 2022
On 06 January 2022 the first flights arriving Foreign Seasonal Farm Workers will begin and in preparation of these arrivals, and those that follow, it is important for all Employers to keep informed/updated on the COVID-19 guidelines. Please copy and paste into your browser.
The following News Release links contain important information which you may choose to review. Industry as a whole, want only fully vaccinated workers to arrive despite the exemption status given by the Canadian Government for this group.
PLEASE NOTE:
CanAg Travel Services is not receiving concise information, if any at all, on the vaccination status of arriving unnamed workers. CanAg Travel is hoping employers already know the status of named workers, and when flight arrival times are confirmed we can zero in on finding the vaccination status of the unknown.
1. BORDER MEASURES - News Release Public Health Agency of Canada - BACKGROUNDER
https://www.canada.ca/en/public-health/news/2021/11/adjustments-to-canadas-border-and-travel-measures.html
As of November 30, 2021, travellers need to be fully vaccinated to travel within Canada with very few exceptions. There is a limited period, until January 14, 2022, during which individuals in specified exempt groups can continue to enter the country if unvaccinated or partially vaccinated, as well as take a connecting flight to their final destination that is scheduled to depart within 24 hours of the departure time of their flight to enter Canada. However, if they remain unvaccinated or partially vaccinated, they will not be allowed to take a plane or train beyond their original connection, except to depart Canada before February 28, 2022. As such, all travellers are strongly advised to make plans to get vaccinated as soon as they can, in order to travel freely in and outside the country.
ArriveCAN:
New requirements for essential travellers As of November 30, 2021, all exempt essential service providers will be required to identify their vaccination status in ArriveCAN, regardless of whether or not they are allowed to enter as unvaccinated. ArriveCAN will prompt them to provide details on their vaccine(s), including manufacturer, country received and date received, and to upload their proof of vaccination.
Exempt essential travellers include those travelling as/for: most essential service providers (including most temporary foreign workers, emergency service providers and marine researchers);
Until January 15, 2022, if an exempt essential traveller is not vaccinated, they will still be able to get an ArriveCAN receipt. After January 15, 2022, they must be fully vaccinated to get an ArriveCAN receipt.
2. QUARANTINE
https://www.canada.ca/en/public-health/news/2021/11/government-of-canada-introduces-additional-measures-to-address-covid-19-omicron-variant-of-concern.html
Government of Canada Public Health Agency news release - November 30, 2021 - states …All fully vaccinated travellers arriving by air from departure points other than the United States will be subject to arrival testing. FULLY VACCINATED WORKERS WILL BE REQUIRED TO QUARANTINE WHILE THEY AWAIT THE RESULTS OF THEIR ARRIVAL TEST.
UNVACCINATED agricultural workers travelling to Canada must quarantine for 14 days upon arriving to the farm.
I have confirmed that the SWITCH HEALTH accounts that every employer set up are still active and you may receive the day one test results through that source. ArriveCan may also contact the worker directly at whatever contact information the worker entered in ArriveCan.
3. ABOUT ARRIVECAN
ArriveCAN mobile app
is free and available in English, French and Spanish (displayed in the language of your device) and can be downloaded in Google Play or the Apple App store.
All travellers, whether entering Canada by air, land, rail or marine vessel, must use ArriveCAN unless they are exempt from this requirement for a reason such as a disability, inadequate infrastructure, a service disruption or a natural disaster.
If a TFW has an accessibility need, they can use the
web version of ArriveCAN
as it supports the use of assistive devices such as screen readers and magnifiers.
The ArriveCAN website is accessible on any personal or public device, such as tablets, laptops, smartphones and desktop computers. The web version of ArriveCAN is accessible only on recent versions of all other web browsers (it does not work on Internet Explorer).
ALERT:
A proof of vaccination will also need to be uploaded to ArriveCAN in English, French or certified translation (must include a stamp or membership number of a professional translation association). Ensure to have both the original proof of vaccination and the certified translation (if required) with you for review when entering Canada and for use while in Canada.
Once TFWs submit their information through ArriveCAN, including their vaccination information and evidence, a receipt will be displayed and emailed to them. The receipt will display a letter beside the indiviudals name - I, V, or A indicates the individual may have to discuss with a government official their vaccination status. While TFWs who do not submit their information through ArriveCAN, may not be denied boarding or entry into Canada, they:
WILL NOT BE ELIGIBLE FOR THE FULLY VACCINATED TRAVELLER QUARANTINE EXEMPTION;
- may experience increased quarantine and testing requirements;
- may face additional delays at the border regarding public health questioning; and/or,
- may be subject to fines or enforcement action.
If TFWs did not use ArriveCAN, and submitted their information when entering Canada, including by paper form, they can't use ArriveCAN to complete their mandatory reporting. They must call 1-833-641-0343 (English) or 1-833-423-1478 (Spanish) instead.
ALERT:
TFWs should be cautious of third party, fraudulent webpages and apps that may be posing as ArriveCAN and asking for payment. ArriveCAN is free and secure and is the official Government of Canada platform to provide information when entering Canada.
More details on ArriveCAN can be found at
www.canada.ca/en/public-health/services/diseases/coronavirus-disease-covid-19/arrivecan/help.html
All of the above information is important and if you have the time please read the content of the various links. Thank you for your continued support.
Sue Williams
Managing Director, FARMS